Get Results With This 12 Week Weight Loss Workout Plan for Men
B
eginning a new 12 week weight loss workout program may sound tedious, but being physically active can be more enjoyable than you think with the right weight loss plan in place. Take several small steps to get started, and build up endurance and intensity as you go.
Fit Father 30X (FF30X) is a plan developed for busy fathers seeking convenient, tailored-made weight loss workout plans without the hassle of creating your own diet and exercise regimen. If you're unsure about trying a newly structured program, try the FF30X free 1-day metabolism boosting workout to get a feel what a results-driven 12 week weight loss workout plan for men looks like.
>>> Click here to Join FF30X Today! <<<
Get Your Diet in Order First
Making dietary changes is perhaps one of the most important things you can do to successfully lose weight.
That's because eating too many calories means even if you're working out regularly, you won't see the weight come off.
Instead of worrying about all of the foods you shouldn't eat during weight loss, instead, focus on all of the healthy foods you'll include at each meal and snack. When you're eating well-balanced meals, you'll likely experience fewer junk food cravings.
A few simple tips and tricks can help steer you in the right direction:
Drink water before each meal or snack (about 2 cups) so you'll feel full and eat less.
Fill half of each plate with non-starchy veggies (leafy greens, green beans, tomatoes, peppers, mushrooms, onions, broccoli, asparagus, etc.), and the other half with protein and starches.
Include a healthy protein (fish, chicken, seafood, eggs, low-fat dairy, or legumes) at each meal and snack to help boost satiety.
Choose avocados, olives, nuts, seeds, hummus, or plant-based oils as healthy fats to complete each dish and increase satiety.
When you experience junk food cravings, try going for a walk before you eat.
Get at least 7 – 9 hours of sleep in each night to avoid hormone fluctuations that can increase appetite.
Aim to eat at least 1,500 to 1,800 calories a day to lose about 1 – 2 pounds weekly.
Consider using meal replacement shakes to meet daily nutrient needs without the extra calories.
A sample meal replacement protein shake containing about 323 calories might include:
2 cups of protein-fortified almond milk or skim milk: 160 calories
1/2 cup of sliced bananas: 67 calories
2 tablespoons of protein powder: 43 calories
1 teaspoon of peanut butter: 30 calories
1 teaspoon of chia seeds: 23 calories
Ice cubes
Blend all of the above ingredients together in a blender, and enjoy! Use this shake (or something similar) as a replacement for breakfast or lunch when you're in a hurry or on the go. It also works well as pre- or post-workout fuel.
Sample 1-Day Weight Loss Menu
To give you an idea about what a healthy weight loss meal looks like, use the sample menu below. Doing so helps you brainstorm ideas for customized weight loss menus based on your individualized food preferences.
Breakfast: a homemade protein shake, or a vegetable with turkey bacon omelet
Morning snack: fruit with nonfat Greek yogurt topped with nuts or seeds
Lunch: Baked fish with vegetables cooked in olive oil (or a leafy green salad with veggies), plus quinoa or a baked sweet potato
Afternoon snack: Veggies dipped in hummus
Dinner: Stir-fry cooked in olive oil and seasonings with lean steak, grilled chicken, or shrimp — plus veggies, and cooked brown or wild rice
Evening snack (optional): fruit or veggies plus reduced-fat cheese or nuts OR a small protein smoothie
Keep portion sizes small so you can easily stay within your 1,500- to 1,800-calorie daily allotment. If you're very active, you may require additional calories to drop weight at the recommended rate of 1 – 2 pounds per week.
Use the U.S. Department of Agriculture's Food Composition Database to track calories, or try a calorie-counting app, such as:
Fitbit
Lose It!
Noom
Fooducate
MyFitnessPal
Don't forget to drink water before meals and snacks, to satisfy you with fewer calories.
Set Goals
Setting a weight loss goal is the first step in beginning your 12 week weight loss plan for men. In fact, goal setting boosts your chance of achieving significant weight loss, especially long term, according to a 2016 study published in the Journal of Human Nutrition and Dietetics. Doing so gives you something to work toward, and motivates you along the way.
Choose 12 week and Long-Term Weight Loss Goals
The amount of weight you want to lose to meet your goal weight might be 10, 20, or even 50 pounds (or more).
However, a safe, healthy rate of weight loss is about 1 to 2 pounds per week. Therefore, your 12 week weight loss goal might be to drop 12 to 24 pounds at the end of your 12 week program. Be sure to set a long-term weight loss goal as well.
Set Fitness Goals
Having fitness goals in place boosts your chance of working out regularly. Here are a few tips and tricks to get started setting fitness goals and meeting them during a 12 week weight loss program:
Schedule weight loss workouts (set aside time each day) into your regular routine.
Write down your allotted workout times on a calendar. On the calendar, record the day and time you're setting aside for workouts.
Write down several activities (such as taking the dog for a walk, doing yard work or house chores, or practicing sports with your kids) you'll do daily — in addition to exercise sessions — to keep you active all throughout the day.
Aim to work out most days of the week. You might begin by working out just 20 minutes 3 to 4 days weekly, and work up to exercising for 30 – 60 minutes 5 or 6 days a week.
Aim to complete at least 30 minutes of cardiovascular exercise most days of the week.
Resistance train (lift weights or use body weight or resistance bands) most days as well, but change up the muscle groups you work so you aren't exercising the same group of muscles two days in a row.
Set Diet Goals
Your individualized diet goals will vary depending on which area of your diet you're struggling with.
Examples of healthy eating goals you may choose are:
Eat sweets for just one day each week (or avoid sweets entirely).
Replace sodas with water, coffee, or unsweetened tea.
Replace at least one meal with a meal replacement shake.
Drink at least 16 cups of water every day.
Drink 2 cups of water before each meal, and 4 cups of water when you first wake up in the morning.
Fill up on veggies and protein before you eat starchy foods (such as whole grains or potatoes).
Track calories for the first week or two during a 12-weight weight loss program.
Eat at home (vs. in a restaurant) at least 5 – 6 days each week.
Go for a walk when you're getting ready to eat junk food due to emotional reasons or because you're bored (eat only when you're truly hungry).
Sleep at least 7 hours each night to keep your appetite hormones in check.
Start by setting a few simple dietary goals, and add to your goal list as you continue on in your weight loss journey.
Sample 12 Week Weight Loss Workout Plans for Men
Your weight loss workouts should be based on activities you most enjoy doing. That way you're more likely to continue on with a 12 week weight loss workout plan long term.
Whether you're hitting the gym for workouts or prefer to exercise at home, effective weight loss workouts for men have several things in common: the exercises chosen change from day to day to prevent boredom, reduce muscle staleness, and maximize weight and fat loss results.
Use these general fitness guidelines for workouts during your 12 week weight loss journey:
Aim to work out 5 or 6 days a week
Exercise at least 30 minutes during each workout session
Choose both aerobic and resistance training exercises
Change up workouts regularly
The following is an example of a 1-week weight loss workout plan for men:
Monday
20 – 45 minutes of biking or walking (continuous OR high-intensity interval training)
15 – 30 minutes of resistance training your leg muscles
5 – 10 minutes of abdominal exercises
Tuesday
20 – 45 minutes on the elliptical or stair climber machine (continuous OR high-intensity interval training)
15 – 30 minutes of resistance training your back and shoulder muscles
5 – 10 minutes of abdominal exercises
Wednesday
A functional fitness workout (burpees, pushups, jump squats, jumping jacks, squat presses, rope jumping, kettlebell swings, etc.)
Thursday
Friday
20 – 45 minutes of swimming, jogging, or playing basketball or racquetball
15 – 30 minutes of training your biceps, triceps, and chest muscles
5 – 10 minutes of abdominal exercises
Saturday
30 – 45 minutes of continuous cardiovascular exercise of your choice OR a functional fitness workout
Sunday
Rest day OR 30 – 60 minutes of walking or another low-intensity aerobic exercise
Examples of Weight and Fat Loss Exercises
When creating your own 12 week weight loss workout for men, choose activities from the lists of aerobic, resistance training, and functional fitness exercises below:
The exercises above are just examples — if you find others you love feel free to incorporate them into your 12 week weight loss plan.
Sample Functional Fitness Workout
You can complete functional fitness workouts with a fitness instructor or trainer, or by using a circuit training video from the comfort of home.
A sample 35-minute functional fitness sweat session might include:
A 5 minute warm up (light jogging in place, rope jumping, and stretching)
5 minutes of rotating between medicine ball squats, push-ups, and rope jumping
1 minute rest period
5 minutes of rotating between burpees, squat presses with dumbbells, and triceps exercises (triceps extensions, triceps kickbacks, or triceps dips)
1 minute rest period
5 minutes of rotating between planks, squat jumps, and weighted jumping jacks with dumbbells
1 minute rest period
5 minutes of rotating between kettlebell swings, ladder drills or shuttle runs, and biceps curls with dumbbells
1 minute rest period
5 minutes of continuous cardiovascular exercise (jogging, cycling, etc.)
5 minutes of abdominal exercises (crunches, leg raises, sit-ups, the bicycle, planks, medicine ball side twists, etc.)
You can change up exercises in your circuit training workout routine however you'd like to.
If you're working out at home, the equipment you own and space you have available may limit you to certain functional fitness exercises, and that's okay!
Owning a few dumbbell weights and a medicine ball comes in handy for at-home workouts.
Beginning a 12 week Weight Loss Program
There's a lot to think about when beginning a new 12 week weight loss workout plan for men.
That's why joining an organized program can help you reach weight loss goals and take the guesswork out of meal planning, menu planning, and creating your own fat-burning workouts.
Joining the FF30X program is an excellent place to start, as it's specifically designed for men over 40 with busy schedules. You'll not only receive customized meal plans and fat burning weight loss workouts, but also motivational support — which studies show is an effective weight loss strategy, especially long term.
Don't feel overwhelmed when trying a new 12 week weight loss workout plan. Begin slowly, choose activities you enjoy, and don't overdo it. As long you burn more calories than you eat on a daily basis, you should see the weight melt right off.
>>> Click here to Join FF30X Today! <<<
THE 30-Day Health Program for Men 40+
Fit Father 30X is the world's first sustainable weight loss plan for fathers.
Get yourself back into great shape - at any age the Fit Father way.
Weight loss and achieving the slim, fit body you deserve has never been easier!
Erin Coleman
Writer, The Fit Father Project
A 15-year freelance writing veteran, Erin is a registered dietitian and health educator who is passionate about health, fitness and disease prevention. Her published work appears on hundreds of health and fitness websites, and she's working on publishing her first book! Erin is a wife and mom of two beautiful children.
If you're interested in a proven and completely laid out "done-for-you" weight loss meal plan & workout routine – designed for you as a busy man…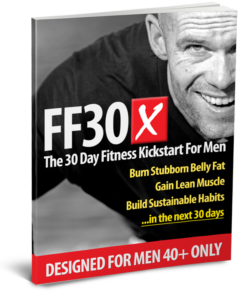 I'd recommend you read the program overview letter for our Fit Father 30-Day Program (FF30X).
Inside FF30X, you'll receive:
The simple & delicious Fit Father Meal Plan
The metabolism boosting Fit Father 30X Workout (under 90 min/week)
VIP email coaching where I'll personally walk you through the program
Read the FF30X Program overview letter here to see how our plan can help you lose weight – without the complication & restriction of normal diets.
*Please know that weight loss results & health changes/improvements vary from individual to individual; you may not achieve similar results. Always consult with your doctor before making health decisions. This is not medical advice – simply very well-researched info for creating a weight loss workout plan for men.