After reviewing hundreds of program check-in emails from the men in my Fit Father 30-Day Program (FF30X) over the past year…
I began to notice a very distinct communication pattern that separated the "Fit Fathers" who were wildly successful on the program from the "Fat Fathers" who never fully committed to the program and got less than stellar results.
In their program check-in emails to me, the successful guys would share this…

"Anthony, I am so freaking excited about my FF30X workouts this week. I'm getting stronger and noticing my belly fat drop every week. I love that I get to start eating healthier and turning a new leaf in my lifestyle.

These are the guys who shred 25+ lbs of fat in 30 days on the program*. Notice how this successful guy uses empowering language to describe feelings of "taking control" over his routine.
The unsuccessful guys, who got less stellar results would write this… 
"Anthony, I have to get these workouts in this week. Super busy. I'm doing my best to follow the plan."

The moment I received an email using more disempowering language ("having to workout"), I knew the guy was 100x less likely to succeed on the program. The data and language patterns predicted his results with scary accuracy on Day #1 of the program.
I found most fascinating that the same exact eating and workout program – used by guys with the relatively same level of "life busyness" – produced completely different results in their life all based on the mindset and language the men approached the program with.
Two practical lessons I learned from the successful vs. unsuccessful language patterns…
Lesson #1: Our words are powerful signs that REFLECT our mindset.

When you're inspired, you're more likely to choose exciting words. When you're stressed, you're more likely to use short, rigid sentences. When you're unmotivated, you're more likely to use disempowering sentences.

Lesson#2: Our words are also powerful tools we can use to REINFORCE our desired thought patterns – even if we're not feeling incredibly motivated right now.


Like a river, every drop of language you speak carves a deeper canyon into your subconscious mind. The character of your words – whether empowering or disempowering – shapes your life experience.
The successful guys weren't born more optimistic than the unsuccessful guys. They simply trained their minds through intentional language patterns to feel feelings of control, positivity, and hopefulness.
After seeing this powerful "language success & failure" pattern emerge, I set out on a little experiment to clean up my own language to personally observe the impact on my quality of life.
My 30-Day Challenge For More Health & Happiness
From observing the successful guys' language patterns, I created 2 rules for my 30-Day "Clean Up Anthony's Potty Mouth" Challenge.
Rule #1:
Stop Saying – "I don't have enough time."
Rule #2:
Stop Saying – "I have to do __________."
That's it. Super simple. I set reminders on my iPhone of these two rules to fire off multiple times per day. I also set a journal on my nightstand to track my progress at the end of each day.
At 5:30 am, I stopped saying… "I HAVE TO get up to workout today."
Instead, I reframed my language to:
"I GET TO workout this morning because I love my commitment to my body & health."
At lunch, I stopped saying… "I HAVE TO order a salad today."
Instead, I reframed my language to:
"I GET TO order a salad today because I'm blessed to have the resources & opportunity to nourish my body."
At work, I stopped saying… "I HAVE TO respond to these emails."
Instead, I reframed my language to:
"I GET TO respond to these emails, which will help my colleagues and clients with their goals."
On busy days, I stopped saying… "I don't have time to workout today."
Instead, I reframed my language to:
"I AM CHOOSING NOT TO make working out a priority for me today because I have pressing work concerns that I am giving precedence to."

Through some intentional and subtle language shifts, I began taking full ownership over my decisions (and consequently my life).
The RESULTS From The 30-Day Language Challenge
I was far from perfect with my language every moment during the challenge. Some nights when I was particularly tired, I caught myself slipping into old language patterns of "not having time" or "having to do ____."
In those moments, I paused, took a breath, and realigned with the REASON why I was starting this challenge. I remembered the data charts and the emails. I remembered the successful guys who chose the successful language….
Gradually, through consistent effort, I built enough "habit muscle" that I noticed my language patterns permanently shift.
I stopped "having to do things."
I started "having more time."
I began to deeply appreciate every healthy meal I chose to eat.
I owned every moment when I CHOSE NOT TO make exercise or healthy eating a priority.
The end result: my life dramatically improved all from a few tiny tweaks to my language that ultimately precipitated a powerful shift in mindset.

My Big Lesson: You & I have TWO CHOICES of how we can live (and speak about) our life experience…
Option #1: We can use "shitty language." We can remain slaves to "having to do things" and "never having enough time."
Option #2: We "clean up" our language. We can choose to view healthy eating and consistent exercise as something WE GET TO DO – to better ourselves, our families, and our communities.


One of those paths leads you down a very beautiful, healthy, rich, and fulfilling path. I think you know where the other path leads…
We can't control the weather. We can't always control everything that happens with our bodies.
We can always control the language we choose to use – and thereby control the mindset we want to experience in life.

Your new friend & health coach,
I hope this served you today my friend. Thanks for choosing to take the time to read this article 😉
If you found this valuable, please use the social media buttons on the left to share this with your network, so we can get this important info to more people!
P.S. I know this was not our typical "tactical" eating and exercise article that we normally publish. I wanted to mix things up a bit for you this week, because talking about the PSYCHOLOGY of health & happiness is as important as the actual hardline health strategies themselves.
Here's How Busy Fathers Over 40 Are Finally Burning Stubborn Belly Fat & Getting Healthy Without Restrictive Diets or Time-Consuming Workouts
This proven "Fit Father Program" has helped 25,000 busy men 40+ lose weight, rebuild muscle, and finally keep the weight off.
If you're frustrated with stubborn belly fat, failed diets, and time-consuming workouts, this is the answer you've been looking for…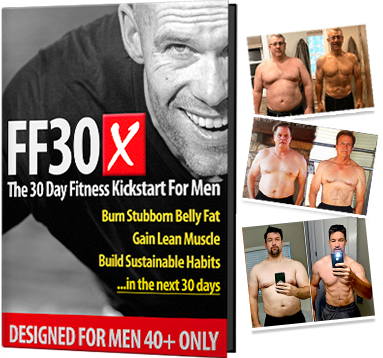 Join 22,000 guys in over 98 countries are using FF30X to lose weight. You get everything you need to succeed – including:
The Fit Father Meal Plan – with simple & delicious recipes
Safe & Effective Workouts Program – only 90 min/week
VIP Accountability Coaching – our Fit Father Team will personally walk you to success, step-by-step.
LEARN MORE ABOUT FF30X >>
See the FF30X Program overview here. You'll discover how this proven Fit Father Program can help you lose weight and actually keep it off – without the complication and restriction of normal diets. »
If you found this post insightful, useful, thought-provoking or even moderately cool (we'll take it)… share this with your friends, family, and network.
Small note about research cited in this article:

*Always remember: weight loss results & health changes/improvements vary from individual to individual. Just because these studies cite certain data does not mean you will experience these results/outcomes. Always consult with your doctor before making decisions about your health. This is not medical advice – simply well-researched information. Thanks for reading!