20
seconds
can be an incredibly short time period, or it feel like forever.
You can purchase an item online in less, or you could take 20 seconds to walk to where your gym equipment is stored.
This is all interesting, but what you're about to learn is how 20 seconds can make a huge difference to your weight loss achievements!
What Is The 20 Second Rule?
Stop for just a moment and look round you. Chances are that you barely have time to stop; we live in an extremely fast paced world!
If you look round you'll see lots of things that are within 20 seconds of where you are. You'll probably find that many of these items are useful to you in your daily life. They might include your fitness gear,  the food and drinks in your fridge, or even your cell phone to connect to your digital life.
20 seconds is just long enough to make it an effort to get any of these objects, if you want them.
You probably never have a problem going 20 seconds to get your cell phone. After all it's your contact with the rest of the world.
But, if it is something less appealing, then 20 seconds quickly becomes an obstacle.
The Weight Loss Issue
To lose weight you need to build a habit of healthy eating and exercise. You can try our free 1-day meal plan  and 24-minute workout to help achieve these goals.
However, before you start exercising you need to get your gear on. It's probably 20 seconds or further away from you.
This isn't a problem when you start exercising. You're motivated and eager.
However, just thinking about going to get the gear can be enough to make you lose interest, 
 and you forget all about exercising in the process.
The problem is that the gear is not easy to reach. The 20 second rule is a barrier to your weight loss achievements.
How To Beat The 20 Second Rule
This is surprisingly easy! All you need to do is place your workout gear within immediate reach.
Here are some suggestions for this:
If you exercise first thing have your workout gear right next to your bed. It's the first thing you put on and takes no additional effort.
If you exercise at lunch time put your clothes in the kitchen; you're going to go in there for food anyway!
Place your trainers right by the door, while keeping all your other shoes elsewhere. Your trainers are then the easiest shoes to put on.
The idea is that your equipment is right in your path, removing the resistance created by having to take 20 seconds to get to it.
You'd be surprised at how effective this approach can be. All you need to do is consider when you exercise and make sure the least amount of obstacles is in the way of doing it.

20 Seconds Can Improve Your Eating Habits
You can actually take this a step further! The 20 second rule can be applied to your eating habits with great results for your weight loss!
Consider what is within 20 seconds of you, cookies, and crisps; perhaps even a chocolate bar. These are things you like and 20 seconds is nothing when you want one of them.
However, if you move them further away and even out of sight then they will suddenly lose their appeal. It's an incredibly simple change to make, but it offers a surprisingly easy solution to your temptation issues.
In many ways this is an extension to the principle of 'out of sight, out of mind'.
You can supplement this technique further by taking the food from our 1-day meal plan and keeping it within 20 seconds of you.
If you are really hungry then you'll snack on the right foods. If not you won't be grazing unnecessarily.
You Can Use The 20 Second Rule To Improve Weight Loss
The fact is that motivation generally decreases as the day passes. Basically you become mentally fatigued from all your efforts during the day.
Fortunately, the 20 second rule can eliminate your need to feel motivated to do something. This is achieved by bringing things closer to you.
You can also use the 20 second rule to create the opportunity to exercise or do something else productive.
For example, if you generally get home from work and drop onto the couch with the television on then you need to remove the remote. Place it in a separate room. Place your exercise gear between your couch and the remote.
As soon as you sit down you're not going to be eager to get up. But you can break this sitting habit by forcing yourself to get up. You'll have to if you want to change channel.
When you get the remote you'll be faced with your exercise gear and no reason not to do it.
In fact you can use the 20 second rule in many areas of your life. It will reduce the amount of will power you need to make good decisions and even remove the need to make decisions!
You need to ensure things which are bad for your weight loss are more than 20 seconds away from you. Simultaneously it is advisable to place things which will be beneficial to your weight loss goals within 20 seconds of you.
Of course you move round all day. The 20 second rule applies to where you sit when you finally have five minutes to yourself. This is when you can bypass willpower and still make the right decisions.

Summing It Up
The 20 second rule is surprising but true. Twenty seconds is more than enough to be an obstacle and demotivator. Mindfulness, and a little bit of planning, can help us transform this obstacle into a tool for obtaining fitness goals. In no time flat, you'll be creating healthy habits without even realizing it.
Your new friend & health coach,

Here's How Busy Fathers Over 40 Are Finally Burning Stubborn Belly Fat & Getting Healthy Without Restrictive Diets or Time-Consuming Workouts
This proven "Fit Father Program" has helped 25,000 busy men 40+ lose weight, rebuild muscle, and finally keep the weight off.
If you're frustrated with stubborn belly fat, failed diets, and time-consuming workouts, this is the answer you've been looking for…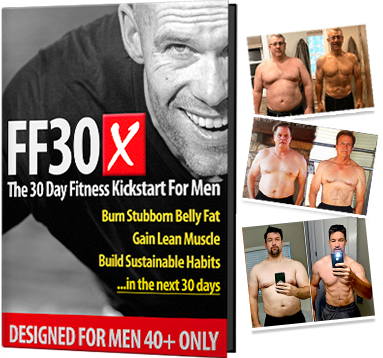 Join 22,000 guys in over 98 countries are using FF30X to lose weight. You get everything you need to succeed – including:
The Fit Father Meal Plan – with simple & delicious recipes
Safe & Effective Workouts Program – only 90 min/week
VIP Accountability Coaching – our Fit Father Team will personally walk you to success, step-by-step.
See the FF30X Program overview here. You'll discover how this proven Fit Father Program can help you lose weight and actually keep it off – without the complication and restriction of normal diets. »
*Please know that weight loss results & health changes/improvements vary from individual to individual; you may not achieve similar results. Always consult with your doctor before making health decisions. This is not medical advice – simply very well-researched info on conditioning workouts.