I
t's the most wonderful time of the year. It's also the busiest! Stay on track this holiday season with our December workout plan!
Whether you're going strong or looking to get started, it can be tempting to just chalk December up as a loss and wait to hit it hard in the new year.
This way of thinking is seriously damaging.
You'll lose all your momentum and progress, gain more weight, and end up in a worse position on January 1 than you were on December 1.
I really want to help you break this cycle and get you through December with as minimal damage as possible.
I know that December is one of the busiest months of the year. It usually includes lots of festivities with food and drinks in abundance.
To give you a solid structure for December, I'd highly recommend getting underway with our FF30X.
It's already helped thousands of men get in great shape!
FF30X is our full 30-day program that includes all you'll need for healthy eating and workouts.
It also contains outstanding accountability steps to keep you fully on track.
However, if you don't feel ready for it just now, that's totally fine.
This December workout plan will help you to hit January with a strong motivation to make the New Year your healthiest year yet.
Watch this video to get an outline of this amazing December workout plan!
The December Workout Plan Structure
This December workout plan has been prepared using principles taken from the FF30X program that I've introduced you to above.
The main purpose of it is to help you remain consistent throughout the holidays.
It will help you build healthy habits that you can maintain as you steamroll into the New Year, motivated to be in great shape.
The workout plan is kept short, so you can fit each session into your days without disturbing your regular schedule.
In fact, it only requires 120 minutes of exercise each week.
These 2 hours consist of 25-35 minute workouts, which I will give you links to further down the page.
The structure gives you 2 weeks that will be repeated, so weeks 1 and 3 will be the same, and weeks 2 and 4 will be the same.
You will do these in a rotation.
Weeks 1 and 3
Weeks 2 and 4
The 24-Minute Fat Burning Workout
This great workout is exactly what the name suggests.
It's a short, explosive workout that combines strength, cardio, and flexibility aspects, helping you to burn fat quickly and boost your metabolism.
Using a set of dumbbells or kettlebells, the workout will have you do a pyramid of reps, up and back down, using 5 simple exercises.
Due to the limited equipment, you can do this in your own home in a small area.
It's a perfect workout for those of you with limited time and space.
Here's A Free 24-Min Fat Burn Workout For Busy Men 40+
This powerful workout will reignite your metabolism to burn fat 24/7 like you did in your 20s…
The 35-Minute Strength Workout
This is another short workout that can be completed with a pair of dumbbells or kettlebells and limited floor space.
The main focus for this particular workout is to increase your muscle mass and therefore increase your metabolism further.
As muscle mass is the metabolic engine of your body, the more you have, the more calories you naturally burn each day.
The workout uses super-sets of two exercises in each block to give you a full-body workout in minimal time.
Check out this video to see the full workout!
The HIIT Workout
HIIT stands for High-Intensity Interval Training and is a way of doing cardio exercise in short sessions.
The duration can be mixed up, but HIIT gets you to work out in short bursts of high-intensity activity and short periods of active rest.
For example, you could do a 20-minute run where you sprint for 15 seconds every minute with 45 seconds of light jogging.
If you walk on a treadmill, you could set the speed at 6 km/h and use the gradient at 6 for 15 seconds and 2 for 45 seconds of each minute.
This HIIT bodyweight workout can be done at home with NO equipment!
The Physical Activity Of Your Choice
The physical activity on a Sunday can be anything, like walking with your family after your Sunday lunch, walking your dogs, or a nice bike ride with your buddies.
This part of the workout plan couldn't be any easier.
You simply select an activity you like and spend some time enjoying yourself as you do it.
It's a great way to get yourself out of the house on a Sunday and the perfect time to be active with your friends and/or family.
How Will This Workout Plan Help Me?
Following this workout plan will help you to keep your metabolism high throughout the whole month, which is perfect when there are so many feasts and parties going on.
As I've mentioned above, it will also help you to create strong habits that you can carry into the New Year.
Working out over the holiday season is great for your motivation.
As everyone around you is overeating and putting on weight, you'll be staying healthy and can launch into the New Year with good energy, strong habits, and a head start on those that have over-indulged.
Here's How Busy Fathers Over 40 Are Finally Burning Stubborn Belly Fat & Getting Healthy Without Restrictive Diets or Time-Consuming Workouts
This proven "Fit Father Program" has helped 38,000 busy men 40+ lose weight, rebuild muscle, and finally keep the weight off.
If you're frustrated with stubborn belly fat, failed diets, and time-consuming workouts, this is the answer you've been looking for…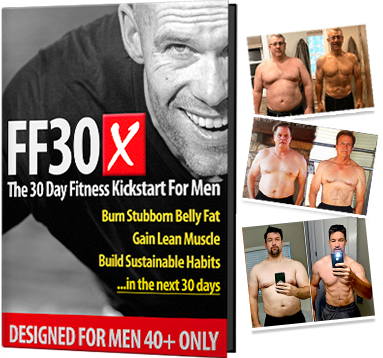 Join
38,000
guys in over
108
countries that are using FF30X to lose weight. You get everything you need to succeed – including:
The Fit Father Meal Plan – with simple & delicious recipes
Safe & Effective Workouts Program – only 90 min/week
VIP Accountability Coaching – our Fit Father Team will personally walk you to success, step-by-step.
LEARN MORE ABOUT FF30X >>
See the FF30X Program overview here. You'll discover how this proven Fit Father Program can help you lose weight and actually keep it off – without the complication and restriction of normal diets. »
*Please know that weight loss results and health changes/improvements vary from individual to individual; you may not achieve similar results. Always consult with your doctor before making health decisions. This is not medical advice – simply very well-researched info on a December workout plan.