S
lumps happen! While it's important to take the lesson and let yourself off the hook when you fail, it's even more important to get up, dust yourself off and get back on the horse.
You see, reaching success is not about being successful every step of the way.
You may endure many failures or setbacks before you reach your goal, but that doesn't mean you will fail!
Failing and being a failure are two very different things.
Don't believe me? Take a look at what some very successful people endured along their path to success.

Walt Disney was told he "lacked imagination" before his first hit, Snow White, came to theaters.
Oprah Winfrey was fired from her reporting gig in Baltimore for getting too emotionally invested in her stories. Now, her media empire is worth $3 billion.
Thomas Edison was told by a teacher he was too dumb to learn. We all know we have him to thank for our light bulbs now.
There are so many other inspirational people who were rejected or endured major setbacks before they ever became successful.
This blog will show you some of the best ways I've found to overcome any slump – large or small.

Acknowledge Your Shortcomings
Like most things in life, you have to own up to your shortcomings in order to overcome any slump.
Perfectionism has infected many of us. Many of us believe that in order to be successful, we have to be perfect.
In reality, there is not a single person who is perfect or has a perfect life.
Take the pressure off of yourself right now and acknowledge your shortcomings – all your faults, your failed goals and your dreams that fell by the wayside.
It is a painful process to reflect on your shortcomings. But a foundation of self-awareness and truth is the key to setting goals you will actually achieve.
Check out this blog for the most common excuses men make to avoid exercise and how you can rid them from your life.
Tell a Friend
Once you have acknowledged your shortcomings, it's time for an even more challenging feat – telling someone.
Sometimes it seems that if we don't tell anyone about our faults, they don't exist.
We've all heard the saying, "If a tree falls in a forest and there's no one around to hear it, does it make a sound?"
Handling your shortcomings this way just isn't conducive for personal growth.
In order to overcome any slump, you need friends, mentors or family members that you trust.
When you tell someone something you failed on, it becomes more real. They can offer you advice or just be a good listener.
Start Small
The next piece of advice to overcome any slump is to start small.
As the saying goes, "How do you eat an elephant? One bite at a time."
Create small tasks for yourself that you will definitely be able to achieve. The point here is not to achieve your entire goal, but to create good habits.
Once you are able to achieve small tasks, update your friend with your success so that they can share in your accomplishments.
This approach will prepare your mindset to achieve whatever goal you set your mind to without fail.
Make a Plan
Now that you have trained your brain to adhere to good habits, you are ready to make a plan that can help you overcome any slump.
There are 5 elements to a foolproof plan that are outlined in SMART Goals.
Your plans should be:
• Specific (simple, sensible, significant).
• Measurable (meaningful, motivating).
• Achievable (agreed, attainable).
• Relevant (reasonable, realistic and resourced, results-based).
• Time-bound (time-based, time-limited, time/cost limited, timely, time-sensitive).
Overall, you want to plan for SUCCESS! A poorly-made plan will set you up for failure.
That's why you should take special care to formulate your plan along SMART Goals.
For more tips on how to create a winning plan for any goal, check out our blog.
Be Accountable
So you've created a plan. Now what?
You need to make sure that you are staying accountable. A plan is useless if you don't stick to it!
There are several ways to stay on top of your plan.
First, you can continue updating the friend you've chosen to take along through this journey with you. They can be a great source of support.
Second, you can make full use of your calendar. Enter your daily goals and benchmarks so that you have full view of your plan.
Third, you can journal nightly. From reflecting on your day to writing out goals for the next, journaling at night is a fantastic way to clear your head from the day and go to bed with a positive outlook.
No matter how you choose to do it, holding yourself accountable will keep you on track.
Even more importantly, holding yourself accountable will make you feel in charge of your actions, plans, and life.
Slump No More
Here at the Fit Father Project, we train and counsel busy fathers all day and all night.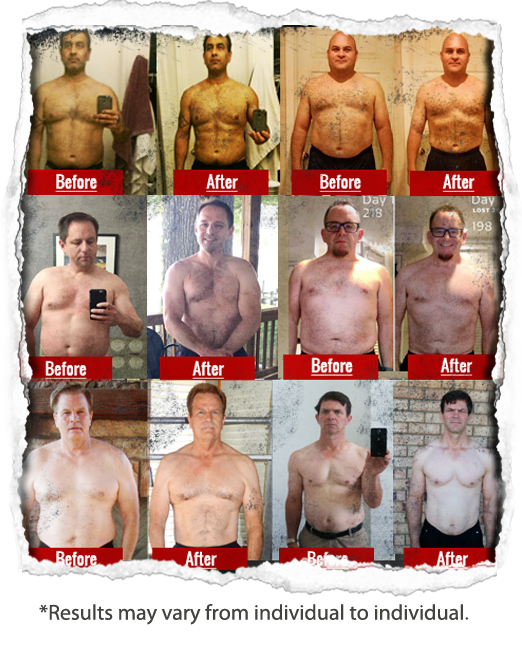 We've heard so many success stories bred from what were "slump stories."
The advice above and the brotherhood of the Fit Father Project can truly take you to new heights.
Check out the progress from our Fit Father brothers who have fallen down– but most importantly– have gotten back up again. These men got our free 1-day weight loss meal plan. Now, they're stronger than ever.



We would love to be a part of your journey too.
Your new friend & health coach,
Small note about research cited in this article:

*Always remember: weight loss results & health changes/improvements vary from individual to individual. Just because these studies cite certain data does not mean you will experience these results/outcomes. Always consult with your doctor before making decisions about your health. This is not medical advice – simply well-researched information. Thanks for reading!