I
n the end, people that attempt to lose weight all want the same thing. But not everyone uses the same weight loss motivators. More importantly, the motivating factor for wanting to lose weight may play an important role in the outcome.
A study from the International Journal of Obesity looked at the differences between long term weight loss maintainers, weight loss regainers, and obesity maintainers. Participants were questioned about their efforts and their motivating factors. The study found commonalities between weight loss maintainers vs. other participants. The most successful weight loss maintainers listed a boost to confidence as a primary motivator. In addition, they also placed a higher value on attractiveness than the other two other groups.
Why Do People Want to Lose Weight?
The most obvious reason to lose weight is being overweight in the first place. For most humans, simply being overweight is not reason enough to make an effort to lose it. It's unfortunate but true.
Why? Because losing weight is a psychologically difficult process.
It takes a conscious effort, even for healthy individuals, just to maintain their weight as they age. If the goal is to lose 10-20 pounds of fat, the process is not that hard, but still difficult enough to prevent that first step.
If there is a necessity to lose more than 20lbs, that first step becomes much more psychologically challenging to take. It's easy to forget about it for now and deal with the problem in the future, or worse, just deal with being overweight and forget about changing.
Finding the right motivation to cling to can make all the difference. Focus on the outcome and find the reasons to commit to a lifestyle change.
Some of the Most Common Weight Loss Motivators
Be More Attractive
People that place a high value on attractiveness are more likely to maintain weight loss over time. Being more attractive is a fantastic motivator for a variety of reasons. For anyone with a high BMI, losing weight will definitely make them more attractive. Losing additional fat also has benefits to confidence and energy levels.
Let's face it. We live in a social world. Being more attractive will have a tremendous benefit to our lives. Attractive people are known to be more persuasive and agreeable. Being attractive improves the interactions we have with other people on a variety of levels. Whether it's your personal outlook, the sub-consciousness of those you interact with, or an improved selection of clothes, being more attractive is a great weight loss motivator to focus on.
Improve Fitness & Mobility
Losing excess fat is a necessity for any and all athletes, except for maybe a Sumo Wrestler. Being able to run up a set of stairs without getting winded is a psychologically understated advantage.
Fit people get more done. Being stronger allows you to carry heavy things. Being more flexible helps you avoid injury, and having a higher endurance enables you to push through difficult situations. An improved overall fitness is one of the best weight loss motivators you can focus on.
To Live longer
Some people are just afraid to die early. Maybe they want to be with their partner longer or watch their kids grow old. Almost everyone wants to prolong life, especially after our lives have improved dramatically. Whether or not life extension is used as a weight loss motivator, it still remains as a great benefit to the losing weight.
Advice from Health Care Provider
When your doctor tells you to lose weight, it's time to stop procrastinating. Unfortunately, this weight loss motivator does not always work as well it should. Even if the doctor's advice is accurate, patients typically have some reason for being overweight in the first place. Overcoming whatever obstacle that is does not dramatically change because the doctor told them to. Obviously, it's important for everyone to use the weight loss motivator that works for them, but it may be more beneficial to focus on the positive aspects of losing weight. I'm not telling you to ignore your doctor, quite the opposite. I'm telling you to agree with your doctor and accept accountability for your situation.
Find a Partner for a Romantic Relationship
This weight loss motivator falls under the attractiveness portion, but it's also commonly listed by itself. Losing weight definitely opens up new avenues when it comes to finding that special someone.
Ridicule
As with the doctor, it's probably not beneficial to use other people as a motivator. I'm not telling to not to. By all means, do whatever works. But avoiding ridicule is probably not the best long term weight loss motivator.
Major Life Changes
Sometimes we undergo major life transitions. Moving to a new city, getting a new job, or getting married are just a few of these experiences. Every few years, we go through these changes, which gives us the opportunity to re-evaluate our life and consider the options for improving it.
Change in relationship status
Move to a new home
New Job/School
Having a child
Health triggers
These changes can work amazingly well as initial weight loss motivators. The events can be physiologically powerful and open up doors for long term success. Maybe your new house is close to a farmer's market or gym. Or maybe your new partner is excited about losing weight too. Regardless of the situation, it's important to focus on the positive aspects. This allows you to maintain the motivation to seek opportunity.
Influences from Other People
As mentioned earlier, losing weight for someone other than yourself is not always the best route to take. After all, we are the ones who care the most about our own lives. We are the ones responsible and, ultimately, the ones who have to suffer the consequences of failure.
With that said, there are some incredibly inspirational people out there. Sometimes they can be very helpful with achieving weight loss.
Motivational speakers
Comments/Insults
Success stories
Making a Commitment
Sometimes it's just time to start the process. Many of us have gained weight gradually, closely monitoring the decline. We have paid attention and made note of what is to come.
All we need is that initial trigger. We know it's going to happen someday, we just don't want to commit today.
For anyone in this situation, I would like to encourage you to find the motivator that works for you. Consider all of the benefits of losing weight and think about the potentials after it's accomplished.
If you're overweight, committing to a plan is one of the best things you can do to improve your life now. Here are a few tips to get you started on the journey.
Begin small, but challenge yourself every day
Start today by planning a healthy dinner and going for a walk. No matter what, do something each day that benefits your health and fitness. Push yourself as far as you can go without destroying the motivation.
Focus on diet
Don't go on a diet. Instead, change your diet to include healthy foods that you enjoy eating. What we eat is the most important factor with weight loss and weight gain.
Put your plan in writing
Develop a meal plan, fitness schedule, and set reasonable weight loss goals. By writing it down, you'll not only remember more easily, but you'll more likely to create a legitimate plan that works.
Invest heavily in the first week/month
Commit to a week initially. Eat healthy meals and do 30 minutes of activity every day. When you finish the week, focus on the month. Feel free to use our 1-Day Meal Plan or 24-Minute Workout to get you started. The point is to do enough work that it becomes more important to stay committed than quit.


Your new friend & health coach,

Here's How Busy Fathers Over 40 Are Finally Burning Stubborn Belly Fat & Getting Healthy Without Restrictive Diets or Time-Consuming Workouts
This proven "Fit Father Program" has helped 25,000 busy men 40+ lose weight, rebuild muscle, and finally keep the weight off.
If you're frustrated with stubborn belly fat, failed diets, and time-consuming workouts, this is the answer you've been looking for…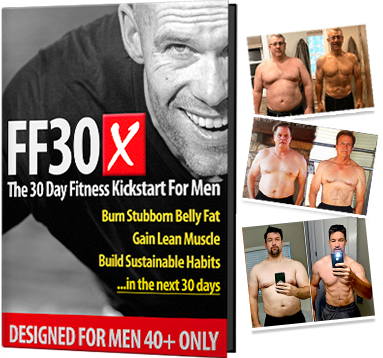 Join 22,000 guys in over 98 countries are using FF30X to lose weight. You get everything you need to succeed – including:
The Fit Father Meal Plan – with simple & delicious recipes
Safe & Effective Workouts Program – only 90 min/week
VIP Accountability Coaching – our Fit Father Team will personally walk you to success, step-by-step.
LEARN MORE ABOUT FF30X >>
See the FF30X Program overview here. You'll discover how this proven Fit Father Program can help you lose weight and actually keep it off – without the complication and restriction of normal diets. »
*Please know that weight loss results & health changes/improvements vary from individual to individual; you may not achieve similar results. Always consult with your doctor before making health decisions. This is not medical advice – simply very well-researched info on the most common weight loss motivators.