L
et's face it; you're bombarded with images of fit men and women. Whether you're thinking about signing up to the gym or buying equipment for
at home workouts
it's likely that the advertisement features the body you want; not the one you have.
After all, this is why you're looking to buy the equipment or membership!
Statistics show that 80% of those who sign up to a gym at the beginning of the year will quit in less than 5 months. This will leave you dealing with the financial implications of a 12-month membership.
The Reasons People Quit
There is a myriad of reasons why the gym is simply not feasible.
It might be that you feel self-conscious when at the gym, or that you don't know enough about the different machines to use them properly.
And no one wants to be the guy who has to ask….
Time is also a factor; even a half hour workout can take an hour and a half, allowing for travel!  At least with our free 24-minute workout, you'll need just 24 minutes!
That's the point in at home workouts. You can find the time to get the 24-minute workout done and you don't need to feel like others are judging you.

Why You Should Choose At Home Workouts
Time is precious but you can find 24 minutes in a day. This is less than one episode of your favorite television show. For many people, it's less than the time it takes to shower!
You simply need to look at your routine and select a 30-minute slot. Book it into your schedule every day and start completing the 24-minute workout.
But it's more than just being able to find the time to complete at home workouts. They offer the convenience of being able to start and finish at any time.
There won't be anyone watching you and you can dedicate yourself to the at home workouts. This will ensure you are focused and achieve the best possible results.
You also won't need to worry about buying the fancy gym equipment, anything that you're comfortable in and allows you to move freely will do!
An added bonus is the ability to have your inspirational music playing as loud as you like. You can even add a mirror to admire your muscles as you make each move!
It is also worth mentioning that inspiration can be an issue, especially when you are first forming a habit. You might feel silly in the gym looking at a picture of a muscled man with the body you want.
But, if this helps inspire you then there is nothing stopping you having it at home! After all, it's unlikely you want the body of a fit woman; at least not instead of your own….

At Home Workouts In Just 24 Minutes!
The latest research suggests that a fast-paced 24-minute workout which works your muscles and provides strength training can produce significantly better results than a long one.
Forget running for hours, you can complete a workout in less than 30 minutes and lose weight or gain muscle, depending on which you are aiming for.
The key in succeeding at this approach is to complete a series of explosive moves in a short space of time.
These build core muscles, improve strength and boost your metabolism.
This is everything you are looking for in any workout, whether at home workouts or at the gym!
An additional benefit of this type of workout is the fact that you'll feel an instant boost in your emotional state.
You also need to be aware that at home workouts do not need lots of expensive equipment.
For example, our free 24-minute workout requires approximately 5 foot of floor space and a set of dumbbells. You'll be able to increase the weight of the dumbbells as and when you feel ready.

Become Part Of The Bigger Picture
Losing weight or building muscle does require exercise and our 24-minute workout is a great way to get started.
However, it also requires healthy eating.
It is not possible to get the body you want unless you look at what you are eating.
You need nutrition, balanced meals and a meal plan that you can stick to for life.
But you can't do this alone!
No matter how motivated you are there will be dark days. That's what we're here for! Join our FF30X today and start benefitting:
Full support from us and other members; we've all been where you are.
Make yourself accountable by reporting in results; it will drive you to try harder and keep training.
Discover the healthy meal plans and our perfect plate strategy which will make meals times easy and even save you time!
Graduate from the 24-minute workout and test out a number of other exercises which can help you to achieve the right results.
Share your knowledge and help others; you'll be doing this quicker than you think!
The FF30X is designed to provide inspiration, motivation, and support. You won't be judged, just helped! Try it today and start your journey towards the new you.
Balance is important in life, whether you are looking to lose weight, build muscle or do both. Gain the support you need and feel good about the fact that you can complete productive at home workouts in less than 30 minutes.
The FF30X program will help you achieve your goals; one look at the testimonials on the site will show that this is possible!
Working It All Together
At home workouts are convenient. They don't just save you from embarrassment at the gym; they can allow you to push yourself harder, focus on your form and achieve real results.
But, the right workout is key to your success. Start with our free 24-minute workout. This is a great way to start training and start moving towards your goal.
But, once you've started to see the effects it's time to move it up a notch. That's what the FF30X can offer you; support, advice and the ability to achieve more than you originally thought possible!
Your new friend & health coach,

Here's How Busy Fathers Over 40 Are Finally Burning Stubborn Belly Fat & Getting Healthy Without Restrictive Diets or Time-Consuming Workouts
This proven "Fit Father Program" has helped 25,000 busy men 40+ lose weight, rebuild muscle, and finally keep the weight off.
If you're frustrated with stubborn belly fat, failed diets, and time-consuming workouts, this is the answer you've been looking for…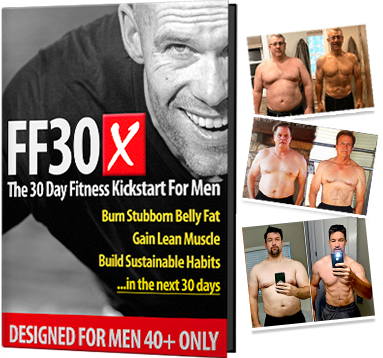 Join 22,000 guys in over 98 countries are using FF30X to lose weight. You get everything you need to succeed – including:
The Fit Father Meal Plan – with simple & delicious recipes
Safe & Effective Workouts Program – only 90 min/week
VIP Accountability Coaching – our Fit Father Team will personally walk you to success, step-by-step.
See the FF30X Program overview here. You'll discover how this proven Fit Father Program can help you lose weight and actually keep it off – without the complication and restriction of normal diets. »
*Please know that weight loss results & health changes/improvements vary from individual to individual; you may not achieve similar results. Always consult with your doctor before making health decisions. This is not medical advice – simply very well-researched info into at home workouts.