Setting a weight loss goal is great, but it's important to remember the benefits of losing weight go beyond just a number on the scale.
Your fitness progress can be measured in so many other areas, such as:
Strength gains
Improved health markers like blood pressure and cholesterol
Decreased body fat percentage
Improved mental clarity
More self-esteem
An enhanced sex life
And so much more
We call these benefits of losing weight "non-scale victories (NSVs)" and they can have major impacts on all aspects of your life.
Because after all, numbers can be deceiving.
For example, if you are gaining muscle while losing fat, your weight may actually tick up a little.
But this isn't a failure! You are actually getting in better shape by improving your body composition.
Other ways to monitor your progress include measuring body fat percentage, waist circumference, or just noting that you can fit into smaller clothing.
You may also realize you can lift heavier weights, do more reps, or feel less fatigued after a cardio workout.
These are all benefits of losing weight that no scale can tell you.
Let's learn more about NSVs and the many amazing benefits of losing weight!
Find out what to expect while losing weight and how you can set REALISTIC expectations.
7 Awesome Benefits of Losing Weight That Don't Show Up on the Scale
1. Decreased Risk of Chronic Diseases
Research has shown that even moderate weight loss can decrease your risk for chronic diseases, such as type 2 diabetes, high cholesterol, and hypertension.
So looking great isn't the only benefit of weight loss!
Being overweight or obese is strongly associated with high blood pressure.
Weight gain, especially when associated with increased abdominal fat, plays a big role in hypertension.
In fact, overweight or obesity accounts for up to 65% to 75% of the risk for high blood pressure.
Numerous studies have identified the benefits of weight loss on decreasing blood pressure.
For example, one meta-analysis of 25 randomized, controlled studies found that a weight reduction of 5 kg, or a little over 10 pounds, helped to decrease both systolic and diastolic blood pressure.
Meet Heart RX. The Blood Pressure, Cholesterol, and Healthy Circulation Support For Guys 40+
Heart RX is for guys who are taking (or have taken) medication for lowering cholesterol and blood pressure. Heart RX will provide you with the natural support to improve all aspects of your heart health – including: blood pressure, healthy cholesterol, and better circulation.
2. Improved Body Composition
Losing weight isn't all about just shedding fat.
It's also about building muscle and creating a fit, strong body.
Exercise and resistance training will not just help you lose weight but will also give your body muscular definition.
Increasing muscle mass will give you a lean, fit physique, and strength training will help you maintain muscle mass while you are trying to lose weight in other areas.
It's no secret that you burn some serious calories during a tough workout session.
But in addition to that, regular exercise will increase your lean muscle mass.
This in turn increases your resting metabolic rate and further aids in weight loss.
This means that by losing fat and gaining muscle you will burn more calories, even at rest, and maintain your weight loss goals.
Learn how you should be working out in your 40s, 50s, and 60s, and how you should be eating and supplementing your diet.
3. Better Sleep and Fitness
Sleep affects our bodies and our minds in so many ways.
It plays a role in our physical, mental, and emotional well-being.
Exercise and weight loss can help improve your sleep patterns and have you feeling more rested each morning.
In addition, weight loss and improved sleep can form a positive feedback loop that enhances more weight loss.
For example, if you are trying to lose weight, adequate sleep is essential to reach these goals.
Sleep deprivation can alter hormone levels that impact hunger and metabolism and increase abdominal fat.
This in turn can have a negative effect on your weight loss goals.
However, losing weight and normalizing your sleep patterns can keep your hormone levels in check.
Plus, if you don't get enough sleep this can slow fat loss even if you are following a good nutrition and fitness plan.
So even if you are doing everything right with your diet and workout plans, you can sabotage this with poor sleep habits.
Learn some sleep and weight loss facts including how you can leverage sleep to improve your health.
4. Improved Mental Health
A lot of people turn to exercise for stress relief, and for good reason!
Losing weight will not only improve your physical fitness but also your mental and emotional health.
Being able to manage your stress levels allows you to not only be healthier overall but also to live a high quality of life.
Exercise is an amazing outlet that allows you to strengthen both your body and mind at the same time.
A review of several health studies shows that exercise leads to better health outcomes, including enhanced quality of life, better functional capacity, and better mood states.
This is true for both aerobic and resistance exercise, which has also been found to improve anxiety.
Physical activity is truly one of the best treatments out there when it comes to decreasing stress and empowering the mind.
The endorphins released during exercise improve anxiety and can even help with pain relief.
The benefits of exercise not only include improved physical fitness, but also mental and emotional health.
These stress and mental health tips will help you live a longer and healthier life!
5. Strengthened Body and Self Esteem
One of the ways that weight loss can improve mental health is by boosting self-esteem.
I think that we can all admit that having a toned, strong body helps improve our self-esteem.
And I'm not talking about being "skinny."
This is all about being strong and healthy.
When men take charge of their fitness this helps improve self-esteem and enhances motivation to continue towards their fitness goals.
So not only will working on that summer beach body have you looking great, but you will also be feeling great too!
6. Improved Libido
Another benefit of weight loss that guys often forget is improved sexual health.
Fitness encompasses all aspects of wellness.
This includes physical strength, endurance, mental health, and libido.
Sexual health is just as important as all areas of fitness for men.
Men with obesity, metabolic syndrome, and type 2 diabetes have low total and free testosterone and low sex hormone-binding globulin (SHBG).
This in turn leads to a lower sex drive.
Too little exercise can also be responsible for low sex drive in men.
Low levels of physical activity can result in a number of health issues, like obesity and diabetes, that can affect sexual desire and arousal.
In addition, regular exercise enhances body image and self-esteem, which in turn increases the desire for sex.
A study following men for nine months found that those participating in aerobic exercise noted significantly improved libido.
Just another reason why physical fitness is so important in overall health.
The Natural Testosterone Booster Guys 40+ Are Using For More Energy, Drive, & Results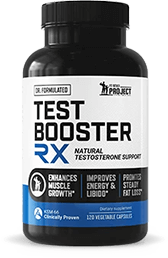 After age 30, your Testosterone levels start declining. Add in some stress and a "less than perfect" diet… everything gets worse fast. You feel tired all the time. It's hard to lose fat. It feels like you lost your edge. That's the sad story that happens to most guys 40+. But now, it doesn't have to be that way for you….
7. Better Skin
You often hear about someone having a "healthy glow."
While being healthy is definitely more than skin deep, that doesn't mean your skin doesn't get an extra boost from weight loss.
Being overweight can cause a number of skin issues, from stretch marks, dry skin, hyperpigmentation, and even an increased risk of skin infections.
These skin problems are typically associated with increased sweating and friction.
In addition, obesity may also be associated with poor wound healing, malignant melanoma, and an increased risk of inflammatory skin problems such as psoriasis.
Here's How Busy Fathers Over 40 Are Finally Burning Stubborn Belly Fat & Getting Healthy Without Restrictive Diets or Time-Consuming Workouts
This proven "Fit Father Program" has helped 38,000 busy men 40+ lose weight, rebuild muscle, and finally keep the weight off.
If you're frustrated with stubborn belly fat, failed diets, and time-consuming workouts, this is the answer you've been looking for…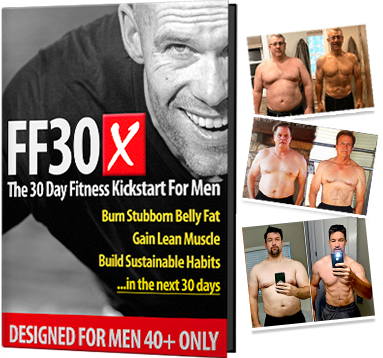 Join 38,000 guys in over 108 countries that are using FF30X to lose weight. You get everything you need to succeed – including:
The Fit Father Meal Plan – with simple & delicious recipes
Safe & Effective Workouts Program – only 90 min/week
VIP Accountability Coaching – our Fit Father Team will personally walk you to success, step-by-step.
LEARN MORE ABOUT FF30X >>
See the FF30X Program overview here. You'll discover how this proven Fit Father Program can help you lose weight and actually keep it off – without the complication and restriction of normal diets. »
*Please know that weight loss results and health changes/improvements vary from individual to individual; you may not achieve similar results. Always consult with your doctor before making health decisions. This is not medical advice – simply very well-researched info on the benefits of losing weight.