The Best Fitness Applications of 2019 Revealed
F
itness apps have become an essential part of almost any workout routine. But choosing the best one for your needs can be difficult. There are new ones constantly arriving that threaten or promise to be better than anything else currently available. Being aware of the best fitness apps of 2019 will give you an idea of the options that are currently available.
It should be noted that there are some apps that claim to be the best at everything. However, you're more likely to get the best app for your particular activity if you're prepared to download and try several different ones.
Put simply, it's just like any area of industry. There will always be specialists that know a particular market better than the competition.
When it comes to the best fitness apps, you need those specialists that will ensure the app does everything you need it to and more.
This is a great opportunity to introduce you to the Fit Father Project. In short, we help men to eat better and become more active.
Of course, that's an oversimplification. We cover a wide range of topics from intermittent fasting, to muscle building smoothies, acupuncture, and hypnosis.
The truth is that we have helped thousands of men lose weight, feel better, and gain more confidence. 
For the ladies, it is important to mention our newly launched sister site, the Fit Mother Project. Check out one of the latest articles, the Best Weight Loss Supplements for Women Over 40. 
FREE

1-Day Weight Loss Meal Plan For Men 40+
Lose weight. Eat like a man. Enjoy your life. Over 55,000 men are using this.
Get yourself back into great shape - at any age the Fit Father way.
The Best Fitness Apps of 2019
Without wasting any more time, lets' take a look at what is currently on offer and how it can benefit you to achieve your goals.
Don't forget, the smartphone may receive bad press regarding how much time people spend on them, but it does give you access to some fantastic apps that can really have a positive effect on your life:
Fitness Trackers
A fitness tracker is designed to help you monitor your fitness, and ideally, see how it improves. It should offer to monitor your heart rate, count the steps you take, estimate calories burned, and even monitor different exercise activities.
There are a range of manufacturers offering fitness trackers. Fitbit is perhaps the best known, but all of these need to connect to an app in order for you to see and process the data properly;
You can, of course, use the app that comes with your fitness tracker. But, you may prefer to use the Strava app.
This is a great app and very easy to use. You can monitor your heart rate, distance traveled, calories burned, and list your exercises and workout sessions.
The newest feature on this app is Route. This allows you to record a route to be used again and easily compare performance.
Alternatively, you can choose a new route, even one that someone else has posted. The great thing about this is not that you know where you're going; you probably already know that. It is that any section on the route can become a personal race track and your fitness tracker will relay the information to Strava; which will assess, break down and compare your routes, times and performances.
It's a great incentive to get fitter and beat your own times.
It should be noted that there is a free version of the app as well as many variations.
It should be excellent at keeping you motivated to exercise. You're not just racing yourself. You're competing with everyone else in your community.
Calorie Counters
Counting calories is one method that many people use to lose weight. However, you can also use it to build muscle. The trick is to know your maintenance calories and then calculate how many more or less you need to be consuming to move towards your goals. That part is fairly easy. What is harder is actually counting those calories, especially if you eat out or grab food on the go.
Fortunately, MyFitnessPal can handle this for you. It has an easy to access food diary.
You'll need to enter all the food you eat on a daily basis. It has its own database of over 6 million foods. You can usually find something to match what you've eaten, allowing the app to calculate your calories for you.
It is then easy to monitor your calorie count, see where you are making mistakes, and how to improve as well as tracking your long term progress. You'll need to enter a few personal details in order to get the most out of this app.
However, you'll be able to assess your micronutrients as well as your calories. You can also monitor activity levels, making this a pretty good all-around app.
Meditation Apps
Meditation is a great way of stepping away from all the everyday stresses that life throws at you. Unfortunately, it can be difficult to find the time or focus on your meditation with so many distractions.
That's where Headspace comes into its own.
You can access a free version of this, but you'll need to subscribe to access all the different modules, ($12.95 per month). It is very easy to use but has an array of customizable options and uses animations to help explain the concepts involved.
It will provide you with downloadable sessions that will guide you through the process of setting up and practicing meditation. It's straightforward enough that even your kids can do it. The fact that it is scientifically backed is a bonus.
However, you do need to be prepared to put in the time in order to get the maximum amount of benefit from this app.
Your initial, free course, has 10 sessions of 10 minutes each, and you unlock the next session by completing the one you're on. It's even possible to track your progress and total meditation time.
If you follow the tips, you'll quickly be meditating for 10 minutes every day, and feel the benefits.
Sleep Aid
When you sleep, your body has the opportunity to relax, balance your hormones, and repair any damage that has occurred during the day. This is the time when most muscle growth and repair will occur.
In fact, getting between 6-8 hours sleep a night will help all aspects f your mental and physical health.
But, not all sleep is equal. Throughout the night you'll cycle between deep sleep and light sleep. To really understand and benefit from your sleeping, you need to start using the Sleep Cycle app.
The idea is to show you your cycle. Regular sleep has small troughs of deep and light sleep culminating in deeper troughs. It is normal to alternate between deep and light sleep.
However, what is annoying is waking up in the middle of a deep sleep cycle. It will leave you feeling jolted and harassed from the moment you wake up. The idea behind Sleep Cycle is to do more than show you what your sleep is like. You can also set an alarm telling it when the latest time is that you need to be up by.
The Deep Sleep app will monitor your sleep and wake you up as close to this time as possible while you're in your lightest sleep stage. This will help you to feel good when you wake up and make the most of the day.
Of course, you'll also be able to monitor your sleep patterns over time and discover what you can do to improve them.
Workout Scheduling
Getting the right workout scheduling app can be difficult. You need something that does more than just allow you to record when to workout. The Strong app seems to offer the right balance between easy to use and motivational, making it the perfect choice for any man.
It is technically free, but you only get 4 workouts. After that, you'll need to pay $4.99 to unlock everything else.
The great thing about the Strong app is that it is so well laid out and easy to use. Simply select your routines and then select the exercise you want to do. You can add extra exercises if you can't find them on the app. It is then possible to compile your own workout and schedule your timeslot to do this workout.
The app will remind you when it is time to start and guide you through the exercises you have selected. You'll then be able to review your progress and even pin a weights chart to the app, helping you to see your improvement.
It is possible to simply accept the workout offered by the app. This is a good way for beginners to get started.  It even shows you how many reps you should be performing and at what level to warm up before you start the actual workout.
Intermittent Fasting
Intermittent fasting is an effective and fairly simple way to boost your weight loss goals. However, you'll need to track your calorie count on your fasting days and know when you can and can't eat. This can become confusing when you're busy, especially when you're trying to work out what to eat as well.
Fortunately, one of the best fitness apps of 2019 is Bodyfast, which is designed to help you with your intermittent fasting.
The BodyFast coach will work out an individual plan for you, dependent on your goals and current health stats. The methods it uses are scientifically backed and allow you to eat normally, providing you pay attention to the intermittent fasting rules. It will guide you through when to eat and when not.
The great news is that this app really is free. You can download it to Android or iOS and start using it straight away. The charts showing your progress are inspirational and the clear week plan helps you to know where you're at. Sticking to it will help you to achieve your weight loss goals.
Weightlifting
Weightlifting is a great way to burn some extra calories, even when you're resting between exercise. It also helps to build muscle which can help you to get the body you want. But, you'll need a little help to make sure you're doing it right.
That's why you'll be glad to find Fitbod, one of the best fitness apps in 2019.
Fitbod is designed to allow you to input the exercise you're going to do based on the equipment you have available at your gym. If you don't have the equipment to do an exercise, it can be easily removed from the routine.
You'll need to tell the app whether you want to focus on cardio or strength. It will then monitor your workout, provide you with a guide as you go through it and show you when your next one is due. You can even select the routine that doesn't require any equipment.
Fitbod is even capable of providing you with a suggested exercise routine that protects the muscles that have been worked and are still recovering.
Perhaps most importantly, this app gives you detailed instructions and a video to ensure that you get the form and posture correct. All you have to do is position your phone where you can see it and the app will show you what you need to do.
You have complete control over the number of sets and reps but Fitbod will make suggestions for you. In addition, weekly emails, progress reports, and reminders of upcoming workouts will help you to stay motivated.
FREE

24-min Fat Burning Workout
All you need is 24 minutes + 10 feet floor space + 1 pair dumbbells
Get yourself back into great shape - at any age the Fit Father way.
Summing Up The Best Fitness Apps of 2019
You can choose any or all of these best fitness apps 2019 and add them to your phone. But, in order to achieve real results, you need to be dedicated to a schedule, which can be hard to create and stick to.
After all, life is generally very hectic; it can be easy to book the time but difficult to actually complete the workout.
Fortunately, this isn't an issue if you join the FF30X today. The reason is simple. You'll be joining thousands of other men who have already achieved their goals or who are working towards them. You'll be motivated and inspired by them. But, you'll also feel accountable. Sharing your results is one of the best ways to ensure you stick to your workout regime. After all, no one wants to say they didn't do anything or have gained weight instead of muscle!
Hopefully, the best fitness apps of 2019 will help you to monitor and achieve your results. But the support felt when you join the FF30X program and select the right nutrition will be the deciding factor in achieving your goals and becoming the man you want to be.
Your new friend & health coach,
Stuart Carter Head Training Staff, The Fit Father Project Brotherhood Nickname: "The Fit Brit" Bragging Rights: 16 Years in the fitness industry, Author of 'The Easy Fitness Guide', Father of 4 boys and Husband to a Venezuelan beauty.
If you're interested in a proven and completely laid out "done-for-you" weight loss meal plan & workout routine – designed for you as a busy man…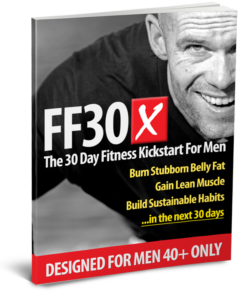 I'd recommend you read the program overview letter for our
Fit Father 30-Day Program
(FF30X).
Inside FF30X, you'll receive:
The simple & delicious Fit Father Meal Plan
The metabolism boosting Fit Father 30X Workout (under 90 min/week)
VIP email coaching where I'll personally walk you through the program
Read the FF30X Program overview letter here to see how our plan can help you lose weight – without the complication & restriction of normal diets.
*Please know that weight loss results & health changes/improvements vary from individual to individual; you may not achieve similar results. Always consult with your doctor before making health decisions. This is not medical advice – simply very well-researched info on the best fitness apps in 2019.