Got a camping trip planned? Don't just sit around the campfire! Tie in some camping workouts and get fit while you enjoy nature!
With many parks and gyms shut down, it's a tough time to find activities for the whole family to enjoy.
So why not get out and enjoy the ultimate social distancing pastime — camping!
Camping is a great way to get out into nature with the family, while also staying active.
There are tons of ways to keep you and your family engaged in fitness while keeping it fun the entire time.
Being outdoors gives you the opportunity to branch out and try new activities that your kids will love so much, they won't even know they are actually "working out."
Plus, it means you can still take a vacation without having to neglect your fitness!
Keep reading for our favorite camping workouts that the whole family will love!
Don't like the woods? Here are some other outdoor family activities your family will love!
The Best Camping Workouts For the Whole Family
Hiking
Hiking is one of the ultimate outdoor camping activities.
This type of exercise builds serious lower body and core strength, along with giving you a great cardio workout.
Not only is hiking great for your health, but it is also such an engaging activity that you don't even think about it as a workout.
By choosing technical or hilly trails you will build high aerobic fitness.
And, of course, your legs will get a killer strength workout!
You can even add in some upper body work by taking along a pair of trekking poles.
One study from the Journal of Strength and Conditioning Research found that hiking with trekking poles increased energy expenditure even at the same hiking speed.
Learn about the importance of walking every day and how it can DRASTICALLY improve your overall health.
Kayaking or Canoeing
If you want to get a killer upper body and aerobic workout, rowing a boat is the perfect camping adventure.
Plus, this is something the whole family can enjoy together as you explore nature.
Kayaking or canoeing is a great way to build your back, shoulder, and arm strength.
Plus, the twisting motion of moving the oar will get you a great core workout at the same time.
Getting out into the water allows you to explore new areas wherever you are camping, which makes this a great bonding adventure for the whole family.
Trail Running
Running is one of the best cardio workouts for burning some serious calories, but it can definitely get boring at times.
Being able to enjoy this activity on beautiful trails while camping allows you to really add variety to an otherwise monotonous workout.
Trail running gives you much a different workout than running on roads or a treadmill.
Trails offer a variety of terrains that will engage your larger leg muscles and the smaller core muscles that provide support and stability as you move.
Plus, running is one of the best ways to improve your overall health.
Numerous studies have demonstrated these health benefits.
A recent meta-analysis from the British Journal of Sports Medicine found that running participation was associated with lower all-cause, cardiovascular, and cancer mortality, regardless of the frequency.
So you don't even have to spend hours out on a trail to get amazing health benefits.
But you may just want to when you are experiencing the great outdoors!
Watch this video and learn how to run longer, faster, and better!
Swimming
If you are camping around a lake, swimming is an excellent option to stay active.
If you have a family of strong swimmers, you can even challenge each other to some fun races around a dock or the shore.
Many campgrounds even have pools on-site to enjoy a quick swim to get in some cardio.
Swimming doesn't have to mean just doing laps either.
You can turn just about any sport into a water activity.
Pool volleyball, throwing around a football, or even some early morning water aerobics are ways to stay active, and cooled off, at the same time.
Biking
Most campgrounds offer some pretty awesome bike trails.
These can vary from beginner road trails to off-road, technical courses.
This means you can tailor your bike workouts to your family's fitness abilities.
Biking will build cardiovascular endurance along with developing superior core and lower body strength.
This is great for both you and your kids.
Balance and stability are also big parts of biking, especially on more technical mountain bike trails.
This means biking is a great way to build on your core strength.
Campsite Circuit Workout
If you miss your traditional gym workout, you can move it outdoors.
You can create a bodyweight circuit to do with the family around the campsite.
If you plan ahead you can even bring along some resistance bands or TRX bands to add in a little resistance.
Try out this campsite circuit workout that will get the whole family's hearts pumping.
Perform each exercise for 30 seconds, then take a 30-second rest before moving on to the next exercise.
Body Weight Squats
Squat down until your thighs are parallel to the ground.
Drive through your heels, and don't let your knees track over your toes.
You can clasp your hands in front of you or hand them at your sides.
Push-Ups
Start on your hands and knees, with your hands about shoulder-width apart.
Extend the legs straight, resting on your toes.
Make sure your hands are directly under the shoulders.
Contract your abs and keep your body in a straight line from the top of your head to your heels.
Bend your elbows and lower your body until your chest is near the floor, then extend the arms again to drive back up to the top.
Make sure your kids maintain good form while doing this exercise.
Don't let their hips sag or their backs to bow.
They can start on their knees first until they gain enough strength to do a full push up on their toes.
Lunges
Step your right foot forward and keep your left foot back behind you.
Bend your right knee to lower the body towards the grass.
Keep your right knee behind your toes and be sure to lower straight down rather than forward.
Engage your abs as you push through the front heel and back to starting position.
Then alternate with the left leg.
You can do these in place and continue to alternate legs, or can do walking lunges across the backyard.
Build your lower body at home – or in the woods – with this lower body strength workout. All it takes is 30 minutes!
Picnic Table Triceps Dips
Sit on the edge of a campsite picnic table with your knees bent and feet in front of you.
Place your palms on the edge of the bench behind you.
Your hands should be underneath your shoulders, with your fingers facing toward your body.
Extend your arms to lift your butt, then bend your elbows to lower yourself back down without bringing your butt completely to the ground.
That's one rep.
Burpees With Push-Up
Stand with your feet shoulder-width apart.
Squat down and place your hands on the floor, shoulder-width apart.
Kick your legs straight out behind you into a high plank with your hands underneath your shoulders.
Bend your elbows to lower your chest to the floor, then straighten them to do a push-up.
At the top of the push up jump your feet toward your hands into a squat.
Jump straight up into the air, reaching your arms overhead.
Plank Jacks
Start in a high plank, or push up position, with your wrists directly below your shoulders.
While engaging your core, jump your feet out and in, like jumping jacks.
Try to keep your back straight and hips in line without too much bouncing.
Side to Side Plank Ski Jumps
Stand with your feet positioned close together.
Squat slightly, about a quarter squat, as though you were skiing.
Push up through your heels and jump up and to the right.
Land softly while sinking back into the ski squat position.
Repeat the movement, this time jumping towards the left.
Without pausing, continue to jump right and left.
This video will show you 10 exercises to do in the great outdoors!
Stay on Top of Your Health With Camping Workouts
Getaways with the family are a great way to spend time with your loved ones and also escape from the day to day grind.
Camping is a great vacation option, especially in the current setting of social distancing.
Being outdoors also gives you the perfect opportunity to keep up with your fitness and get your kids to join in on the fun.
There are tons of ways to stay physically active while camping, not to mention it can be a nice change of pace from your normal workout routines.
And when you're finished, you can enjoy a relaxing night around the campfire!
Plus, these camping exercises will do more than just improve your strength and aerobic fitness.
Researchers have also found the benefits of simply spending time in nature can decrease systolic blood pressure, improve stress levels, and strengthen your immune system.
So if you're looking for a way to get away from it all, spend time with your family, and still stay on top of your health, then look no further than camping!
With so many beautiful parks and nature preserves across the globe, you will always have a spot to enjoy a new adventure.
Here's How Busy Fathers Over 40 Are Finally Burning Stubborn Belly Fat & Getting Healthy Without Restrictive Diets or Time-Consuming Workouts
This proven "Fit Father Program" has helped 25,000 busy men 40+ lose weight, rebuild muscle, and finally keep the weight off.
If you're frustrated with stubborn belly fat, failed diets, and time-consuming workouts, this is the answer you've been looking for…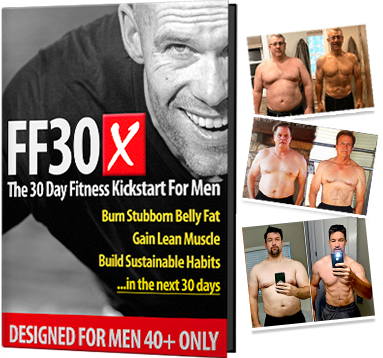 Join 22,000 guys in over 98 countries are using FF30X to lose weight. You get everything you need to succeed – including:
The Fit Father Meal Plan – with simple & delicious recipes
Safe & Effective Workouts Program – only 90 min/week
VIP Accountability Coaching – our Fit Father Team will personally walk you to success, step-by-step.
LEARN MORE ABOUT FF30X >>
See the FF30X Program overview here. You'll discover how this proven Fit Father Program can help you lose weight and actually keep it off – without the complication and restriction of normal diets. »
*Please know that weight loss results & health changes/improvements vary from individual to individual; you may not achieve similar results. Always consult with your doctor before making health decisions. This is not medical advice – simply very well-researched info on camping workouts.