I
f you've used the gym in the past, you'll already know that having a variety of workouts is key to keeping your attention and commitment to training.
This is why the FF30X programs offer set workouts… and options!
Of course, us fathers have to keep active; otherwise, we will not only gain enough weight to look like the former WWF wrestler Yokozuna, but our health will suffer.
Fathers want to be around long enough in life to properly guide their kids through the circumstances they will be facing.
It would be a tragedy if any of us weren't exercising just because we found the gym boring.
So don't fret, my friend. Integrating sports for fitness will get you in shape, have you meeting new people, and be the perfect complement to any of our Fit Father Project programs.
Sports are also likely to inspire you to work harder and hit the gym more often. 
There is a good chance that several sports leagues are operating in your area. Ask some of your coworkers and friends about any teams you could possibly join.
Maybe one of them is looking for a new teammate for a team that they play with.



Try a Sport You Already Know
Let's first take a look at the common sports that you have probably played before and enjoyed. Competing in them again will be like slipping on an old shoe.
You might be a little rusty at first, but give it time, and you'll find your rhythm once again.
Baseball and Softball
There are numerous baseball and softball leagues that you can join.
Slow-pitch softball has gained quite the popularity over the last decade.
In addition, if you are worried about your conditioning for slow-pitch softball, don't be.
There are players of all shapes and sizes.
Plus, you will be getting a little bit of exercise on the basepaths and on the field.
Softball & baseball both burn around 300-500 calories per hour.
Work on building your core strength to boost sprinting, throwing, and batting.
Basketball
There is a chance you have a basketball hoop already outside your house next to the driveway. Might as well put it to good use.
Get your jump shot going once again because basketball is one of the better sports for fitness.
Playing one-on-one against other fathers in your neighborhood would be an enjoyable time.
You can even create some championship belt for the winner of the tournament.
Before long you will have enough to even play two-on-two.
There are also tons of basketball open gyms or leagues in most towns and cities across the country.
According to the National Academy of Sports Medicine:
Shooting hoops will burn around 300 calories an hour.
Playing a half-court game burns about 550 calories an hour.
A full-court game will burn up to 750+ calories an hour.
Basketball is also great for building endurance and explosive power.
Try battle ropes, sprints, and plyometric exercises to improve your game.
Tennis
Tennis is a very active sport that involves quick reflexes and quite a bit of movement.
You are guaranteed to get a great cardio workout, whether you are playing singles or doubles.
Investing in a good racket should cost you less than a hundred dollars and last a lifetime.
It won't be too long until you are watching tennis matches on television and critiquing the professionals.
Perhaps you could email Serena Williams and sweet talk her into a future match.
It could be the next battle of the sexes like Billie Jean King and Bobby Riggs.

The average man will burn around 300 – 600 calories playing tennis.
Tennis is great for building strength, endurance, and flexibility.
Try adding kettlebell swings, lunges, and burpees to your workout to give you an edge.
Soccer
If you look for the most popular sports in the world, soccer is at the top of the list.
It used to be played mostly in other countries, but now fans are going crazy for it in the United States.
They not only enjoy watching it, but they love playing it as well.
There are numerous adult soccer leagues in every state across America.
A quick online search will yield some locations close to you.
Soccer is also one of the best sports for fitness and endurance.
Soccer is a challenging activity requiring 600+ calories per hour.
Playing soccer will reward you with an increase in strength, endurance, flexibility, and explosive power.
Use plyometrics, hill sprints, and endurance running to train for soccer.
Alternative Sports for Fitness and Health
There are countless other options for sports to compete in, aside from the usual ones listed above.
Some can be quite strange, and it may take a bit to get the rules down. But before long, you will be able to pick up a lifelong new hobby that will provide you with the health and fitness that you need.
Volleyball
Volleyball is not just for women that can jump really high and spike hard. Men play it all the time now. Plus, they aren't required to wear those tiny spandex shorts either. Even if you have never played it before in your life, you'll eventually learn how to.
I tried to play once in a very competitive league, and they eventually placed me out-of-bounds so I would not get in their way. It might be best to avoid the serious leagues like this until you are ready.
Pickleball
Pickleball was first played in 1965. It combines aspects of several sports, but mainly tennis.
In fact, it is sort of like a cross between ping pong and tennis. Toss Wiffle ball in there too as the ball that you hit back and forth is indeed a Wiffle ball. The courts are smaller than tennis courts, but you still will get a good sweat going as you move around the court.
Pickleball can easily be played indoors, but there are also quite a few outdoor events too. It truly is a year-round sport that you can enjoy no matter where you live.
Dodgeball
Is there anything more satisfying in life than dominating in a dodgeball game?
When you are in the zone, it seems like everything is moving in slow motion.
But rest assured, you will be getting some serious cardio as you duck and move in the game.
To get yourself really inspired, watch the film Dodgeball and start preparing for your new sport. If Ben Stiller and Vince Vaughn can do it, then this should not be a problem for you.
See if you can get back your 70 mph fastball and put it to good use in dodgeball.
Mixed Martial Arts
The UFC has really put mixed martial arts on the map.
There are MMA training classes available everywhere nowadays for both the young and old.
You won't believe how tiring it can be to spar for only three minutes at a time.
After those short few minutes, it will feel like you just ran a marathon.
You will be burning more calories and working more muscle groups than you can with almost any other form of exercise. Plus, you could eventually become the toughest father on the block.
Swimming
For some reason, most men don't ever go swimming much to work out.
Just take a look at Michael Phelps and other swimmers, and you will notice how ripped and cut they usually appear to be.
Of course, that also has as much to do about their diet than their workouts, so keep that in mind.
Find out the times for lap swim at your local pool and locate a pair of swimming trunks that still fit.
Avoid doing your swim workout during open swim time because you will be dodging around kids the entire time.
Swimming laps is already difficult enough without submarining a little kid with floaties on his arms.
Cycling
I'm not talking about a lackadaisical little bike ride through your neighborhood as you shout out and wave to friends and avoid charging dogs.
Step up your game and start doing some serious cycling. This at least means getting a helmet and planning a route.
Spandex shirts and shorts are optional.
Paintball
Whether you go to a professional course, or just play it in the woods somewhere, paintball can bring a ton of adventure and fitness to your life.
For those that have never played it, you divide up into teams and try to eliminate each other or capture the flag.
Be sure to dress in protective gear since these paintballs fly extremely fast through the air. 
Kayaking
Not only is kayaking a terrific cardio workout, but when you are rowing, you will be strength training your arms, back, shoulders, and core.
You should probably practice on a kayak a few times first in a quiet lake until you get your balancing act down.
Once you become really good at it, take the kayak out on the river for a bit more adventure.
There are several kayak races and other whitewater excursions that can make kayaking a competitive sport if that's what you're into.
Make the Change Today
Rather than canceling your gym membership because you are tired of doing the same thing day in and day out, just incorporate more sports into your health and fitness routine.
Keep that gym membership so you can still head on in to do strength training now and then. You will be glad you did in the long run.
Ryan Crawley
Writer, The Fit Father Project
Ryan is a fitness expert from Illinois with two decades of experience under his belt. Never one to turn down a challenge, he has taken every class any gym has to offer, even the Dance Kickboxing class. If 70s disco dance music starts playing, everybody should run for cover. You have never lived until you have kicked somebody in the head to Dancing Queen.
If you're interested in a proven and completely laid out "done-for-you" weight loss meal plan & workout routine – designed for you as a busy man…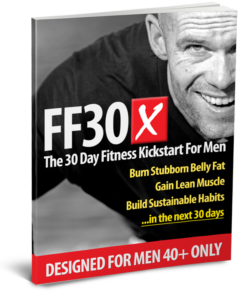 I'd recommend you read the program overview letter for our Fit Father 30-Day Program (FF30X).
Inside FF30X, you'll receive:
The simple & delicious Fit Father Meal Plan
The metabolism boosting Fit Father 30X Workout (under 90 min/week)
VIP email coaching where I'll personally walk you through the program
Read the FF30X Program overview letter here to see how our plan can help you lose weight – without the complication & restriction of normal diets.
*Please know that weight loss results & health changes/improvements vary from individual to individual; you may not achieve similar results. Always consult with your doctor before making health decisions. This is not medical advice – simply very well-researched info on using sports for fitness.