I
f you're like me, you've set quite a few goals for yourself. It seems that certain times of the year, like New Years or birthdays, make us more apt to improve ourselves.
While it's important to set goals, it's more important to set achievable goals for ourselves.
An achievable goal is one that plans to be successful.

Planning for success is what makes success possible! This blog on creating a winning 90-day plan for any goal will help you succeed in your health goals, relationship goals, work goals and more.
Step #1: Visualize the Big Picture

First off, you need to understand the big picture.
What is the ultimate result that you would consider "success"?

Is it losing 30 pounds? Getting a $10k pay raise by the end of the year? Or is it helping your son score a goal during his next soccer game?
Whatever your big picture of success is, you need to visualize it. See it happening before your eyes. Imagine how you'll feel when you achieve it.
Now, buckle up to do the work.
Step #2: Break It Down To "Bite Sized" Chunks

Now that you've visualized your goal, it's time to break the big picture down into smaller chunks.
Often times, our BIG GOALS can seem so far off into the future (or so unattainable) that it's hard to even take the first action step.
This is where "chunking" our goals down into smaller components come into play.

It would be naive to think that you'll lose 30 pounds in a week, as it would be to think you'll convince your boss to give you a raise tomorrow.
And you know what—that's OK!
The key to achieving your long-term goals is simply a process of creating and executing on short-term goals.

Action Step: Try breaking down your larger goals into smaller, quarterly (or monthly) chunks.
For example, instead of focusing on the goal of losing 60lbs this year, set the target to lose 20lbs in the next 90 days – or just shy of 7 pounds this month.

7 pounds sounds a lot more do-able than 60, doesn't it?
But the thing is, you will lose those 60 pounds. You're just taking it 7 pounds at a time.
How Do You Eat an Elephant?

How do you eat an elephant?
As the famous saying goes: one bite at a time, of course.
That's why we're going to break down our 90-day goals even further.
Once you have your 90-day goal, you can break this down into even smaller daily or weekly tasks that will help you chip away at your overall goal.
For example, a few bite-sized weekly tasks that can help you achieve your 90-day goal of losing 20 pounds could be:

1. Do weight training workouts 3x per week
2. Do High-intensity cardio 2x per week
3. Follow a healthy diet (like our Free 1-Day Meal Plan)
4. Drink 2 liters of water daily
5. Weigh yourself daily
The best part about these smaller tasks is that they make the big picture goal seem a lot easier.
Plus: Achieving small goals along the way builds motivation, momentum, and confidence.
All you have to do is take small steps to climb the mountain of your goal.
Bonus: Goal Setting Techniques For 2x Success

Architecting proper goals like we just covered is essential to get started on the right foot.
Yet, we all know that keeping ourselves accountable is one of the most important parts of actually following through on your goals.
On that note, I have a few bonus "Pro Tips" for you to make goal setting (and tracking) much more sustainable and successful. I'll cover a few techniques that you can try, because one method doesn't work for everyone.
Pro Tip #1: Make SMART Goals
Setting "SMART" goals is all about planning upfront. There are 5 tenets that make up a SMART goal.


• Specific (simple, sensible, significant).
• Measurable (meaningful, motivating).
• Achievable (agreed, attainable).
• Relevant (reasonable, realistic and resourced, results-based).
• Time-bound (time-based, time limited, time/cost limited, timely, time-sensitive).
The thought process here is, if you structure your goal to be specific, measurable, achievable, relevant and time-bound, then nothing but your own motivation is missing from checking this goal off your list.
Pro Tip #2: Start Journaling
Journaling is a great way to keep yourself personally motivated and accountable.


When you write about your days, keep track of the small tasks you did that lead up to your big picture goal.
Ask yourself—did you finish your tasks today? If you did or didn't, how do you feel? How will you make an effort to do even better the next day?
Pro Tip #3: Track Big Goals On Your Calendar
Putting your goals right on your calendar is a great way to schedule out your tasks and work incrementally.
Whether your calendar is digital or printed, there's something about writing down your goals and creating benchmarks that feels official.

Keeping track of tasks on your calendar is also very helpful for those with busy schedules.
It will force you to find time slots that you can carve out for yourself, and even help you create a routine of self-care.
Step #3: Get The Support You Need

Thousands of men have found the structure, motivation and support they need to conquer their fitness goals right here at the Fit Father Project.

Our team of experts is trained to give you personalized attention, making sure your workouts and meal plans reflect the life you lead.
You'll find countless blogs on this site that can help you manage your time, find a workout that's right for you, understand how your body functions when you age, and much more.
Our Free 1-Day Weight Loss Meal Plan is a solid starting point for any fitness goal.
As we preach here at "The FFP:" good nutrition accounts for 80% of the health & fitness battle.
Even further, our Fit Father 30X Program is the ultimate guide for your fitness goals—be that losing weight, regaining muscle, or strengthening from an injury.

Fit Father 30X is a scheduled nutrition and exercise program that breaks out your daily tasks for you. Along the way, you'll have support from our team of experts.

No matter what your goals are, it's time to solidify them and achieve them. With the tools and methods outlined above, there is nothing stopping you from creating lasting change in your life.
Your new friend & health coach,
Here's How Busy Fathers Over 40 Are Finally Burning Stubborn Belly Fat & Getting Healthy Without Restrictive Diets or Time-Consuming Workouts
This proven "Fit Father Program" has helped 25,000 busy men 40+ lose weight, rebuild muscle, and finally keep the weight off.
If you're frustrated with stubborn belly fat, failed diets, and time-consuming workouts, this is the answer you've been looking for…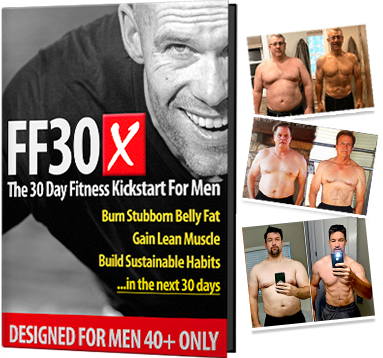 Join 22,000 guys in over 98 countries are using FF30X to lose weight. You get everything you need to succeed – including:
The Fit Father Meal Plan – with simple & delicious recipes
Safe & Effective Workouts Program – only 90 min/week
VIP Accountability Coaching – our Fit Father Team will personally walk you to success, step-by-step.
See the FF30X Program overview here. You'll discover how this proven Fit Father Program can help you lose weight and actually keep it off – without the complication and restriction of normal diets. »
Small note about research cited in this article:

*Always remember: weight loss results & health changes/improvements vary from individual to individual. Just because these studies cite certain data does not mean you will experience these results/outcomes. Always consult with your doctor before making decisions about your health. This is not medical advice – simply well-researched information. Thanks for reading!