There are some days when you just don't have time to get to the gym. However, with desk exercises, you can still sneak in a workout!
There are a number of exercises that you can do at your desk or around your office that can help you stay accountable to your fitness routine.
If you work in an office (or from a home office), chances are you are pretty sedentary during the day.
Over the last 50 years in the U.S., daily occupation-related energy expenditure has decreased by more than 100 calories due to sedentary jobs.
This plays a huge role in weight gain.
That means finding any way to burn a few extra calories can play a big role in improving your health.
If you can't get away for a more traditional workout, you can still keep up your fitness with short bouts of activity throughout the day.
The American Heart Association found that exercise lasting 5-10 minutes performed throughout the day can help reduce mortality.
While the AHA still recommends 150 minutes a week of activity, this research found that it didn't matter how the activity was accumulated.
So try some of these short desk workouts and office exercise ideas to stay accountable to your fitness goals and burn a few extra calories between meetings and spreadsheet reports!
Top Desk Workouts
Resistance training using your own bodyweight is a great way to add strength training even when you don't have access to free weights.
These moves can be easily done at your desk when you have quick breaks from your job throughout the day.
Tricep Chair Dips
You can do these desk exercises whenever you have a couple of minutes.
Just move to the edge of your chair and lower your body down into a tricep dip until your arms are parallel to the ground.
Push back up, being sure to keep your arms close to your body.
Bodyweight Squats
Bodyweight squats are an easy exercise to do right beside your desk.
Be sure that your knees don't track over your feet.
Engage your core and maintain good posture throughout to avoid injury.
Try this ab workout with a bench, chair, or desk. This quick core bench workout only takes 4 minutes!
Push-Ups
Push-ups are a great upper body and core workout.
These can be done just about anywhere, and there are a number of variations that can be done throughout the day.
You can start out with standard push-ups.
The next time you can do military push-ups, or put your feet up on your chair and try decline push-ups.
This will allow you to engage different muscles in your chest.
Calf Raises
Stand next to your chair or desk and perform 30 reps of calf raises.
Try changing the angle with these desk exercises as well.
Do 30 reps with your toes pointing forward.
Then try the next 30 reps with your toes pointed out, and finally, do another set with your toes pointing in to target all areas of your calf muscles.
Repeat throughout the day when you have breaks between meetings and phone calls.
This is a great way to get your blood flowing during the day, especially if you have a desk job that has you sitting most of the day.
Wall Sits
Stand with your back flat against a wall and feet shoulder-width apart.
Walk your feet in front of you about two steps and slide your back down the wall until your thighs are parallel to the ground.
Hold this position for 30 seconds
This isometric bodyweight exercise will strengthen your quads, glutes, calves, and hamstrings.
As you gain strength, try to increase your hold time to a minute. 
Progressively challenge yourself by adding more time to this exercise. 
You can even place a backpack or briefcase in your lap to add weight to this exercise while you are in the office.
If you don't have time to exercise but want to lose weight and stay healthy, these micro workouts are perfect.
Get Creative With Your Office
Unfortunately, jobs today have a lot of people stuck sitting at a computer for hours on end.
This leaves little time for even short bouts of activity.
Not to mention that it can cause poor posture and weakened core muscles over time.
Medical researchers have found that to reverse obesity, it is necessary to develop strategies to promote standing and ambulating time by 2.5 hours per day.
This means modifying our work environments to become more active.
Luckily, there are ways to do this by being creative with your office furniture.
These small changes can help stimulate your muscles throughout the day when you are stuck at your desk.
Learn about the dangers of sitting for too long and how to combat the negative effects of sitting.
Standing Desks
Sitting for prolonged periods, like during an office job, limits how many calories you can burn throughout the day.
When you move around, even at a leisurely pace, your body produces thousands of muscular contractions throughout the day.
By sitting for the majority of the day, you increase the chance of becoming overweight.
This puts you at an increased risk of chronic diseases like diabetes and hypertension.
While standing itself doesn't burn a significant amount of calories, workers with standing desks tend to be more active during the day.
You may be more inclined to walk around your office more if you are already standing.
Plus, standing improves posture so that you aren't slumped over in a desk chair all day.
Treadmill Desk
While this may not be possible in every work environment, treadmill desks are an awesome option for combining work and fitness.
You can set the treadmill to a slow walking pace while you type, talk on the phone, or read over documents.
With the recent pandemic, you may find yourself working a lot more from home.
This actually can make a treadmill workspace more doable since you can set up your own office.
Even if you can't actually set up a desk over a treadmill, you can still walk during meetings or phone calls to keep your activity level higher during the day.
Swiss Ball Chair
One way to increase core strength and stabilization is by using a Swiss ball as a chair instead of your typical office chair.
Sitting on a Swiss ball will force you to engage your abdominal and low back muscles and will encourage an upright posture.
This is also an excellent way to avoid slouching which can lead to neck and back pain.
Not only will using a Swiss ball improve your core strength, but it can also burn calories!
A study from the European Journal of Applied Physiology found that energy expenditure was higher when doing desk work while sitting on a therapy ball and standing than while sitting in an office chair.
Under Desk Exercise Equipment
Some newer office innovations include small exercise equipment that can be placed under your desk to keep your muscles moving while you sit.
A pedal exerciser is basically a small exercise bike that can be placed under your desk.
It includes just the pedal mechanism so that you can keep your legs moving while performing work tasks.
While you obviously aren't going to get an intense workout, keeping your muscles moving will at least burn more calories than just sitting.
Plus, when you are spinning your legs, this will also encourage you to adopt an upright posture and will improve your core strength.
There are also small elliptical machines that can be used for desk exercises.
These are similar to the pedal exerciser, however, they force you to use your legs in a different movement pattern.
While an under the desk bike uses a circular motion, the elliptical utilizes a forward and back motion.
This engages different muscles while still burning calories.
While it may not seem like a huge benefit at first to add this type of exercise into your day, research has shown that there is a fitness advantage.
A study published in the American Journal of Preventive Medicine found that office workers burned an extra 107 calories each day by exercising in short 8-10 minute periods adding up to a total of 50 minutes with an under-desk pedal bike.
This adds up to over 500 calories a week burned while doing the same work that you would be doing anyway!
There were other advantages to desk exercises in this study as well.
Participants were also found to have significant improvements in overall weight reduction, total fat mass, body fat percentage, waist circumference, reduced resting heart rate, improved concentration, and fewer sick days!
Work and Workout at the Same Time
With increased work demands and family responsibilities, it can be tough to find time for exercise every day.
On top of that, jobs have become more sedentary, and many people are stuck at computers or desks all day with little time to engage in physical activity.
However, even if you can find just a few minutes at a time to get in some light activity or desk exercises, this adds up throughout the day.
Doing short bodyweight desk exercises in your office is one way to add a bit of strength training and cardio to an otherwise inactive day.
In addition, you can add some small portable pieces of exercise equipment to your office, like a Swiss ball or under the desk bike to keep your body moving.
While these activities won't give you a high-intensity workout, you can still burn some extra calories and improve your fitness by using this equipment on a regular basis.
If you're going to be sitting at your desk anyway, there's no reason not to add in any activity that you can.
By doing so you will burn more calories, maintain a healthy posture, increase muscle tone, and improve your overall fitness.
And you can do this all while getting in a day's work!
Here's How Busy Fathers Over 40 Are Finally Burning Stubborn Belly Fat & Getting Healthy Without Restrictive Diets or Time-Consuming Workouts
This proven "Fit Father Program" has helped 25,000 busy men 40+ lose weight, rebuild muscle, and finally keep the weight off.
If you're frustrated with stubborn belly fat, failed diets, and time-consuming workouts, this is the answer you've been looking for…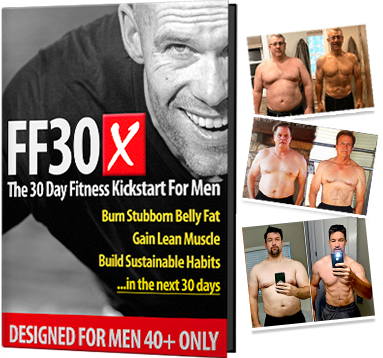 Join 22,000 guys in over 98 countries are using FF30X to lose weight. You get everything you need to succeed – including:
The Fit Father Meal Plan – with simple & delicious recipes
Safe & Effective Workouts Program – only 90 min/week
VIP Accountability Coaching – our Fit Father Team will personally walk you to success, step-by-step.
LEARN MORE ABOUT FF30X >>
See the FF30X Program overview here. You'll discover how this proven Fit Father Program can help you lose weight and actually keep it off – without the complication and restriction of normal diets. »
*Please know that weight loss results & health changes/improvements vary from individual to individual; you may not achieve similar results. Always consult with your doctor before making health decisions. This is not medical advice – simply very well-researched info on desk exercises.