Men: Discover the Perfect Diet Plan for Weight Loss. By Stuart Carter, Men's Health Coach & Head Trainer, The Fit Father Project
T
he first rule of losing weight is not to simply start exercising! Choosing the right diet plan for weight loss is a far more effective approach to get rid of that unwanted 20 or 30 pounds.
The simple fact is that you can't out exercise a bad diet.
What would you rather do, burn approximately 300 – 350 calories running for 30 minutes or save 300 calories by choosing a healthy option instead of a MacDonald's cheeseburger.
The Real Issue
The real problem you'll find yourself facing is that there are hundreds of diet plans available. How do you choose the right one?
To make matters more complicated, that amazing diet plan that works for your friend, does nothing for you!
Fortunately we are here to help! The Fir Father Project invites you to join us and discover our free diet plan along with a mass of information regarding how to eat healthier.
Let's take a look at a few of the diet plans on offer.
Diet Plans for Men With Little Time
In the modern world it is not surprising that you may struggle to find time to diet properly. It can be an effort to prepare meals in advance, even when the suggestions on our free 1-day meal plan are so good!
There are several options if time is a real issue:
Fixed Menu Diet Plan for weight loss
There are plenty of diet plans which give you set options for meals. Most of the meals can be prepared in less than 15 minutes.
All you need to do with the fixed menu diet plan for weight loss is select which meals you want to eat and prepare them.
You should have a menu list for breakfast, lunch, dinner and snacks.
However, it can be hard to stick to this type of diet in the long term as choices are generally limited. In addition you won't learn how to improve your food choices; just how to save yourself time.
This diet plan will also offer a menu. All you need to do is pick the meals that take your fancy and order them. They are delivered ready to cook and enjoy.
You'll learn about portion control and it will certainly be easy to select a meal whenever you are hungry. However, this type of approach is generally an expensive diet plan for weight loss.
It can also be difficult if you eat out or if you are away from home.
Diet Plans for Men Who Don't Want to Count Calories
The principle behind intermittent fasting is simple. All you need to do is choose a window of when you are going to eat and avoid food the rest of the time!
You can find out all about this type of diet by taking a look at our fasting guide.
The theory behind this diet is that you only eat natural products; the sort of things that a caveman would eat. This means grass fed meats, fish, eggs, vegetables, fruit, nuts and tubers.
All of these products are either devoid of carbohydrates or contain natural carbohydrates.
The great thing about this diet is that once you know what things you are allowed to eat you can easily choose a meal at home or in a restaurant. There is no calorie counting!

Diet Plans For Men Over 40
As you age your testosterone levels drop and your metabolism starts to slow. While there are methods you can adopt to improve both of these things, it is important to understand that the right diet plan for weight loss will make a huge difference to your success.
You've already heard about the free 1-day meal plan but the Fit Father project has much more to offer!
You can access a wide variety of meal plans, exercise routines and even gain the support that you need to successfully achieve your goals.
The meal plan will enable you to choose the meals you want for the week and prepare all of them in advance.
Not only will this help you to learn about what foods are healthy it will also minimizing the time you need to spend preparing food.
In effect you're winning on both fronts!
Add to this the support you'll get finding the right mindset, motivation and meal plan and you'll quickly realize that joining the Fit Father's will provide you with more than just the perfect diet plan for weight loss.
It will give you a custom diet for your unique situation.
Perfect Plate
Another option that can help you to achieve your weight loss goals is to adopt the perfect plate diet.
This approach involves filling half your plate with vegetables, a quarter with protein and the remaining quarter with carbs.
You can also add a little good fat if you wish!
This diet plan will require that you learn which food type falls into which category.
However, once you have done this you will find it easy to prepare your meals in advance and still enjoy a good variety of foods.
Start Today!
In fact, the key to discovering your perfect diet plan for weight loss is in not seeing it as a diet.
Our free 1-day meal plan offers you the opportunity to select your own meals and build a new healthier approach to food.
By changing the way you see food and learning how to eat healthily you achieve the best diet plan for weight loss of them all.
This is the one that fits your lifestyle and tastes. By adopting this approach you'll be able to stick to a healthy eating regime for life.
Not only will you lose the excess weight, you'll feel fitter and healthier as you age.
All you need to do is join the FFP today and let us help you!
Your new friend & health coach,

Here's How Busy Fathers Over 40 Are Finally Burning Stubborn Belly Fat & Getting Healthy Without Restrictive Diets or Time-Consuming Workouts
This proven "Fit Father Program" has helped 25,000 busy men 40+ lose weight, rebuild muscle, and finally keep the weight off.
If you're frustrated with stubborn belly fat, failed diets, and time-consuming workouts, this is the answer you've been looking for…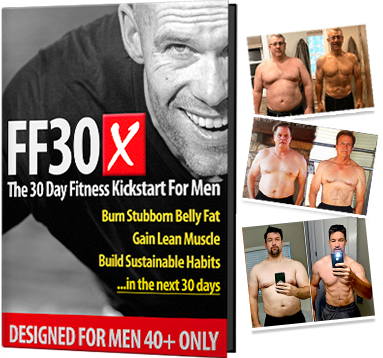 Join 22,000 guys in over 98 countries are using FF30X to lose weight. You get everything you need to succeed – including:
The Fit Father Meal Plan – with simple & delicious recipes
Safe & Effective Workouts Program – only 90 min/week
VIP Accountability Coaching – our Fit Father Team will personally walk you to success, step-by-step.
LEARN MORE ABOUT FF30X >>
See the FF30X Program overview here. You'll discover how this proven Fit Father Program can help you lose weight and actually keep it off – without the complication and restriction of normal diets. »
*Please know that weight loss results & health changes/improvements vary from individual to individual; you may not achieve similar results. Always consult with your doctor before making health decisions. This is not medical advice – simply very well-researched info on conditioning workouts.