I
t doesn't matter how active you are; you can't live the same lifestyle in your 40's that you did in your 20's. Your body simply cannot recover fast enough.
We all know that time is extremely limited, and you need to make the most of every second of your workout. That's why it's essential to discover the best workout equipment at home and in the gym.
It's the only way to really make what you're doing count! If you're interested in the best workout equipment for muscle growth, you may also be interested in taking a look at our Old School Muscle program.
Most Essential Items For Your Gym Bag
There are several items that you should always have in your gym bag. This will ensure that you are always ready to workout and make the most of any opportunity you have:
Reusable Water Bottle
This might seem too obvious, but you can't workout properly without one!
Suspension Trainer
Suspension trainers are perhaps the most versatile mobile piece of equipment on the market. They're great for the bag because gyms typically have great places to anchor them, but you can also use them just about anywhere!
Suspension exercises to get you started
Clothing
You need to change into gear that will give you freedom of movement. It is also important to consider having easy to remove layers as this may be beneficial on the colder mornings.
Chalk Ball
If you like lifting weights or going up the climbing wall, then you know grip is everything. A chalk bag allows you instant access to chalk when you need it, so your grip should never falter.
Lifting Belt
This is obviously only a good choice if you intend to lift weights! A lifting belt will ensure you are stabilized and can lift your maximum safety.
Sports Armband
Working out can be much more fun, and you'll feel more motivated with the right tunes playing in your ears.
The sports armband will allow you to listen to music on your phone or iPod. Just don't forget the headphones!
Your Smart Watch
These are the best way to monitor your workout, record it, and analyze post-workout.
Towel & Shower Gel
No matter how good your workout, you'll want to leave looking and smelling fresh. A towel and shower gel are essential for this. You may also want to bring some sandals for showering since you never know what other people are carrying on their feet!
The Best Workout Equipment at the Gym
If you're going to visit the gym, it makes sense to know which machines you should be using beforehand. You can then plan your schedule and get the most from the time you have available.
Free weights are best for building strength and stability. But, they can be more challenging if you are just starting out. Machines can offer the support you need to really work your muscles:
Machine 1 – Horizontal Seated Leg Press
This is the machine for your lower body. It works the quads, glutes, calves and even the hamstrings. Do this for a few sessions, and you'll be doing squats with weights in no time.
Machine 2 – Lat Pull Down
Build your back muscles with this simple but extremely effective machine. You'll find it's easier at first to grasp the bar with your palms facing towards you.
Machine 3 – Cabled Bicep Bar
This machine obviously works your biceps! The force of the cable provides a resistance that ensures your movements are smooth and efficient.
Machine 4 – Cabled Tricep Bar
Complement your biceps by working your triceps. This will ensure fantastic looking arm muscles.
Machine 5 – The Chest Press
This focuses on your biceps, triceps, and chest in a similar way to the classic push-up. It will build core strength for the future.
Machine 6 – Hanging Leg Raise
This is great for working your hip flexors and your core, completing a total workout of your body.
All you need to do is set your weight, reps, and number of sets. You should be struggling to complete the last one every time.
Choose The Best Workout Equipment For Home
Working out at home can be much more convenient. But, most of us don't have the funds or space to fit all the above equipment in!
Fortunately, as demonstrated by our Old School Muscle program, you don't need all of them.
Here is all you really need:
Equipment 1 – Dumbbells or Kettlebells
Kettlebells are generally considered better as they swing more, forcing your core to work harder. However, dumbbells still add the necessary resistance to provide muscle growth.
You can add these free weights to almost any exercise, push-ups, squats, or even jumping jacks!
Equipment 2 – Skipping Rope
This is old school but effective! Skipping will work your abdominal muscles, your core, calves, hamstrings, and quads. The swinging motion will also work your forearms and deltoids.
It's a pretty impressive workout!

Equipment 3 – Elliptical Trainer
This is a more expensive addition to your home gym, but it can offer the ability to work your core and build stamina without stepping outside your home.
Equipment 4 – Pull-Up Bar
Put this in a doorway that you pass through often, and you'll find that you're doing an extra 10, 20, or more pull-ups per day. It's a great way to build upper body strength.
Equipment 5 – TRX Suspension Trainer
This is so small and light you can store it anywhere when not in use. Pull it out and choose some of the exercises it illustrates.  You'll work your core every time building better abs.
Equipment 6 – A Yoga Mat
This is actually vital to ensure you are comfortable when completing exercises and when you stretch pre and post-workout.
You can even adopt a few yoga poses to improve flexibility and abdominal strength.
Equipment 7 – The Medicine Ball
This is a great way to build explosive power. You can opt for overhead lunges, Russian twists, or even the med ball clean and press.
The weight of your ball must be near the upper limits of your current strength. This will ensure you are challenged and see results.
The truth is that any muscle that can be worked in the gym can also be worked at home. The above pieces of equipment will simply help you to get the right results.

Weighing It All Up
In a perfect world, you would visit the gym some days and work out at home on the others. The purpose behind this approach is to keep your body challenged. Shocking it when it doesn't expect the next workout is the best way to get results.
But having the equipment is only the first step. You need the support of other men like you at the Fit Father Project, and you need to develop the right workouts. Our Old School Muscle program will give you a great place to get started.
The biggest surprise is actually how few pieces of equipment are really necessary to get the results you want.
Your new friend & health coach,
Stuart Carter
Head Training Staff, The Fit Father Project
Brotherhood Nickname: "The Fit Brit"
Bragging Rights: 16 Years in the fitness industry, Author of 'The Easy Fitness Guide', Father of 4 boys and Husband to a Venezuelan beauty.
If you're interested in a proven and completely laid out "done-for-you" weight loss meal plan & workout routine – designed for you as a busy man…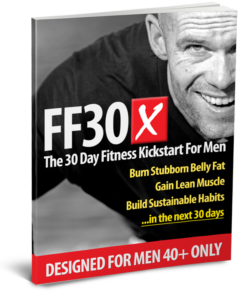 I'd recommend you read the program overview letter for our Fit Father 30-Day Program (FF30X). Inside FF30X, you'll receive:
The simple & delicious Fit Father Meal Plan
The metabolism boosting Fit Father 30X Workout (under 90 min/week)
VIP email coaching where I'll personally walk you through the program
Read the FF30X Program overview letter here to see how our plan can help you lose weight – without the complication & restriction of normal diets.
*Please know that weight loss results & health changes/improvements vary from individual to individual; you may not achieve similar results. Always consult with your doctor before making health decisions. This is not medical advice – simply very well-researched info on the best workout equipment to get fit faster.