From the desk of: Dr. Anthony Balduzzi, the health & fat loss expert for busy fathers

So, you want to start eating healthy on a budget, but maybe you're a bit concerned that healthy eating is too expensive?
If that's the case here, you're going to thank me very soon because, in this short guide, I'm going to show you a few new habits that can save you BIG $$$'s on healthy eating!

Watch the video I shot for you to get started with this "Affordable Eating" guide.
With these new habits and affordable eating tips you're about to discover, you'll spend less of your hard-earned money on groceries – while still feeding you and your family with the healthy, nutritious meals you need to live at your best.

First off, if you've felt like healthy eating is way too expensive, I totally understand where you're coming from.

After my Dad passed away at 42, my family struggled badly with our finances.

I will always remember watching my mom battle every day to put food on the table for my little brother and me. We were barely making ends meet – let alone having enough money to purchase "expensive health foods."
YET I knew how important following a healthy diet was for me, my mom, and little brother – because I saw first-hand what happened to my Dad after years of neglecting his own healthy eating and exercise.
That's why I needed to "figure this healthy eating stuff out" – in a way that was simple and affordable for my family.
After years of trial and error, I finally discovered how to eat healthy on a budget. I'm going to share some of my best tips with you here in this guide.
Here's The Truth: Your healthy eating plan doesn't need to break the bank.

No matter what your family finances are right now, we can make it possible to eat healthy on a budget.
In fact, if you follow our Fit Father Money Saving Strategies I'm about to share with you in this guide, you will see that healthy eating can actually cost you less.

Let's dive in and start saving you some money.
Fact #1: You don't need "Special Health Foods," for a good diet – just basic foods you can get at any supermarket.
Before starting our programs here at the Fit Father Project, many guys tend to think you will need to buy special produce or shop at a health food store to get all the "right ingredients" for their diets.
The truth is that you can find everything you need at your local Supermarket… if you know where to look (and which foods to avoid).

Here is the first key tip for you: 90% of the food your purchase shouldn't need an ingredient label.
Chicken is chicken.
Sweet potato is sweet potato.
Rice is rice.
fruit is fruit.
With a single glance, we instantly know what each of these foods is. These are the unprocessed, natural foods that God and earth provided for us to thrive.
That "healthy microwave dinner" and its mile long ingredient list filled with complicated chemical names like "modified corn starch and partially hydrogenated vegetable oil"
…that should stay in the freezer section with its $5 price tag.
Other "so called healthy" foods like granola bars, cereals, frozen meals, fruit snacks are usually no more than processed sugar and carbs with an expensive price tag.
Yes, your body still knows that "organic cane sugar" in that "healthy ice-cream" is still sugar. Your body still metabolizes it as sugar.
Please know: there are some exceptions to snack foods and microwaveable dinner that are actually good. We cover all of those inside our Fit Father 30-Day Program.
But for the most part, think about things this way:

If your great-grandmother wouldn't recognize it as food (i.e. it typically comes in a box with an ingredient label)… you probably shouldn't eat it."
The more you can stay with whole foods that only have one ingredient, the healthier your diet (and your finances) will be.
Pro tip: Shop the perimeter of the supermarket. This is where the 'good stuff' is. Meat, Veggies, Fruits, etc.
When you get into the middle of the supermarket, you get trapped by the expensive 'healthy options' that are not what they are marketed to be.

Step #2: Buy your natural or organic meats & fish in BULK
Here at The Fit Father Project, we recommend natural meats, wild-caught fish, and organic veggies whenever possible.
Organic meats and fish have up to 50% more healthy omega-3 fats and are not raised with potentially dangerous growth hormones, antibiotics, and genetically modified feed (1).
Organic vegetables and produce have much lower levels of toxic pesticides and often more vitamins, minerals, and phytonutrients than non-organic produce (2).
Avoiding these harsh chemicals, pesticides and hormones is obviously the healthiest choice for you and your family. And because of these benefits, organic meats and produce TYPICALLY carry a higher price tag.
That's why we recommend you buy your organic meats and fish IN BULK at discount grocery stores like Costco, Sam's Club, or your local farmer's market.
Organic chicken at Whole Foods: $8.99/lb
Organic chicken at Costco: $4.29/lb
Grass-fed beef at Whole Foods: $9.99/lb
Grass-fed beef at Costco: $4.66/lb
Average Savings: typically 30-40%
Buying your organic meats and fish in bulk is both cost-effective and time-efficient as it means fewer trips to the grocery store and more healthy food readily available to cook whenever you need it.
You can use what you need for the coming week and freeze the rest for later.
Pro tip: We'll show you our exact itemized "Fit Father Grocery Shopping List" below. Hint… we spend less than $89/week.
Meet Your New Fit Father Affordable Eating Solution
Like all of our programs, meal plans, and workouts… our solutions are simple, straight-forward, effective and sustainable.
Here's how to make healthy eating simple and affordable – the "Fit Father Way:"
Step #1: Each week, select your 3 'Go-To' foods from each of the 4 main food groups: Protein, Carbohydrate, Healthy Fats and Vegetables.


Step #2: Purchase these foods in bulk at a discount grocery store (like Costco, Sam's Club, or your local farmer's market) and then follow the Fit Father Meal Preparation Ritual to whip up food for the week.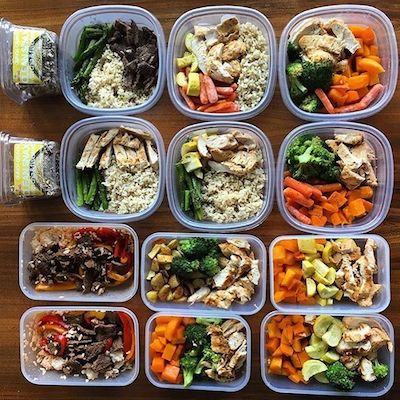 Personally, I prepare my food twice per week on Wednesday and Sunday.
The reason why this meal preparation ritual is so easy is that you have taken away all guesswork from what you will eat throughout the week and have healthy food literally at your fingertips whenever you need it.
No more scanning the aisles for the healthy option.
If you don't have pre-planned and prepared meals, it's too easy to slip up and spend money on unhealthy food that doesn't support your body or finances.
Having packed up meals ready for anytime, any place, will also help you to avoid snacking, which will always add extra cost (and calories) to your diet.
If you regularly visit the vending machine to satisfy that hunger pang, you are throwing money away as your belly fat cells swell.
The BIG question – What will a healthy eating plan cost?
Just to show you how simple healthy eating can be, I will give you an example of what your weekly choices from each food type could be:
Protein: Eggs, Chicken, Canned wild salmon
Carbs: Quinoa, Whole Wheat pasta, Fruit, Sweet Potato, Brown rice
Healthy Fats: Avocado, Mixed nuts, Olive Oil
Vegetables: Broccoli, Asparagus, Mixed Salad (Spinach, Rocket, Kale)
To make things incredibly simple for you, here's an example weekly grocery list based on some of the delicious, metabolism boosting recipes we cover inside our Fit Father 30-Day Program.
Compare this "Fit Father Shopping List" to your current groceries:
24 Eggs – $7.50 at $3.50/dozen-
7 Chicken breasts – $15.00 at $4.29/lb
3lbs Grass-Fed Beef – $13.98 at $4.66/lb
7 tins of wild salmon – $20.16 at $2.88/tin
Quinoa – $3.00 per bag, which will easily last 2 weeks ($1.50 for the week)
Whole-wheat Pasta – $3.00 per bag
Organic Berries (frozen) – $3.99 x2 = $7.98
Brown Rice – $2.50 per bag, which will last 2 weeks ($1.25 for the week)
Avocado – $1.00 each x 4 = $4.00 for the week
Mixed seeds – $3.50 per small tin
Olive Oil – $4.00 per bottle, which will last 1 month ($1.00 for the week)
Broccoli – $2.50 per frozen bag x2 = $5.00 for the week
Asparagus – $2.50 per bunch x 3 = $7.50 for the week
Mixed Salad – $3.00 per large bag = $3.00 for the week
Total cost = $85.64
So, there you have it: all the supplies you need for 3 healthy meals each day at a cost of just $12.23 per day.
Heck, if you went to Chipotle for lunch, you would pay around $10 for just 1 meal.
Again, you can eat healthy in a way that's simple, affordable, and actually sustainable. You simply need to follow our Fit Father Plan.
Get the full Fit Father 30-Day Program to see the results you want and deserve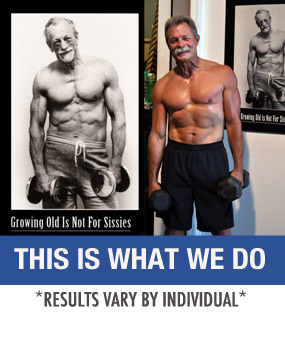 It's a fact: you can have your dream body and health at any age.
Using our proven Fit Father 30X Program, our team has helped over 35,000 busy fathers over 40 lose fat, build muscle, and finally get healthy for life & their families.
If you want to experience similar results for yourself, you need a proven plan like Fit Father 30X that flat out works.

The best time to start getting healthier was 20 years ago. The next best time is TODAY. Don't wait any longer. That's what you've been doing for years.
Our proven FF30X program will get you the results you want in record time.

Inside Fit Father 30X, we literally hand you everything you need to succeed:
The delicious Fit Father Meal Plan
The metabolism boosting Fit Father 30X Workout (under 90 min/week)
VIP email coaching where I'll personally walk you through the program
Click here to read the FF30X Program Overview Letter to see how our plan can help you get healthy – without the frustration of normal diets.
**Plus: as it relates to our affordability discussion, the price of the program is around the cost of 1-week of groceries and you'll have the proven battle plan that will quickly get you (and keep you) healthy for decades to come. **
The cost of neglecting your health for another day longer is too damn high. It's the straight truth. I would have told my Dad the same thing.
Click here to read the Fit Father 30X Program Overview Letter to learn more.
You'll see everything that's included to decide if FF30X is a good fit for you.

Craig posted this message inside our Private FF30X member's group 21-days into his program.
FF30X isn't JUST about healthy eating. Yes, we hand you the Fit Father Meal Plan, and we also give you the simple & time-efficient FF30X orkouts you need to reignite your metabolism and build lean muscle – at any age.
Regardless of whether or not FF30X is a good fit for you right now, I'm really grateful that we're connecting and I can help you get healthy for your family.
Your new friend & health coach,
Here's How Busy Fathers Over 40 Are Finally Burning Stubborn Belly Fat & Getting Healthy Without Restrictive Diets or Time-Consuming Workouts
This proven "Fit Father Program" has helped 38,000 busy men 40+ lose weight, rebuild muscle, and finally keep the weight off.
If you're frustrated with stubborn belly fat, failed diets, and time-consuming workouts, this is the answer you've been looking for…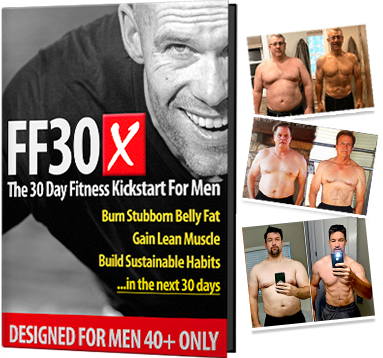 Join
38,000
guys in over
108
countries that are using FF30X to lose weight. You get everything you need to succeed – including:
The Fit Father Meal Plan – with simple & delicious recipes
Safe & Effective Workouts Program – only 90 min/week
VIP Accountability Coaching – our Fit Father Team will personally walk you to success, step-by-step.
LEARN MORE ABOUT FF30X >>
See the FF30X Program overview here. You'll discover how this proven Fit Father Program can help you lose weight and actually keep it off – without the complication and restriction of normal diets. »
Small note about research cited in this article:

*Always remember: weight loss results & health changes/improvements vary from individual to individual. Just because these studies cite certain data does not mean you will experience these results/outcomes. Always consult with your doctor before making decisions about your health. This is not medical advice – simply well-researched information. Thanks for reading!