Do you struggle with eating healthy while traveling? It can be difficult to eat nutritious foods and exercise while on vacation or just on the road.
However, eating right while on a trip or on the go is simple with the right knowledge and tools in place.
Know how to stay on track with nutrition and fitness goals before, during, and after your trip to keep eating healthy while traveling!
Here's A Free 24-Min Fat Burn Workout For Busy Men 40+
This powerful workout will reignite your metabolism to burn fat 24/7 like you did in your 20s…
Meals, Snacks, and Drinks to Pack
If you're traveling by car, bus, train, or RV, pack healthy meals and snacks to eat during your trip.
If you want to, bring extra nutritious foods and drinks for when you arrive at your destination.
Packing snacks on an airplane is more difficult due to restrictions for carry-on bags, but you can still bring nonperishable foods and drinks with you by checking a suitcase.
Pack what you can fit, but don't worry about bringing a ton of meals and snacks with you.
Grocery shopping when you get to your destination and eating healthy while dining out are good options too!
Nutritious foods and drinks to consider packing (some require a cooler) on your trip include:
Meals
Tuna sandwiches on whole-grain bread
Peanut butter and low-sugar jelly sandwiches on whole-grain bread
Hummus (or sliced cheese) and veggies wrapped in whole-grain tortillas
Nutritious canned soups
Nutritious pre-prepped meals
Snacks
Hummus
Fresh veggies
Dehydrated veggies
Whole-grain crackers
Plain popcorn
Nuts
Seeds
Greek yogurt
Fresh fruit
Dehydrated fruit
Fruit packed in 100% fruit juice
Low-sugar protein bars
Peanut butter
String cheese
Turkey jerky
Chicken jerky
Airtight flavored tuna
Airtight or canned chicken
Drinks
100% fruit juice
Bottled water
Carbonated water
Shelf-stable plant milk
Low-sugar, ready-to-drink protein shakes
Protein powder (to mix with water or milk)
Choose Foods Wisely in Airports
While you may not think of airport food as particularly healthy, you can still eat right at airports.
Follow the tips below to choose nutritious meals at restaurants, or purchase healthy airport foods and drinks while waiting for your flight.
Consider buying nuts seeds without added sugar, hummus with pretzels, Greek yogurt, or string cheese.
Choose milk, unsweetened plant milk if available, 100% fruit juice, or low-sugar protein shakes when available.
Steer clear of soda, diet soda, sugar-sweetened coffee drinks, sugar-sweetened sports drinks, sweet tea, chocolate milk (unless it's reduced sugar milk), and other sugar-sweetened beverages.
Limit or avoid foods and drinks containing added sugar, preservatives, and other additives as much as you can on your trip!
This guide on meals and nutrition while traveling will help you keep your gains!
Eat Healthy While Dining Out
To eat healthy while dining out in restaurants, follow a few simple tips below to avoid overeating and packing on vacation pounds:
Focus on Veggies and Proteins
If you focus on vegetables and protein foods when dining out, you can usually avoid dreaded vacation weight gain.
Non-Starchy Veggies
To accomplish eating healthy while traveling, order some of your favorite non-starchy veggies at restaurants.
Examples include green beans, leafy greens, broccoli, cauliflower, mushrooms, zucchini, asparagus, tomatoes, cucumbers, and bell peppers.
Ensure half of your plate of food gets filled with non-starchy veggies.
Starchy Vegetables
Starchy vegetables, including corn, peas, sweet potatoes, pinto beans, black beans, lentils, or other legumes, should make up one-fourth of your plate.
You might choose whole grains (brown rice, wild rice, quinoa, oatmeal, etc.) instead of starchy veggies.
Protein Foods
Next, choose a protein food to fill one-fourth of each plate with.
Pick eggs, grilled chicken, very lean cuts of steak, grilled or baked fish, shrimp, other types of seafood, or meatless plant proteins.
Avoid breaded meats, fried meats, and highly processed meats (cured bacon, ham, sausage, deli meats, hot dogs, etc.).
Skip the gravy, barbecue sauce, ketchup, honey mustard, and other high-calorie or sugar-sweetened condiments.
Here's A Free Weight Loss Meal Plan For Busy Men 40+
Discover exactly what to eat for breakfast, lunch, and dinner to lose belly fat & feel energized 24/7 without hard dieting...
Ask For Sauces On the Side
Some sauces and dressings are better for you than others but always ask for these items on the side.
That way you have more control over the number of total calories you consume during meals.
Limit sauces, especially white sauces, and dressings as much as you can, or choose oil-based (unsweetened) dressings.
Consider ordering oil and vinegar on the side with salads.
Choose Healthy Drinks
When dining out, some of the healthiest drinks you can pick include water, unsweetened coffee, and unsweetened tea.
Add milk or plant milk to your coffee if you'd like!
Milk, plant milk if it's available, and 100% juice are other great options.
Skip Refined Grains
Skip out on refined grains when dining out to reduce your risk of vacation weight gain.
Instead, choose fiber-rich starchy vegetables or whole grains to keep eating healthy while traveling.
Examples of refined grains to nix while dining out include white rice, regular pasta, white hamburger buns, white hot dog buns, white bagels, regular tortillas, and white bread.
Say no to biscuits, traditional pancakes, and waffles.
If you splurge now and then instead of eating healthy on vacation, don't stress about it.
Simply get back on track the next day!
Avoid Certain Foods
In addition to avoiding breaded meats, fried meats, highly processed meats, and refined grains, there are few other foods to steer clear of when dining out if possible.
Examples include fried entrees and appetizers, pizza, mac and cheese, nachos, cheese sauce, Alfredo sauce, and sugar-sweetened condiments (ketchup, barbeque sauce, honey mustard, sugar-sweetened salad dressings, etc.).
Choose broth-based soup instead of cream soups.
Limit alcoholic drinks and high-calorie mixers when you're on vacation.
However, if you have a drink or two every now and then, don't feel guilty about it.
Simply do your best to stay on track with a healthy eating and exercise regimen.
Learn the answers to some of the most asked questions about drinking alcohol!
Nutritious Foods and Drinks to Shop For
You can purchase many of the same nutritious foods and drinks you order at restaurants in grocery stores near your vacation destination.
Whether you're renting a house, camping, or staying in a hotel, keep nutritious foods on hand.
Examples of foods and drinks to shop for include:
Whole Foods
Shop for a variety of whole foods to keep eating healthy while traveling.
Choose fruits, vegetables, legumes, dairy foods or plant milk, heart-healthy fats, whole grains, and a variety of nutritious protein foods (eggs, chicken, turkey, uncured turkey bacon, fish, seafood, very lean red meat, seitan, or other meatless plant proteins).
Examples of nutritious fats to keep on hand while vacationing include olive oil or other plant oils, nuts, seeds, and nut butters (peanut butter, almond butter, etc.).
Snacks
Greek yogurt, plain kefir, string cheese, cottage cheese, and fresh or dried fruit make excellent between-meal snacks when eating healthy on vacation.
Nuts and seeds are good snack options too, as well as low-sugar protein bars, hummus with sliced veggies, and celery sticks or apple slices with peanut butter.
Keep protein powder on hand to mix with water, milk, or plant milk to make nutritious health shakes during your trip!
Drinks
Water, coffee, tea, 100% juice, milk or plant milk, and plain kefir are some of the best drink options you can choose when vacationing.
Flavor water with a little bit of fruit juice or fruit chunks (plus ice) if you'd like!
Meet SuperFuel. The Delicious Protein Shake Packed With 40+ Energy-Boosting Vitamins & Superfoods (Designed For Busy Men)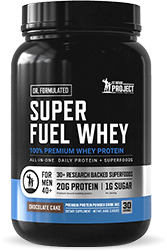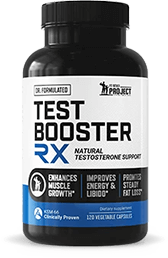 As a busy guy, it's challenging to stay consistent with healthy eating. That's why we created SuperFuel… the delicious "all-in-one" nutrition shake for busy guys 40+ to give your body the protein + key nutrients you need for more energy, fat burning, and muscle building.
Ways to Exercise on Vacation
Don't worry about the lack of opportunities to exercise when traveling, as vacationing is the perfect time to focus on getting fit.
There are a variety of ways to stay active on your trip to complement eating healthy on vacation.
Examples include:
Bodyweight Exercises
You can complete bodyweight exercises anywhere, even in a hotel room.
Head outdoors to complete bodyweight workouts if you prefer!
Consider squats or lunges using your own body weight, pushups, triceps dips on the floor or a bench, sit-ups, crunches, and plank exercises (traditional planks, side planks, plank jacks, shoulder-touch planks, mountain climbers, etc.).
Gym Workouts
If you have a gym near your vacation spot, wake up early and head there.
Spending time with friends and family is a top priority while vacationing, but if you can squeeze in a gym workout, do so!
Especially if you're staying in a hotel with a gym.
Dumbbell Workouts
You may or may not have access to dumbbells while on vacation but if your hotel has a gym, you have access to a gym nearby, or you bring your own dumbbells, add resistance to strength-training workouts to maintain or build lean mass.
This full-body dumbbell workout can be done in less than 30 minutes!
Outdoor Cardiovascular Exercise
Regardless of where you stay while vacationing, you can always exercise outdoors when the weather cooperates.
Consider walking, jogging, or biking outside when you can.
Find a bike path if there's one nearby to make outdoor workouts more enjoyable.
Recruit friends or family members to join you!
Resistance Band Workouts
Resistance bands are easy to take with you on vacation.
Use them to complete squats, biceps curls, triceps extensions or kickbacks, chest flys, lateral raises, front raises, leg raises, and many other resistance-band exercises.
Swimming
If your vacation spot has a pool or lake nearby, as many do, bring goggles with you and swim a few laps to stay active and avoid dreaded vacation weight gain.
Swimming is one of the highest calorie-burning workouts you can choose!
What Are The 5 Best Muscle Building Exercises For Men 40+?
The secret to building age-defying muscle in your in 40s, 50s, & 60s is to modify the best muscle building exercises (bench, squats, rows) to make them safe on your joints…
Outdoor Water Sports
Many vacation spots have opportunities to participate in calorie-burning, metabolism-boosting water sports.
Examples include water skiing, wakeboarding, kayaking, paddle boarding, snorkeling, and scuba diving.
These activities are fun and help you stay in shape!
Choose them in place of, or in addition to, your usual workouts.
Stair Climbing
In addition to eating healthy while traveling, find a set of stairs in your hotel or outdoors near your vacation spot to complete stair climbing workouts.
If your hotel gym has a stair-climbing machine, use that instead if you'd like!
Rope Jumping
You can easily pack a jump rope on vacation as it's lightweight and doesn't take up much space in your suitcase.
And, rope jumping is a very high-calorie-burning workout when you go at a fast pace.
In fact, you can burn more than 500 calories in just 30 minutes (if you weigh 185 pounds) by jumping rope.
This HIIT workout can be done anywhere with NO equipment!
How to Get on Track After Vacation
Even if you don't maintain a perfect diet or exercise regimen while on vacation, the important thing is to get back on track when you return home.
There are several ways you can accomplish this goal, including:
Grocery Shop for Healthy Foods
When you get home from vacation, chances are your fridge and cupboards are pretty empty.
This is the perfect time to stock up on nutritious foods, recipe ingredients, and healthy drinks for you and your family.
Make a list and stick with it, and avoid grocery shopping while hungry.
Establish a Routine
Vacationing can make it difficult to stick to a routine, but returning home is the perfect time to develop one.
Once you unpack and get organized, it's time to establish a normal work schedule, school schedule, kids' activities, workouts, meal schedules, and regular bedtimes.
Plan Meals, Workouts, and Sleep
After your trip, plan nutritious meals for the week.
Prep meals on the weekend so you can simply reheat them during a busier work week.
Set aside time each day for exercise (at least 30 minutes daily), activities of daily living (at least 45 minutes per day), and at least 7 hours of sleep each night.
Try Fit Father Project workouts or design your own workouts by combining strength training with aerobic exercises.
Go to bed at the same time each night to ensure you and your family get at least 7 hours of sleep.
Don't forget to de-stress and unwind after your vacation, as vacations are sometimes stressful!
Join a Healthy Living Program for Men
The Fit Father Project is a healthy living program designed for busy dads like you.
If you're not already a member, try it at no cost by signing up for a free custom meal plan and workout.
If you are a member, get back on track with your program after vacationing.
The Fit Father Project offers personalized meal plans, motivational support from medical experts and a community of fit dads, fat-burning and muscle-building workouts, highly effective weight loss programs, weekly newsletters, recipes, and much more!
You also receive additional tips about eating healthy while traveling!
Vacationing doesn't have to mean poor eating habits, lack of exercise, and weight gain.
Let the Fit Father Project guide you!
Here's How Busy Fathers Over 40 Are Finally Burning Stubborn Belly Fat & Getting Healthy Without Restrictive Diets or Time-Consuming Workouts
This proven "Fit Father Program" has helped 25,000 busy men 40+ lose weight, rebuild muscle, and finally keep the weight off.
If you're frustrated with stubborn belly fat, failed diets, and time-consuming workouts, this is the answer you've been looking for…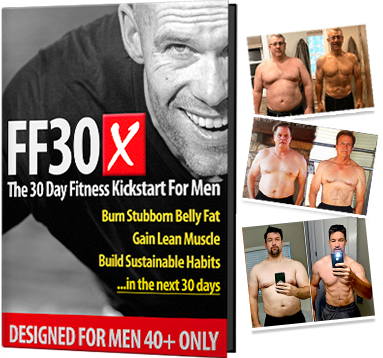 Join 22,000 guys in over 98 countries are using FF30X to lose weight. You get everything you need to succeed – including:
The Fit Father Meal Plan – with simple & delicious recipes
Safe & Effective Workouts Program – only 90 min/week
VIP Accountability Coaching – our Fit Father Team will personally walk you to success, step-by-step.
LEARN MORE ABOUT FF30X >>
See the FF30X Program overview here. You'll discover how this proven Fit Father Program can help you lose weight and actually keep it off – without the complication and restriction of normal diets. »
*Please know that weight loss results & health changes/improvements vary from individual to individual; you may not achieve similar results. Always consult with your doctor before making health decisions. This is not medical advice – simply very well-researched info on eating healthy while traveling.