This has become my favourite breakfast since it was served to me by Dr. Anthony himself during our Exec retreat in March 2017. I'm now going to pay it forward to you guys. You will thank me, I asure you!
Ingredients:
2 whole eggs + 2 egg whites
Method:
Take your pre-prepared Quinoa, add a portion to your bowl and reheat. (If you don't have any pre-prepared, cook your quinoa)
Add some spring onions, chopped tomatoes or shredded spinach to your quinoa if desired.
Crack 2 whole eggs + 2 egg whites into a bowl, then pour into a lightly buttered or oiled frying pan and cook sunny side up. Add to the top of the quinoa once cooked. (Alternatively, you can soft boil or poach your eggs)
Slice your avocado and add to the top of the dish.
Add a portion of pre-prepared steamed vegetables to the side.
Share…
If you try, and enjoy this recipe, please feel free to share it amongst your friends on social media. We have buttons below for you to do exactly that!
If you would like to take a look at some more great recipes from the Fit Father Project, click the box below to get a FREE copy of our 1-Day Meal Plan.


Yours in health & success,
Here's How Busy Fathers Over 40 Are Finally Burning Stubborn Belly Fat & Getting Healthy Without Restrictive Diets or Time-Consuming Workouts
This proven "Fit Father Program" has helped 38,000 busy men 40+ lose weight, rebuild muscle, and finally keep the weight off.
If you're frustrated with stubborn belly fat, failed diets, and time-consuming workouts, this is the answer you've been looking for…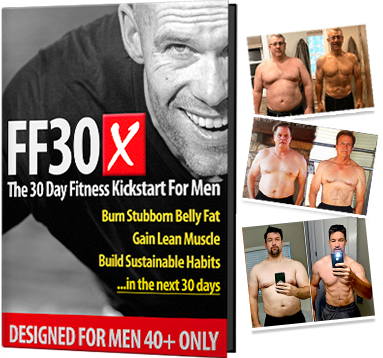 Join
38,000
guys in over
108
countries that are using FF30X to lose weight. You get everything you need to succeed – including:
The Fit Father Meal Plan – with simple & delicious recipes
Safe & Effective Workouts Program – only 90 min/week
VIP Accountability Coaching – our Fit Father Team will personally walk you to success, step-by-step.
LEARN MORE ABOUT FF30X >>
See the FF30X Program overview here. You'll discover how this proven Fit Father Program can help you lose weight and actually keep it off – without the complication and restriction of normal diets. »
Small note about research cited in this article:

*Always remember: weight loss results & health changes/improvements vary from individual to individual. Just because these studies cite certain data does not mean you will experience these results/outcomes. Always consult with your doctor before making decisions about your health. This is not medical advice – simply well-researched information. Thanks for reading!