E
ndurance is an admirable quality.
From marathon runners who run for hours with no rest to firefighters who tirelessly protect peoples' homes, to nurses who work the late shift to make sure their patients are safe, endurance is key.
Even us average Joes know the importance of being able to jog around your neighborhood or play soccer with your kids without needing a break. Making it through the long workday can zap our stamina, leaving us too tired to have a meaningful conversation with our partners at night.
Heroes and regular people alike all need to work on their stamina through endurance training.
You can learn how to transform your usual workouts into endurance training sessions that will help your heart, muscles and mind push through the tough days.

Read on to learn how endurance training is the secret to getting your mojo back: from the soccer field to the office to your home.
Minimize Resting in Between Sets
Working out in sets is a trendy way to exercise many muscle groups in one workout. And while a full-body workout is great, it's essential to make the most of them!


A popular form of set workouts is HIIT: high-intensity interval training.
HIIT is comprised of sets of short, powerful workouts that you do in order and repeat.
If you are hoping to use HIIT for endurance training, you will need to minimize resting in between the sets.

The explosive energy that makes HIIT so popular is precisely what can gear your body up for great stamina, just as long as you don't rest more than 10 seconds in between.
Use Compound Movements
While isolated movements only work for one specific muscle or muscle group, compound movements are multi-joint movements that work many muscles or muscle groups at the same time.


Isolated movements are commonly done on specific equipment at the gym like a cable push down to target triceps at the gym.
Compound movements– like squats, pull-ups, lunges, shoulder presses– all work to elevate your heart rate and challenge your body to keep up.
The cardiovascular component of compound movements is what can help you build serious endurance. You just can't get the same full-body exertion with isolated movements as you can on compound movements!
Additionally, compound movements challenge your muscles to interact with each other which helps to strengthen your joints.
Combine Exercise Types
The fitness community is generally split over if they like to lift or if they like to do cardio.
Our opinion? Make it an even split!


By integrating both weight lifting and cardio exercises into your workout routines, you'll be able to build endurance and muscle.

Consider running for 10 minutes to warm up your muscles for weight lifting, or tacking on 15 minutes of weightlifting after a cardio session, or adding in springs between your weightlifting.
Not only is a well-balanced workout routine good for endurance training, but it's also good for your brain to keep up with varied movements.
Explosive Exercises
Explosive exercises are a great addition to endurance training because they train the muscles to perform at their maximum capacity.


Unlike slow and steady exercises, like long runs, explosive exercises are performed in shorter and heavier bursts.
Here are a few examples of explosive exercises that you can integrate into your endurance training:
Burpees
Single-leg leg hops
Squat jumps
Alternating lunge jumps
Pushup with clap
With explosive exercises, it's important to practice good form. Also, these are not the best exercises for someone who has had a recent physical injury.
Try it Yourself
There are so many ways you can integrate endurance training into your everyday routine.
One of the easiest ways is to try our free 24-minute fat burning workout.


The best thing about using our 24-minute fat burning workout for endurance training is that you won't have to invest hours in the gym!

In 24 minutes, you'll be able to bring your body to the brink of its limits and build up your stamina.
Make it your goal to try one of the endurance training methods above this month.
While some may seem intense, you will be surprised about what your body can handle once you work up to it!
Believe in yourself and try some endurance-building exercises in your next workout!
Here's A Free 24-Min Fat Burn Workout For Busy Men 40+
This powerful workout will reignite your metabolism to burn fat 24/7 like you did in your 20s…
Your friend in health,
Here's How Busy Fathers Over 40 Are Finally Burning Stubborn Belly Fat & Getting Healthy Without Restrictive Diets or Time-Consuming Workouts
This proven "Fit Father Program" has helped 25,000 busy men 40+ lose weight, rebuild muscle, and finally keep the weight off.
If you're frustrated with stubborn belly fat, failed diets, and time-consuming workouts, this is the answer you've been looking for…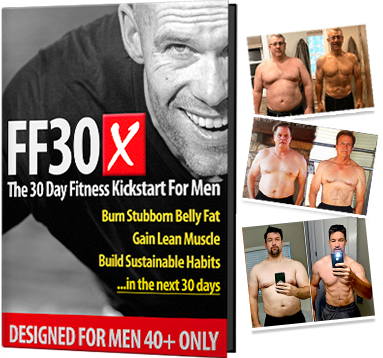 Join 22,000 guys in over 98 countries are using FF30X to lose weight. You get everything you need to succeed – including:
The Fit Father Meal Plan – with simple & delicious recipes
Safe & Effective Workouts Program – only 90 min/week
VIP Accountability Coaching – our Fit Father Team will personally walk you to success, step-by-step.
See the FF30X Program overview here. You'll discover how this proven Fit Father Program can help you lose weight and actually keep it off – without the complication and restriction of normal diets. »
*Please know that weight loss results & health changes/improvements vary from individual to individual; you may not achieve similar results. Always consult with your doctor before making health decisions. This is not medical advice – simply very well-researched info on endurance training.