W
hen it comes to researching a successful weight loss plan for men, you can't trust everything you read. The Internet is seemingly overflowing with advice, instructionals and health hacks.
But the thing is, most "health theories" and "get fit quick" offers are just scams!

For busy men trying to stay fit, it can seem like a full-time job to weed out the truth from the lies in terms of workout plans for men.


As a men's health doctor who is dedicated to helping fathers get fit, I decided to clear up this confusion once and for all.
This blog compiles the 3 key components that any weight loss plan for men needs– no bullshit, all proven.
By the end of this guide, you'll discover that being fit really isn't a confusing, time-consuming endeavor. All it takes is the right information & some dedication.

Let's dive on in.

Here's A Free Weight Loss Meal Plan For Busy Men 40+
Discover exactly what to eat for breakfast, lunch, and dinner to lose belly fat & feel energized 24/7 without hard dieting...
Weight Loss Plan for Men Part #1: Your Diet

The first key component to a successful weight loss plan for men is getting started on the right meal plan.
The most common complaints we get from men on diets is that they think all meal plans are unrealistic, too difficult, expensive and too rigid.

Do these gripes sound familiar?
Here at the Fit Father Project, we've come up with solutions to each and every one of those valid complaints.
Realistic
Most diets are all about cutting– cutting carbs, cutting fats, cutting all the fun out of eating. In the end, it's just not realistic or enjoyable to diet this way.
The worst part about diets like these is that they leave you with cravings.
You need a diet plan that offers you quick to prepare meals that taste good and leave you feeling full. You need a diet plan that does not restrict you to one food, raw food, juices or soup. You need a diet plan that gives you results.
Our free 1-day meal plan provides full meals that are delicious and filling.
Inexpensive
There's a terrible misconception that healthy food is more expensive than inexpensive food.
However, there are several ways you can make smart buying decisions to cut down the price.
For starters, you don't have to buy "superfoods" to be healthy. Also, buying food in bulk ensures that you'll get the best price– and maybe even on sale.


For more tips on cutting down the price of healthy groceries, check out our guide.
Adaptable
When you think of meal planning, you think of chicken and veggies, right?
Monotony is one of the downfalls of many meal plans. It's just plain boring to eat the same thing every day.

That's why the Fit Father Project meal plan provides you delicious, filling meals that you can share with your family and friends.


We do this by teaching you to create "Perfect Plates."
Perfect Plates is a concept that tells you to portion your food out correctly: half of your plate should be veggies, a quarter should be meat, and the last quarter should be carbs.
The best part? There are HUNDREDS of food combinations that you can create with this framework.
Sustainable
All of these perks– realistic, inexpensive, adaptable– are the reason why the Fit Father meal plan is a sustainable meal plan that you can truly commit to.
The Fit Father Project provides you the tools to achieve lifelong health, not just a few months of health.
Check out our free 1-day meal plan to see how.
Weight Loss Plan for Men Part #2: Your Workout

Next up is your workout plan.
Between the young meatheads at the gym and celebrity training fads, it's hard to know how a man over 40 should work out.

Here at the Fit Father Project, we have created a workout plan that provides complete instructions and weekly schedules to eliminate the confusion and insecurity of working out.
FF30X is our 30-day program designed exclusively for fathers over 40 to help you get rid of stubborn belly fat quickly & sustainable – without the restriction, B.S., & complication of "cookie cutter" diets and workouts.
All you need is about 5 feet of space and dedication. You can use our plan with or without a fancy gym membership or at-home equipment.
Our program was designed with your busy schedule in mind, so everything can be personalized for your needs.
The best part? Fit Father experts are available to answer any questions or help create a specialized plan to cope with injuries.
Weight Loss Plan for Men Part #3: Your Big Game Plan

Workout plan and diet aside, I think we can all agree that the hardest part of getting fit is sticking to your regimen.
If you've been piecing together your work out and diet between friendly recommendations and random Internet finds, ask yourself how many times you've strayed from your piecemeal "plan."
When I was pursuing health this way, I strayed from my "plan" more often than I'd like to admit. I got frustrated even more often.


That's the beauty of the Fit Father Project.
With us, you have support, encouragement and expert advice from a team that has helped over 35,000 of men achieve sustained health.
Accountability is built into our famous Fit Father 30X program.
From a team who can answer all of your health questions, to consistent blog updates with extra tips and a full exercise video tutorial section on YouTube, we have your back.
Found this helpful? Join the Fit Father Tribe

Time and time again, we hear that one of the parts of the FF30X that fathers enjoy the most is knowing that they've joined a tribe.
Here's A Free Weight Loss Meal Plan For Busy Men 40+
Discover exactly what to eat for breakfast, lunch, and dinner to lose belly fat & feel energized 24/7 without hard dieting...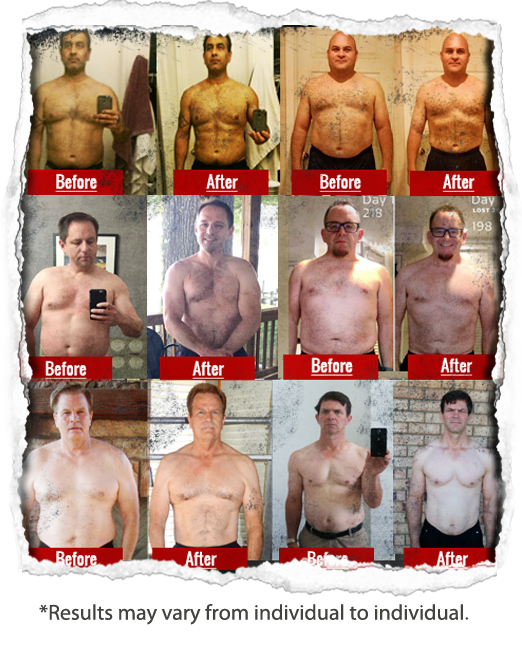 Here are some of our real program members men that you will find health alongside. They will be your inspiration and some of your best motivation.
So, what are you waiting for? Join our band of brothers and participate in the worlds only weight loss program designed especially for busy Fathers over 40: FF30X.
You can click here (or the image below) to read the program overview letter.
Or, if you'd like to first get started with some of our free materials, here are links to some of our best free guides:
I look forward to helping you on your health journey!
Your new friend & health coach,
Here's How Busy Fathers Over 40 Are Finally Burning Stubborn Belly Fat & Getting Healthy Without Restrictive Diets or Time-Consuming Workouts
This proven "Fit Father Program" has helped 38,000 busy men 40+ lose weight, rebuild muscle, and finally keep the weight off.
If you're frustrated with stubborn belly fat, failed diets, and time-consuming workouts, this is the answer you've been looking for…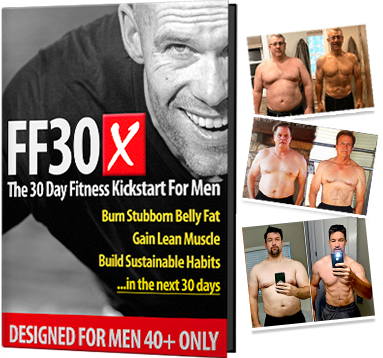 Join
38,000
guys in over
108
countries that are using FF30X to lose weight. You get everything you need to succeed – including:
The Fit Father Meal Plan – with simple & delicious recipes
Safe & Effective Workouts Program – only 90 min/week
VIP Accountability Coaching – our Fit Father Team will personally walk you to success, step-by-step.
LEARN MORE ABOUT FF30X >>
See the FF30X Program overview here. You'll discover how this proven Fit Father Program can help you lose weight and actually keep it off – without the complication and restriction of normal diets. »
*Please know that weight loss results & health changes/improvements vary from individual to individual; you may not achieve similar results. Always consult with your doctor before making health decisions. This is not medical advice – simply very well-researched info on weight loss plan for men.