T
he American Psychological Association reports that 75% of adults are experiencing moderate to high levels of stress every month. Even more concerning is the fact that the report shows stress levels are increasing.
Exercise & stress are closely related.
Maintaining an exercise routine can help to reduce your stress levels and improve your health!
FACT: Long term stress exposure leads to raised blood pressure, coronary disease, strokes and even immune system issues.
The answer – reduce your stress! Find out how to do it right now by reading this article and changing your life for the better.

Stress in the Modern World
Life is stressful; there is constantly something to do, and the older you get the worse it seems to become.
Everybody faces constant stimulation through money worries, job insecurities, looking after your children, and a host of other daily events.
In other words stress is a common factor of life.
We don't always have the option to simply step out of the modern world, but an occasional, short break to consume tiny amounts of alcohol is permitted. 🙂
Instead, you need to learn to reduce your stress, and exercise represents one of the best ways of doing this.
The Fit Father project is designed to help people like you get into fitness, learn about healthy eating, and start your first fitness program.
If you are already exercising, that's even better!
Enjoy the support our team is dedicated to giving you and give yourself a clap on the back. You're already on your way to reducing your stress levels!
If not, read on to find out why exercise & stress are so closely related.
Exercise & Stress – The Connection
When you exercise your body releases cortisol, the stress hormone.
This magic hormone enables you to work harder and prepare for fight-or-flight situations.
Cortisol redirects energy to your muscles allowing you to stand and fight, or if necessary, run from danger.
In this situation exercise and stress are good things that can help you achieve better results.
However, this is different to the stress you experience in everyday life, when your body is unable to distinguish between different types of stressful situations.
Your body responds the same, whether you are having a heated debate with your boss, or fighting for your life.
Of course, when you stop exercising the cortisol is no longer released into your body.
You will feel calmer and happy as the endorphins flood your system. In this way exercise can relieve some of the daily stress.
But you can do more to combine the effectiveness of exercise & stress!
6 Ways To Adapt Your Routine and Reduce Stress
Step #1 – Commit to an Exercise Program
The Fit Father Project has an excellent fitness program which can be tailored to your specific needs. In terms of exercise & stress the real key is establishing any kind of program.
Repeating the same procedure has been shown to lower blood pressure and actually slow your heart immediately after the workout has been completed.
When you exercise, you focus directly on what you are doing. The rest of the stresses of the day simply drop away.
Many of these stresses are not actually important, and can be completely eliminated with a good workout.
Sign up today with the Fit Fathers or upgrade your fitness program. The 24-min workout is a great place to start.
Step #2 – Push Your Limits
The harder you push your body the harder it will have to work to complete the set routine. This will increase the flow of endorphins and your focus; ensuring unnecessary stress is forgotten.
But there is more to the link between exercise & stress when pushing your limits.
The more you push, the greater the response to your body. This approach will heighten your senses and potentially increase your stress levels as you exercise.
But, the moment you finish you will feel content and relieved; that you achieved something that seemed impossible.
Your stress level will drop dramatically.
Try Lifting a heavier weight than normal or running off-road instead of on.
Building strength requires explosive force.
Instead of satisfying yourself with 3 sets of 15 reps complete 3 sets of 8 reps; with a higher weight on your dumbbells.
The risk will reduce stress and the extra weight will rapidly increase strength and leave you on a high, due to the additional push you've given yourself.
Step #3 – Complete a Team Challenge
There is little as satisfying and as fun as completing a challenge as a team.
Not only will you have the satisfaction of having finished successfully. You will also build the camaraderie which is essential to enjoying and even laughing about the activity.
Laughter is one of the best ways to relieve stress.
Add a team sport into your routine and feel the benefits of laughter yourself.
Step #4 – Focus on the Reward
The thought of a reward is a good incentive to complete anything.
When you undertake a fitness program you should usually choose a reward that will not damage your hard work. Equipment is generally a better choice than food treats.
After all, no matter how good your exercise routines you cannot out exercise a bad diet!
Obtaining the reward will result in another release of endorphins which will make you feel good, relieve stress and inspire you to keep training.
Step #5 – Increase Your Short Work-Outs
Research suggests that the longer you go without exercise the more stressed you will start to feel.
Instead of making time for a workout at the end of the day, pick a short one you can fit into a late lunch. The Fit Father 24-min workout out can be done in 24 minutes (surprisingly).
There are also a host of simple exercises which can be completed in the workplace. Doing these regularly each day will go a long ways in lowering your levels of stress.
Start doing hamstring stretches in morning breaks, a workout at lunch and a short routine in the evening; it will keep stress at bay.

Step #6 – Track Your Results
The idea of recording your results is not new.
Many people use it to push themselves to do better or to locate when and why they have poorer results.
But tracking your results can be an excellent way of combining exercise & stress to improve your health.
Tracking and studying your figures will show you how you have improved over time and this will give you a sense of satisfaction; reducing stress.
In addition, it will give you something to aim for every time you exercise; pushing you to work harder and focus only on what matters.
Your stress will simply melt away.
Start tracking your routines today. You'll be surprised at how good it will make you feel in a week, month and even a year!
Summary
Some stress is healthy, natural and useful.
In fact exercise and stress are so entwined, if only because you cannot have one without the other.
Fortunately, with just a slight change of focus and a few simple tricks, you can use your exercise routine to reduce your overall stress levels.
The result will be less stress which will have a positive impact on your health today and in the future.
You have nothing to lose and a lot to gain. Try these tips today and share the results with us. We can learn and improve together.
Your new friend & health coach,
Stuart Carter
Head Training Staff, The Fit Father Project
Brotherhood Nickname: "The Fit Brit"
Bragging Rights: 16 Years in the fitness industry, Author of 'The Easy Fitness Guide', Father of 4 boys and Husband to a Venezuelan beauty.
If you're interested in a proven and completely laid out "done-for-you" weight loss meal plan & workout routine – designed for you as a busy man…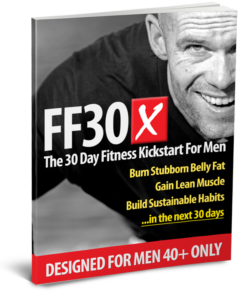 I'd recommend you read the program overview letter for our Fit Father 30-Day Program (FF30X). Inside FF30X, you'll receive:
The simple & delicious Fit Father Meal Plan
The metabolism boosting Fit Father 30X Workout (under 90 min/week)
VIP email coaching where I'll personally walk you through the program
Read the FF30X Program overview letter here to see how our plan can help you lose weight – without the complication & restriction of normal diets.
*Please know that weight loss results & health changes/improvements vary from individual to individual; you may not achieve similar results. Always consult with your doctor before making health decisions. This is not medical advice – simply very well-researched info on exercise & stress.