Looking for ways to get the whole family active? Exercises for kids will get everyone fit and healthy — all while having a blast!
We all know how important health and fitness are as we age.
That's why the Fit Father Project offers a variety of exercises, nutrition advice, and health guidance to keep you in shape while juggling work and life at home.
But what is equally important is showing your kids the importance of fitness and a healthy lifestyle.
Summer is the perfect time to get your kids involved in exercise and fitness.
Plus, you can count these exercises for kids as part of your daily activities as you burn calories and build strength right along with them!
Teaching Your Kids The Importance of Health and Fitness
The Physical Activity Guidelines for Americans recommend that children and adolescents perform 60 minutes or more of moderate-to-vigorous physical activity daily.
Unfortunately, kids today are getting far less than this recommended number.
It's estimated that only about 24% of kids this age actually achieve this level of physical activity.
At first, 60 minutes may seem like a lot of time to spend "working out."
But this doesn't have to be 60 straight minutes of exercise. You can spread out activities throughout the day.
Plus, when you choose activities and exercises that your kids enjoy, 60 minutes a day is easily accomplished.
Even everyday tasks, like taking a brisk walk, kicking around the soccer ball in the backyard, or doing yard work are all ways that physical activity can be incorporated into the day.
Why Kids Need Exercise Too
There are numerous benefits that kids will take away from being active.
Physical activity in children and adolescents helps build muscular strength, enhances cardiovascular fitness, and improves cognition, mood, and sleep!
These are all benefits that carry over into other sports, and even into school and other extracurricular activities.
Plus, exercise helps improve self-esteem.
One 12-week study in Wisconsin found that children participating in physical activity not only improved health parameters, such as BMI and body circumference, but two-thirds of these kids also reported improved self-esteem!
Keep it Fun!
It is much easier to keep your kids engaged in physical fitness if they are having fun and don't see exercise as a punishment.
For example, a 2016 study from BMJ Open Sport and Exercise Medicine found that a parent's motivation to exercise due to personal valuing of exercise was associated with their children wanting to be involved in more physical activity.
However, exercising based on pressure and coercion was negatively associated with their child's engagement in physical activity.
And studies show that motivation for exercise in adolescents may be enhanced when they participate in activities that they find enjoyable.
In other words, if your kids see you complaining about having to work out, they may feel like exercise is a chore.
But if they see how much you look forward to being physically active on a daily basis, they will want to engage in these activities with you!
Bodyweight Exercises For Kids
It's easy for kids to want to jump right into a workout, so this is really the time to teach them the importance of warming up.
The warm-up will not only get your kids' muscles and connective tissue primed for exercise, but it will also help improve coordination and get them in tune with their bodies.
After the warm-up, this is a great time to introduce your kids to interval training by setting up circuit-style exercises.
These can be done in the backyard or living room depending on the amount of space that you have available.
These types of exercises are great to improve your child's cardiovascular fitness, strength, agility, and balance.
Bodyweight exercises are an excellent way to introduce your kids to strength training.
By teaching them foundational moves you can encourage proper form and limit the risk of injury.
Plus, these exercises can hit every muscle group while also improving core strength and coordination throughout the whole body.
Be sure to really emphasize the form and quality of the exercises over quantity.
This ensures they are getting the most benefit out of these workouts, and that the strength gained from these exercises can be carried over into all of their athletic endeavors.
Push-Ups
Push-ups are the ultimate bodyweight move to teach your kids.
This exercise will engage their chest, triceps, shoulders, and core.
Always be sure that your kids maintain good form while doing this exercise.
Don't let their hips sag or their backs to bow.
They can start on their knees first until they gain enough strength to do a full push up on their toes.
Bear Crawls
This awesome move will build the core along with upper and lower body strength.
Plus you will be increasing balance and stability.
Bird Dogs
This yoga-like move is another great balance exercise that engages the core and glutes.
Again your kids will be building core strength while also improving coordination.
Just like with all of these exercises, really monitor your kids' form during this exercise.
RKC Plank
We all know that planks are one of the ultimate core strength moves.
For kids, this may be a bit challenging at first.
Demonstrate the correct form and make sure that your kids now that their form is much more important than how long they can hold the position.
Even if they can only hold for five seconds at first, that's fine!
They will continue to improve on this the longer they train.
Side Planks
Similar to the RKC plank, be sure to emphasize form while they squeeze and engage the core and obliques.
Ice Skaters
This lower body and cardio move is a great move to isolate each leg at a time.
It will not only build leg strength but will also improve balance and coordination.
Air Squat Jumps
This amazing lower body move will build power and quickness in the lower body.
Your kids will be building leg and glute strength, while also enhancing lower body and cardiovascular endurance.
Join In With Your Kids
Make these exercises fun for your kids by joining in on the action.
Demonstrate the moves to show them proper form.
And then, try to challenge them to knock out one more rep, or holding a plank for five more seconds.
If they see you working out alongside them, they will have that added motivation to push themselves a little bit harder.
This will not only help build muscular and cardiovascular strength, but it will also improve mental toughness as well.
This will carry over into all other aspects of their life.
Safe, Equipment-Free Exercises For Kids
These exercises are excellent for you and your kids to build strength, coordination, and endurance.
Not only that, but they are safe and require no extra equipment.
This means you can do this workout anytime and anyplace.
You can do this workout two or three times a week and challenge your kids to improve every time.
This will keep them engaged and motivated to push themselves harder each time.
And if you are doing this alongside them, I think you will be amazed at what a great workout this will be for you as well!
Here's How Busy Fathers Over 40 Are Finally Burning Stubborn Belly Fat & Getting Healthy Without Restrictive Diets or Time-Consuming Workouts
This proven "Fit Father Program" has helped 38,000 busy men 40+ lose weight, rebuild muscle, and finally keep the weight off.
If you're frustrated with stubborn belly fat, failed diets, and time-consuming workouts, this is the answer you've been looking for…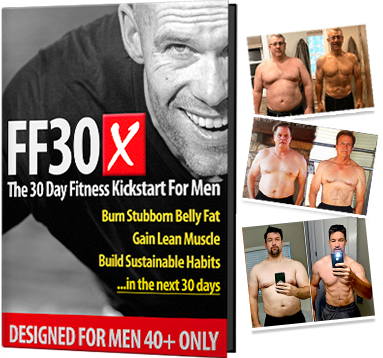 Join 38,000 guys in over 108 countries that are using FF30X to lose weight. You get everything you need to succeed – including:
The Fit Father Meal Plan – with simple & delicious recipes
Safe & Effective Workouts Program – only 90 min/week
VIP Accountability Coaching – our Fit Father Team will personally walk you to success, step-by-step.
LEARN MORE ABOUT FF30X >>
See the FF30X Program overview here. You'll discover how this proven Fit Father Program can help you lose weight and actually keep it off – without the complication and restriction of normal diets. »
*Please know that weight loss results & health changes/improvements vary from individual to individual; you may not achieve similar results. Always consult with your doctor before making health decisions. This is not medical advice – simply very well-researched info on exercises for kids.