Everybody wants to get buff for the beach, but autumn is a perfect time to jumpstart your fitness with some great fall workouts!
Exercising outdoors is a wonderful way to improve your strength and endurance while enjoying all that nature has to offer.
And while summer is a good time to enjoy the outdoors, the heat and humidity can make some outdoor workouts unbearable, and even dangerous.
In the fall, the cooler weather creates the perfect outdoor fitness setting — particularly since winter (usually) means bitter cold winds and icy roads!
Moving your favorite workout outdoors and breathing in the fresh, crisp, fall air will keep you engaged in your fitness, and more motivated on a daily basis.
Check out these fall workouts and see why autumn weather is the perfect environment to get outside and get active.
Autumn is also a great time to cook outside — especially with these amazing fall grilling recipes!
Fall Into Fitness
Fall workouts give you the chance to exercise outdoors and enjoy the cool temperatures and crisp air.
Aerobic exercise, like running, biking, hiking, and walking are excellent workouts to get your heart rate up and improve your endurance.
Doing these exercises outside, instead of on a treadmill or exercise bike, add a new dimension to your workouts.
As the leaves change colors and the temperatures fall, this will make any type of exercise so much more enjoyable and keep you coming back for more.
In addition, studies have shown that people who combine outdoor with indoor physical activity report more positive emotions and well-being associated with exercise.
Plus, fall is the perfect time to get your family involved in fitness.
The autumn temperatures make it a much safer environment for your kids to exercise outdoors compared to the oppressive summer heat.
After school, you can go for a walk or get out in the backyard and kick around a soccer ball or create a fun obstacle course.
Autumn is also a great time to explore hiking trails, new running routes, or bike paths.
When you do your workouts outdoors you get to enjoy the changing scenery.
This will make you actually look forward to your workouts instead of dreading a grueling run on a hot summer day.
New trails and running routes also will break up the monotony of your normal routine.
Plus, planning a fitness outing with the family is more fun when you can enjoy new places.
Fall Workouts
Running
Running or jogging outside, instead of indoors, is a great way to stay in shape and enjoy nature.
Finding a new running trail can break up the monotony of everyday workouts.
Plus, you can invite friends to come along to keep each other motivated.
You can do longer endurance runs, or add intervals to your runs to create more of a high-intensity workout.
This can spice up an otherwise boring run, while also boosting your metabolism. This is basically HIIT for runners.
For example, you could run at a moderate pace and then add sprints in between street signs or mailboxes.
Or if there is a nearby track you can do intervals on the track which has the benefit of being easier on your joints than running on the uneven ground.
Biking
Biking is another great outdoor workout.
This is a wonderful option if you have any joint or knee issues.
Biking puts a lower impact on your knees and ankles, which helps decrease pain in your joints.
Plus, it's a fun way to add aerobic exercise into your day.
Biking is a great way to explore new trails and enjoy the outdoors.
There are a number of different types of cycling, from road biking to mountain biking, and even gravel cycling.
If you really want to increase your fitness, invite some buddies out to ride along.
Studies have found that people tend to push harder when exercising with those that have a higher level of fitness, so this is an excellent time to not only train together but improve each other's fitness.
In a 2010 study, 91 college students were randomly assigned to one of three conditions: biking alone, biking with a high fitness training partner, or biking with someone of lower fitness.
The results found that people in the high fit condition group exercised harder than those in the low fit group.
Hiking
Hiking is another excellent workout during the fall.
Not only do you get amazing fitness benefits, but you get to explore new trails and enjoy nature from a whole different perspective.
If you want to build aerobic fitness and enhance your lower body and core strength, then hiking is the workout for you.
You can make it more challenging by finding tougher, more technical trails to improve your strength, balance, and coordination.
Not only is hiking great for your physical health, but this is another activity that has also shown numerous mental health benefits.
Studies on the Appalachian Trail have shown that hiking increases quality of life, self-reliance, fun, enjoyment of life, and warm relationships with others.
So not only will you be improving the physical health of yourself and your family, but you will be building stronger bonds along the way as you enjoy nature and all of its surroundings.
Walking
Some guys forget that walking is also an amazing exercise for all fitness levels.
Studies have shown that walking programs in adults aged 45-75 significantly decrease cardiovascular events such as heart attacks and strokes.
Low- and moderate-intensity walking is associated with numerous other health benefits as well.
Consistent exercise, including walking, can help improve cholesterol markers, control high blood pressure, and slow the development of osteoporosis.
Plus, walking is also great for mental health and has been found to decrease stress and anxiety.
For example, one study found that three-10 minute brisk walks throughout the day improved markers of cardiovascular health and improved mood in adults who previously were sedentary.
Getting out for a brisk walk before work, at lunchtime, or after dinner is an excellent way to add a bit of exercise to any day.
Meet Heart RX. The Blood Pressure, Cholesterol, and Healthy Circulation Support For Guys 40+
Heart RX is for guys who are taking (or have taken) medication for lowering cholesterol and blood pressure. Heart RX will provide you with the natural support to improve all aspects of your heart health – including: blood pressure, healthy cholesterol, and better circulation.
Kayaking/Canoeing/Paddle Boarding
As the weather transitions from summer to fall it is still warm enough to get out on the water.
If you are near a lake or river activities like kayaking, canoeing, or paddle boarding are awesome full-body workouts to try.
With canoeing and kayaking, you get a great upper body and core workout.
Paddle boarding also will work your lower body muscles as you steady yourself on your board.
And these activities are so much fun you won't even feel like you're exercising!
Plus, with the cooler fall weather, you won't have to deal with the blistering sun beating down on you and you can actually enjoy being out on the water.
Here's How Busy Fathers Over 40 Are Finally Burning Stubborn Belly Fat & Getting Healthy Without Restrictive Diets or Time-Consuming Workouts
This proven "Fit Father Program" has helped 38,000 busy men 40+ lose weight, rebuild muscle, and finally keep the weight off.
If you're frustrated with stubborn belly fat, failed diets, and time-consuming workouts, this is the answer you've been looking for…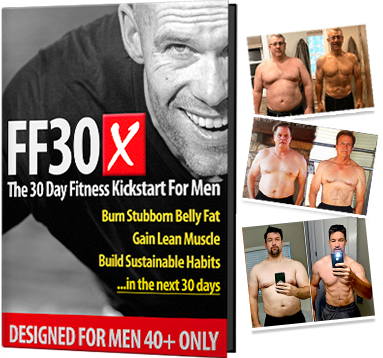 Join 38,000 guys in over 108 countries that are using FF30X to lose weight. You get everything you need to succeed – including:
The Fit Father Meal Plan – with simple & delicious recipes
Safe & Effective Workouts Program – only 90 min/week
VIP Accountability Coaching – our Fit Father Team will personally walk you to success, step-by-step.
LEARN MORE ABOUT FF30X >>
See the FF30X Program overview here. You'll discover how this proven Fit Father Program can help you lose weight and actually keep it off – without the complication and restriction of normal diets. »
*Please know that weight loss results & health changes/improvements vary from individual to individual; you may not achieve similar results. Always consult with your doctor before making health decisions. This is not medical advice – simply very well-researched info on fall workouts.