Family motivation can be a powerful way to reach your goals. John was 57 years old when he came across the Fit Father Project.
He was also the heaviest he had ever been, weighing 244 lbs.
Before joining the Fit Father Project, John had a habit of stopping by the local bar on his way home from work.
"When the bar opened across the street, I really began to gain weight," explains John. "The bar offered delicious craft beer that completely zapped my motivation to exercise and eat right."
"I knew I needed to refocus in order to get my health back on track. I contemplated joining the Fit Father Project for a while."
The Power of Family Motivation
"I finally pulled the trigger and joined in April of 2019," says John. "I joined the Fit Father Brotherhood, because I want to be around to see my four grandchildren grow up. I want to live long enough to see them start their own families into the future. And I knew I needed to get healthy to do that."
John started his weight loss journey with Fit Father 30X.
FF30X is the proven weight loss program for men over 40. The online program includes simple meal plans, time-efficient workouts, daily accountability, and access to the private Members-Only group.
One Week – 10lbs Lost
"At the risk of sounding like I drank the 'Kool-Aid' … Fit Father 30X really works," states John. "I lost 10lbs in my first week. My mind is clear and my energy is up. My blood pressure is lower too."
Fit Father Members can expect to lose 5 to 25 pounds in their first 30 days in the Brotherhood.
Yet, true optimal health is measured by more than the number on the scale.
Fit Father John had the end goal of weighing 190 lbs. When he began his weight loss journey, he assumed losing 54 lbs was a fantasy, even with family motivation.
In five months of following the Fit Father programs, John accomplished that fantasy goal.
Big Changes in 5 Months
"The biggest physical change I've noticed is my stomach," states John. "I used to be self-conscious about it. Now I tuck my shirt in and I'm not embarrassed."
Men who join the Fit Father Brotherhood see results on and off the scale.
Non-Scale Victories (or NSVs) are moments that prove forward progress in the weight loss journey, without a scale.
Fit Father Members experience NSVs like their clothing fitting better, increased energy, decreased body fat, and more confidence.
"I have many NSVs," says John. "My clothes are too big now. I can see my seat belt, because my stomach isn't in the way. I'm excited to workout. I've started cooking healthy food again. I've even cut my medications in half. The NSVs are endless."
By following the Fit Father programs, John has completely transformed his body, mindset, and life in one year.
The Fit Father Difference
"I've recently noticed that other companies are now focusing on weight loss for men over 40," reflects John. "I'm happy I joined the original company. Other weight loss programs are only in it to sell their products and make a profit."
"The Fit Father Project Team genuinely cares. I get personal in-depth responses to all of my questions. And the Fit Father experts are constantly adding more resources to make our experience better."
"The Fit Father Project is the only real choice for men over 40 wanting to lose weight."
Members-Only Group
When John started Fit Father 30X, he received instant access into the Members-Only group. The private group allows Fit Fathers from around the world to connect, share victories, ask questions, and get the support they need for success. Many of our Brothers use family motivation!
"I cannot fully express how important and valuable the Members group is to me," says John. "We are a Brotherhood of men with a similar mindset and similar age going through the same weight loss challenges. Sometimes I'm supporting others and sometimes they are supporting me. It's so rewarding."
Fit Families
After John saw success with Fit Father 30X, he encouraged his wife to get healthy too.
John's wife Diane joined the Fit Mother Project, the sister company of the Fit Father Project, in May of 2019.
"After the 30 days on Fit Father 30X I was hooked," states John. "In one month, I developed a trust and deep appreciation for this program. When I found out there was a woman's program, I knew my wife needed to try it!"
Diane started her weight loss journey with Fit Mother 30X – the proven weight loss program for women over 40.
Together John and Diane continue to follow the Fit Family path. Since losing 54 lbs and hitting his goal weight, John has transitioned to the Old School Muscle programs. He is now focused on gaining lean muscle mass.
Diane has successfully lost 76 lbs and is now in Phase 4 of the Fit Mother programs. Both John and Diane have fully committed to their health and are determined to maintain their new healthy lifestyles. Family motivation never ends!
4 Takeaways from John's Success Story
Lesson 1: Habits can be broken. Before starting Fit Father 30X, John would frequently stop at the local bar after work to drink their craft beers. Now John enjoys cooking healthy food at home and exercising. He created new habits that support his healthy lifestyle.
Lesson 2: It is possible to lose weight fast – on the right program. Fit Father 30X is designed exclusively for men over 40. The proven program has helped thousands of men finally lose the stubborn weight and keep it off. John lost 10 lbs in his first week of FF30X. After five months of following the programs, John hit his goal weight, losing 54 lbs.
Lesson 3: Good health should be measured by more than the number on the scale. John started his weight loss journey with a goal weight in mind. When he accomplished that goal, he realized that being healthy is a lifestyle. Having optimal health means creating solid habits that support your long-term success.
Lesson 4: It's easier to start, follow-through, and succeed in a weight loss program if your spouse is on board. John and Diane have followed the Fit Family programs together, from the beginning. Throughout their journey, they have overcome obstacles together. They learned how to cook healthy meals together. They started working out together. They support each other and they hold each other accountable every day. If you and your spouse are ready to make a change, we invite you to join the Fit Family. You and your spouse could be the next success story!
Here's How Busy Fathers Over 40 Are Finally Burning Stubborn Belly Fat & Getting Healthy Without Restrictive Diets or Time-Consuming Workouts
This proven "Fit Father Program" has helped 25,000 busy men 40+ lose weight, rebuild muscle, and finally keep the weight off.
If you're frustrated with stubborn belly fat, failed diets, and time-consuming workouts, this is the answer you've been looking for…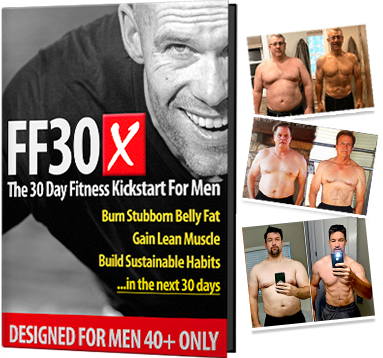 Join 22,000 guys in over 98 countries are using FF30X to lose weight. You get everything you need to succeed – including:
The Fit Father Meal Plan – with simple & delicious recipes
Safe & Effective Workouts Program – only 90 min/week
VIP Accountability Coaching – our Fit Father Team will personally walk you to success, step-by-step.
LEARN MORE ABOUT FF30X >>
See the FF30X Program overview here. You'll discover how this proven Fit Father Program can help you lose weight and actually keep it off – without the complication and restriction of normal diets. »
*Please know that weight loss results & health changes/improvements vary from individual to individual; you may not achieve similar results. Always consult with your doctor before making health decisions. This is not medical advice – simply very well-researched info on family motivation and how Fit Father John lost 54 lbs and got healthy at age 57.