You can start with breakfast in bed, but don't stay there! Get up and get moving with some awesome Father's Day activities!
Father's Day is here and there is no better way to celebrate than spending quality time with your family.
This is a great time to get outdoors and keep the momentum going with your fitness routine while getting the whole family involved.
Your family counts on you for so many things, and that means making your health and fitness a priority.
Plus, by choosing fun activities for the whole family, you can teach your kids the importance of staying in shape, and the numerous benefits of exercise.
This doesn't mean you need to spend Sunday at the gym.
There are tons of activities that you and your family will enjoy that don't amount to formal exercise.
Have a blast with the men in your life with the following Father's Day activities!
Father's Day Activities for the Whole Family!
Hiking
If you are looking to expand your horizons (literally!) hiking is the perfect activity that the whole family can do together.
You can explore nearby trails while building aerobic fitness along with lower body and core strength as you hike up and down hills.
This is also a great way to improve balance and coordination on more technical trails.
Plus, getting outdoors allows your kids to experience nature and get away from their phones and computers.
Hiking has also been shown to have mental health benefits.
Studies on the Appalachian Trail have shown that hiking increases quality of life, enjoyment of life, and relationships with others.
What better way to spend Father's Day?
Bike Riding
Bike riding will give you a killer cardio and leg workout all in one.
You will also get a great core workout as you will engage your abs and low back muscles to keep yourself balanced.
Plus, bike riding is a great way to improve your kids' balance and mobility.
Find some parks with bike trails or designated bike lanes in your area to ensure that you are keeping the family safe from traffic during your ride.
Here's A Free 24-Min Fat Burn Workout For Busy Men 40+
This powerful workout will reignite your metabolism to burn fat 24/7 like you did in your 20s…
Golf
If your kids are old enough, taking them out for a round of golf is another fun Father's Day activity.
Since golf isn't a big aerobic sport, most people forget that it requires quite a bit of athletic ability and strength.
Developing a proper golf swing means having a strong core, glutes, and upper body as you work these muscles with every swing.
Ditch the golf cart and walk the course to get in some added cardio as well.
The slow nature of the game is also a great way to have quality conversations with your family.
Basketball
Shooting hoops with the family in the driveway is a convenient and fun way to spend Father's Day.
You can play some one-on-one or split up into teams if you have enough people.
A competitive hoops match will get your heart pumping while giving you a full-body workout.
And when you're playing a game it doesn't even feel like exercise!
Tennis
Grab some rackets and head out to the tennis courts for an excellent aerobic workout.
Not only is this amazing cardio, but you will need excellent core strength and agility.
A (friendly) competitive tennis match with your wife and kids will have you racing across the courts nonstop giving your a great aerobic workout.
Rock Climbing
While you probably don't have a mountain in your backyard, there are gyms that offer rock climbing walls as a fun form of exercise.
If you want to build some insane upper body strength, then you should give rock climbing a try.
Many venues have introductory courses or will at least walk you through the steps of harnessing yourself in and rappelling.
Start with some of the easier walls and work your way up.
Your kids will also love this different twist on fitness.
The Natural Testosterone Booster Guys 40+ Are Using For More Energy, Drive, & Results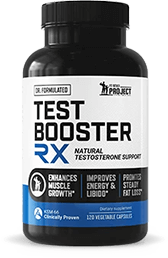 After age 30, your Testosterone levels start declining. Add in some stress and a "less than perfect" diet… everything gets worse fast. You feel tired all the time. It's hard to lose fat. It feels like you lost your edge. That's the sad story that happens to most guys 40+. But now, it doesn't have to be that way for you….
Kayaking/Canoeing
If you live by a lake, river, or even the ocean, kayaking is an awesome family activity.
This heart-pumping sport is great to build muscles in the arms, back, and chest while simultaneously giving you a great cardiovascular workout.
And getting out in the open water is a fun way to explore a different part of the outdoors.
Whether in a lake or the ocean, spending time with your family in nature while also getting in shape is an unbeatable combination.
Paddleboarding
Paddleboarding is another fun water sport that is an all-over body workout.
Forcing yourself to balance as you paddle through the water challenges your core muscles while building strength in the upper and lower body.
Paddleboarding is a unique and enjoyable activity that has been shown to improve aerobic and anaerobic fitness, while also building core strength.
Not only that, but paddleboarding has also been found to have psychological benefits and can enhance quality of life!
Swimming
All kids love swimming, and this is a great way for dads to stay in shape too.
Try to find a nearby beach or pool to get some laps in this Father's Day.
Swimming is an amazing cardiovascular workout, and also builds upper body and core strength.
Another benefit of a day full of swimming?
Your kids will be so exhausted by a day of physical activity they'll be ready for bed, leaving you some much-needed dad time at the end of the day!
Relay Races/Obstacle Course
You can set up your own races or obstacle courses in the backyard and challenge the family to some fun competition.
This is a great way to get your kids involved in designing the course as well, and gives you more time to spend together.
Use whatever you have in the backyard, like tree branches, a swing set, monkey bars, or even tires or cones from the garage to make the ultimate course.
To give your kids even more incentive you can even make small homemade awards for the winners.
Meet Burn RX. The Safe & Effective Metabolism Booster To Help You See Faster Results& Feel More Energized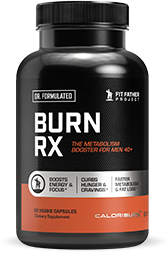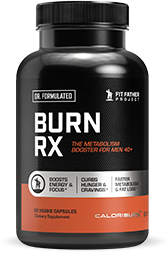 Burn RX is for guys who are working on losing weight and want to see faster and easier results from their eating & exercise efforts. It helps your body burn more fat before, during, and after your workouts, which will improve your body composition while boosting your energy + metabolism.
Family Friendly Fitness Competitions
Along the same lines as an obstacle course competition, you can even have your own fitness competition.
Design a circuit workout with your family and try to see who can perform the most reps during each exercise.
Sort of like a family AMRAP workout!
You can make different circuit areas for push-ups, lunges, squats, jump rope, or a number of different exercises.
Keep track of the reps for each minute and push each other to try to best one another.
This is a fun workout that will add some great cardio to your day.
Plus, the different movements will encourage balance, stability, and give you an awesome core workout as well.
Here's How Busy Fathers Over 40 Are Finally Burning Stubborn Belly Fat & Getting Healthy Without Restrictive Diets or Time-Consuming Workouts
This proven "Fit Father Program" has helped 38,000 busy men 40+ lose weight, rebuild muscle, and finally keep the weight off.
If you're frustrated with stubborn belly fat, failed diets, and time-consuming workouts, this is the answer you've been looking for…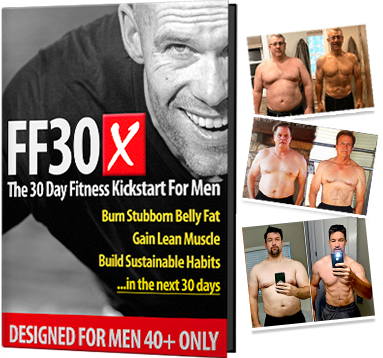 Join 38,000 guys in over 108 countries that are using FF30X to lose weight. You get everything you need to succeed – including:
The Fit Father Meal Plan – with simple & delicious recipes
Safe & Effective Workouts Program – only 90 min/week
VIP Accountability Coaching – our Fit Father Team will personally walk you to success, step-by-step.
LEARN MORE ABOUT FF30X >>
See the FF30X Program overview here. You'll discover how this proven Fit Father Program can help you lose weight and actually keep it off – without the complication and restriction of normal diets. »
*Please know that weight loss results & health changes/improvements vary from individual to individual; you may not achieve similar results. Always consult with your doctor before making health decisions. This is not medical advice – simply very well-researched info on Father's Day activities.