A
sk your dad what he wants, and you'll usually get one response, "I don't know." The truth is most men are pretty content with what they have. But a gift is appreciated, which is why this list of
Father's Day gift ideas on a budget
will ensure your dad knows they are appreciated even if your funds are tight.
Don't forget to show this article to your own children. After all, they need to know the best Father's Day gift ideas on a budget.
Build A Fitness Plan
Buy one for yourself and your dad, and tell him you're going to join him. The real prize is an extended life and an opportunity to bond.

Go-Karting
Why get your dad a present of something he just won't use? Instead, give him an experience to remember.
Take him out to the nearest go-kart track and enjoy racing. He'll want to prove he's still got what it takes.
It doesn't matter how old your dad actually is. He'll get a thrill from this.
A Pocket Knife
What kind of man doesn't appreciate a pocket knife? Knives are an incredibly useful tool that is highly variable in both price and quality.
If you have enough funds left, you can even get the knife engraved with an appropriate message. "Always ready to put the knife in with love!"
Travel Kit
If your dad needs to travel a lot or is always running out of charge on his cell phone, then put together a travel kit for him.
It must include a back-up battery for his phone and any other essentials you know he is always forgetting.
A Watch
The watch is a classic gift that should last the test of time! All you need to do is decide whether your dad is an analog man or a digital one.
Of course, it's advisable to be sure that he will actually wear a watch.
Take Him Camping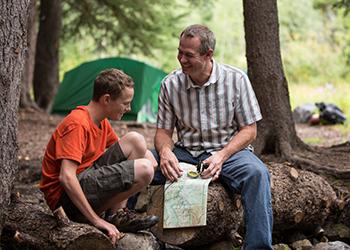 Camping doesn't need to be expensive. Simply choose a location not too far away that he loves or that he has never been to. Take your tent and enough supplies to eat and drink the evening away.
Assuming you have a tent and you avoid the organized campsites, you can actually achieve this gift for virtually nothing. All you need is enough food and his favorite drink.
Again, your dad will get the best present of all: time with you. This makes it one of the best Father's Day gift ideas on a budget.
Food Package
There are plenty of companies now that offer to deliver a menu of your choice throughout the week. They will usually deliver the ingredients and a recipe.
Sign your dad up for a test week and effectively give him a week's shopping bill. It might even encourage him to eat healthier!
Alternatively, you can create your own meals using the free 1-day meal plan and even prepare them for him.
The Memory Book
No matter what men may say they can be just as sentimental as women, especially when it comes to their children.
Another almost free idea is to get a scrapbook or photo album and stick in pictures, photos, souvenirs, and appropriate phrases. This is a gift that he can and will look at over and over again.
Just don't be surprised if you see a tear or two well up in his eye!
The Fitness App
If you're running out of time, then you can choose an app or two and add them to your dad's phone. Many apps are actually free, so this idea could cost you nothing!
Instead of getting a random app, you should consider adding a fitness app. This can encourage your dad to start getting in shape, and you can even add the same app yourself, allowing you to compete with each other.
Yet again, you'll be giving the best gift of all: your time and communication.
Throw A Party
If you're really stuck for ideas and low on a budget, then show your dad how much he means to you by throwing a party!
You can choose a theme that will appeal to your dad and invite a few friends. The secret here is to tell all the friends to bring a dish of food with them. This will keep your costs to a minimum.
Your dad will get the opportunity to see all the people he loves and create a memory that will last a lifetime.
Fix Something For Him
There is probably some job that your dad has not had the opportunity to do, even though it needs doing.
One of the best Father's Day gift ideas on a budget is literally just time. It doesn't even have to be on Father's Day! Simply take the opportunity to arrange a day when you'll visit and help him sort out all the little issues around his home.
The result is a cheap Father's Day gift, but one that will be really appreciated.
Remote Control Toy
You can choose from a helicopter, plane, drone, or even a car. It doesn't have to be an expensive one as there is no guarantee it will be taken out again after Father's Day.
It doesn't matter what your dad says; he'll enjoy playing with a remote control vehicle while you 'help' far more than receiving the customary tie or socks.
The Best Father's Day Gift Ideas On A Budget
These are just some of the options when searching for the best Father's Day gift ideas on a budget. The real secret is to give them the one thing they crave the most: your undivided attention.
This will ensure they have a great Father's Day, and you build memories that will last forever.


Your new friend & health coach,

Here's How Busy Fathers Over 40 Are Finally Burning Stubborn Belly Fat & Getting Healthy Without Restrictive Diets or Time-Consuming Workouts
This proven "Fit Father Program" has helped 25,000 busy men 40+ lose weight, rebuild muscle, and finally keep the weight off.
If you're frustrated with stubborn belly fat, failed diets, and time-consuming workouts, this is the answer you've been looking for…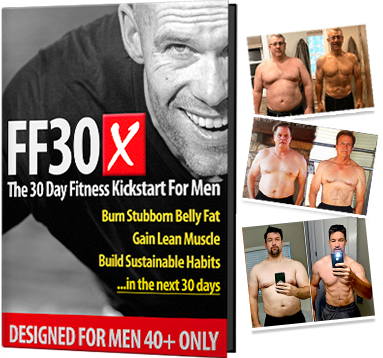 Join 22,000 guys in over 98 countries are using FF30X to lose weight. You get everything you need to succeed – including:
The Fit Father Meal Plan – with simple & delicious recipes
Safe & Effective Workouts Program – only 90 min/week
VIP Accountability Coaching – our Fit Father Team will personally walk you to success, step-by-step.
See the FF30X Program overview here. You'll discover how this proven Fit Father Program can help you lose weight and actually keep it off – without the complication and restriction of normal diets. »
*Please know that weight loss results & health changes/improvements vary from individual to individual; you may not achieve similar results. Always consult with your doctor before making health decisions. This is not medical advice – simply very well-researched info on Father's Day gift ideas on a budget.