Father's Day is just around the corner. It is our day to have others celebrate the greatness that is us. And how do they celebrate? Maybe a cookout, special breakfast, or a phone call wishing us happiness on our holiday. Furthermore, there will be gifts. Presents bestowed upon us by our loving family. And what does our loving family give to us? The ones that love us most in the world think that what we really need are more socks and ties.
I'm sure I speak for a lot of fathers when I say the last thing we want is more socks and ties. In fact, we don't want any clothing at all. There is a reason we don't go clothes shopping for hours at a time like women. We aren't all that picky about how we dress. We could care less if the socks match the shirt or the shoes match the tie. Receiving new clothes for Father's Day just means another thing added to the closet that will probably not be worn. My own dad has shirts with the tags still on from two decades ago. Men just don't get excited about clothes.
Keep this in mind when considering Father's Day gift ideas. Think outside the box and come up with something really great. Come up with such an extraordinary idea that you won't have to ask yourself if your father will use it. Instead, what counts will be how many times a week he uses it. Just in case you can't think of anything while you're brainstorming away, consider these ideas for your exceptional Father's Day gift.
Fathead
I'm not remotely suggesting calling your father a fathead or writing it in the context of a card. Instead, I am suggesting purchasing a wall decal known as a Fathead. These various vinyl wall graphics can go up on any wall without the need of tape or tacks and it can be virtually any size. It can be placed upon the wall in a matter of seconds. You might be asking yourself, though, what makes Fatheads so great?
Fatheads can be an image of just about anything. If your father has a man cave or a garage that he often frequents, get him a couple Fatheads of his favorite sports teams. If he still enjoys reading comic books and is into superheroes, there are numerous options for every hero you can think of. Maybe there is a certain actor he likes. A John Wayne Fathead would be the envy of all his friends. If that wasn't enough options already, you can take any photo of your father and get a Fathead made from it. Perhaps one from when he was a kid or maybe from his wedding day. The possibilities are endless.
Fancy Grill
If your father likes to show off his skills at outdoor grilling, there is very good news. Grill prices seem to be dropping every year. You can literally get five burner grills with a side heating plate to keep things warm for a few hundred dollars. If your father is about convenience, a propane grill would be the way to go. Some self-declared experts say these grills will not last more than a few years because they are so inexpensive. I'm not sure about you, but I've never had a grill self-destruct on me yet. For the size and the price, you just can't go wrong.
Fit Father 30X
Giving your father the gift of health should be a no-brainer. After all, you want your father to be around as long as possible. Even though you may possibly clash every now and then, you will definitely miss him when he is gone. Fit Father 30X (FF30X) is a very doable diet and exercise program that will keep your dad in shape and healthy. In fact, it was specially created for busy fathers and any man over 40 years old who can stand to lose a few pounds and become more fit. It may not be a bad thing to do FF30X with him. Everyone in the family can get healthy.

Fathers often sacrifice their health just because it is not high on their list of things to do. They are too busy providing for the family and keeping track of everyone's schedules to pause for a bit and consider their own wellness. By purchasing FF30X for your father, you are letting him know that you would like to keep him around. It could be the spark he needs to get into gear and become a healthier version of himself. FF30X will provide him all the essentials to get started on his fitness journey; things like meal plans, workouts, and even accountability coaching. It doesn't hurt to have someone looking over his shoulder now and then. More than 10,000 fathers have experienced great results with this program, so giving it as a Father's Day gift could be the best thing you could do for him.
The Amazing Roku
If your father is a movie buff or a lover of old classic television shows, this is just the gift for Father's Day. For those that are not into streaming services, a Roku may sound like something extremely foreign to you. However, it is something that every father needs. It hooks up easily with an HDMI cable to any HDTV. It is tiny enough that it is only about the size of a wallet, so it won't take up much space at all. Simply by joining the Roku up with your father's WiFi, it will open up brand new worlds to him. There are enough free streaming channels available on the Roku to keep your father very happy. Movies, tv shows, and music will all be at available with just a couple clicks of the handy remote.
If you would like to pimp out the Roku even more, and you can because it only costs about $50, there are subscription streaming channels that you can add. Netflix, Amazon, and Hulu are only just a few of the most popular ones. Each one averages out to about ten dollars a month, so you won't have to break the bank. Plus, you can have a movie night with your father every week and spend some quality time with him.
Handy Dandy Tools
A man can never have enough tools. Just ask Tim Allen. Your father may have a well-equipped workstation in the garage or in the basement, but he probably is still missing a few items that could come in handy. There is a good chance that he only has the basics. You can add a few new items as a Father's Day gift.
An air compressor is always a great addition to a tool collection. It can work with air tools and can be hooked up to a pressure washer. Plus, a person can inflate their tires and anything else that needs to be pumped up. Nail guns are becoming less expensive, so pairing up an air compressor with a couple of nail guns will ensure that your father never hammers a nail again.
65-Inch UHDTV
A perfect addition to any man cave or den is an extremely large tv. Ultra high definition televisions (UHDTV) are making their presence known across the globe. They are the next step up from just the ordinary high definition tv. Plus, there are many places where a 65-inch UHDTV can be had for about $500. Purchasing a mounting bracket so it can hang on the wall can make it watchable no matter where you are in the room. These new televisions do not weigh much, so the most inconvenience you will have with transporting it is finding a vehicle large enough to haul it in.
Game Changing Speakers
Perhaps your father already has a large television and he doesn't need another one. This doesn't mean you can't improve his tv watching experience. Wireless speakers are simple to install in various locations around the room or next to the television itself.
Even inexpensive speakers are usually an upgrade over what a tv nowadays has built into it. The sound coming out of tv speakers is usually tinny, distorted, and short on volume. In addition, for some reason, most of them are pointed towards the wall instead of forward at the people in front of it. You can either get high quality, high-cost speakers to add to his set up or even a common soundbar will enhance their enjoyment. Plus, most new speakers are bluetooth compatible, so your father can play music as well from his phone. It is a Father's Day gift idea that keeps on giving.
Amazon Echo
Whether it is an Amazon Echo or Alexa, it can act as a sort of like a personal assistant to your father. It can play desired music, read an audiobook, or make hands-free phone calls and text messages. Plus, it will also control any smart devices in the house. Moreover, it will give your dad someone to talk to when mom isn't speaking to him at the moment. He'll wonder how he managed to survive all this time without one.
Fitbit
It seems everyone is wearing a Fitbit currently. It has the appearance of a watch, but instead, keeps track of your steps taken and other fitness concepts. The newer ones even can make wallet-free payments, play music or podcasts, have additional apps added to it, and is water resistant. It could be a good addition to use concurrently with FF30X to truly transform your father's fitness level.
A Dazzling Drone
There are numerous drone brands available on the market. They have come down in price to a reasonable amount if you think that your father would have fun with such a device. The amount of fun that comes with a drone cannot be measured. With built-in high definition cameras, your father will be able to take some amazing pictures and videos from high altitudes. The images can download automatically to his phone and allow him to share them with others instantly. Soon you'll be receiving text attachments from his latest drone adventure.
A Modern Wallet
That phone book sized wallet that your father currently has in his back pocket is due to be replaced soon. Every time he sits down on top of it, it is like sitting on a high chair but only on one side. It's amazing that his spine has not suffered some sort of curvature from it already. Do him a favor and buy him a Father's Day wallet that has enough compartments for all of his cash, cards, and receipts.
Tricked Out Tent
Not all fathers love the outdoors equally, but if your dad fancies himself as a rugged outdoorsman, there is a good chance he could use a new tent. Modern tents have conveniences built into them that his old tent probably does not. Inflatable air beds, insulated wall fabric, and reflective technology will keep your father safe against even the harshest elements.
All of these Father's Day gift ideas are merely suggestions on items that your father may enjoy. There is probably one or two from this list that stands out a bit more for your particular father. Express your gratitude for all he has done by getting him something that he will use and cherish.
Ryan Crawley
Writer, The Fit Father Project
Ryan is a fitness expert from Illinois with two decades of experience under his belt. Never one to turn down a challenge, he has taken every class any gym has to offer, even the Dance Kickboxing class. If 70s disco dance music starts playing, everybody should run for cover. You have never lived until you have kicked somebody in the head to Dancing Queen.
If you're interested in a proven and completely laid out "done-for-you" weight loss meal plan & workout routine – designed for you as a busy man…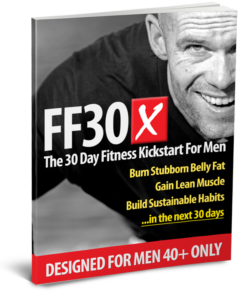 I'd recommend you read the program overview letter for our Fit Father 30-Day Program (FF30X).
Inside FF30X, you'll receive:
The simple & delicious Fit Father Meal Plan
The metabolism boosting Fit Father 30X Workout (under 90 min/week)
VIP email coaching where I'll personally walk you through the program
Read the FF30X Program overview letter here to see how our plan can help you lose weight – without the complication & restriction of normal diets.
*Please know that weight loss results & health changes/improvements vary from individual to individual; you may not achieve similar results. Always consult with your doctor before making health decisions. This is not medical advice – simply very well-researched info on father's day gifts.