Feedback loops are an excellent way to reinforce positive behavior and help you stay on track with your weight loss and fitness goals.
Positive feedback loops will also help you measure your fitness progress over time and keep you motivated.
When you are chasing down fitness goals, staying motivated can be one of the biggest challenges.
It can be tough to make your health and workouts a priority when you have other responsibilities to juggle.
It has been shown that positive performance feedback can serve as a reward in both older and younger adults.
In one study, it was found that positive performance feedback activated similar areas of the brain that are activated by extrinsic rewards, such as receiving money for completing a task.
This illustrates just how essential it is to develop ways to reinforce healthy behavioral patterns with positive feedback!
Learn how you can take advantage of feedback loops to crush your health and fitness goals!
Try these tips and tricks to keep fitness motivation high for a lifetime!
What is a Positive Feedback Loop?
A positive feedback loop can be thought of as a connection that enhances changes from a starting point.
In other words, you change one variable to produce an effect.
That effect continues to boost, or amplify, the original variable.
Basically, the more you do something, the greater an effect it continues to have.
Once a positive change occurs due to that initial stimulus, positive behaviors are reinforced, motivation is boosted and the cycle continues.
Learn how to improve your health and fitness routine by using a feedback loop!
Weight Loss Feedback Loops
If you're trying to lose weight, there are a number of different approaches you can take, and using a positive feedback loop for each one can be effective.
The most obvious feedback loop during weight loss is to weigh yourself.
As you see the pounds drop, this will give you more motivation to continue with your fitness plan.
However, weight is not always the best predictor of progress when you are trying to get into shape.
After people initially shed pounds, oftentimes weight can plateau.
This can be for a number of reasons.
For example, you may be losing fat but gaining muscle.
Also, as you lose weight your metabolism can sometimes drop, causing weight loss to become harder.
Creating additional positive feedback loops will keep you on track and motivated. These include things like:
Track progress on waist measurements
Note how your clothes fit or if you are dropping sizes
Track your body fat/body composition
When you see positive outcomes from small changes in the right direction, this will lead to more positive changes.
Meet Burn RX. The Safe & Effective Metabolism Booster To Help You See Faster Results& Feel More Energized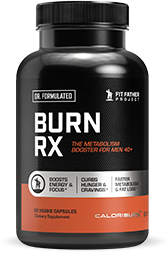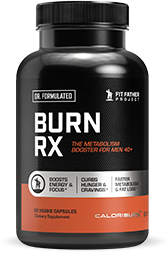 Burn RX is for guys who are working on losing weight and want to see faster and easier results from their eating & exercise efforts. It helps your body burn more fat before, during, and after your workouts, which will improve your body composition while boosting your energy + metabolism.
Fitness Positive Feedback Loops
When you start using positive feedback loops, you will see that it doesn't just apply to each component of your fitness in a vacuum.
All of the positive changes that you make work together to make one large, synergistic positive feedback loop.
For example, you wake up in the morning, and instead of having a doughnut for breakfast, you eat whole grain bread with some protein-packed peanut butter.
This gives you the energy to go for a walk around the block to jumpstart your metabolism and fitness for the day.
If you continue this pattern, you will also notice your clothes start fitting better, or that you're dropping pounds on the scale.
This feeds back to further motivate you to continue this healthy behavior every morning.
Other examples include:
Going to Bed Earlier Every Night
Most dads out there don't get enough sleep, and this can have a major impact on your health.
Sleep deprivation goes beyond just making you feel cranky.
Studies have found that inadequate sleep can alter hormone levels that increase appetite, alter your metabolism, and lead you to pack on abdominal fat.
Plus, a study from The Annals of Internal Medicine found that even if you are following a solid fitness and nutrition plan, insufficient sleep can slow fat loss.
So, to start a positive feedback loop, make it a priority to go to bed an hour, or even a half-hour, earlier every night.
When you wake up refreshed, this will give you more energy for the day.
This will ultimately lead to better workouts, and even smarter nutrition choices as the day goes on.
This will feedback to encourage you to continue to get additional restorative sleep.
Unable to fall asleep or stay asleep? Try this one simple trick to fall asleep faster at night!
Preparing Your Workout Gear For the Morning
If you set your clothes out the night before this gives you an additional push to actually get up early to fit in a morning sweat session.
Along with burning calories, this morning workout will energize you for the day, and again feedback to continue these habits.
Packing Healthy Lunches/Cooking Nutritious Dinners
Instead of grabbing high-calorie snacks at work, or stopping for fast food on the way home, make it a goal to pack your own food for the day.
This way you can control how you fuel your body.
The same goes for dinners.
You can even include your family in choosing healthy meals to make at home.
Eating high-quality, nutritious meals on a regular basis will help you build a healthy and strong body.
In turn, you will notice your body fat dropping, your strength increasing, and your energy levels improving.
Again, this will give you positive feedback to continue making these healthy meals.
Here's A Free Weight Loss Meal Plan For Busy Men 40+
Discover exactly what to eat for breakfast, lunch, and dinner to lose belly fat & feel energized 24/7 without hard dieting...
Positive Feedback Loops For Your Workouts
Other ways to use feedback loops are during your actual workouts.
If you don't have a personal trainer screaming at you to push out an extra rep or finish an exhausting workout, it can be easy to lose motivation and cut your workouts short.
However, when you create workout-specific feedback loops this will help you finish every session to your maximum potential.
For instance, you can set a goal for the number of reps you can perform during your exercises and write down and track your progress.
As you see even small indicators of progress, it will bolster your motivation to push even harder during your next workout.
By actually visualizing your improvement you will see how important each step you take in your fitness is to get you to your ultimate health goals.
It takes a lot of willpower to change your outlook on your health and commit yourself to living a fit lifestyle.
By creating positive feedback loops you can boost your motivation to continue healthy habits even when things get tough.
Even small victories along the way can feed into enhancing your drive to keep going.
Progress isn't just about the long-term goal, but all the steps along the way that helped you get there.
Each of these are milestones that should be celebrated.
So get to work today by starting your own positive feedback loops.
It only takes one small change to create a healthy cycle of behaviors that you can follow for the rest of your life!
Here's How Busy Fathers Over 40 Are Finally Burning Stubborn Belly Fat & Getting Healthy Without Restrictive Diets or Time-Consuming Workouts
This proven "Fit Father Program" has helped 25,000 busy men 40+ lose weight, rebuild muscle, and finally keep the weight off.
If you're frustrated with stubborn belly fat, failed diets, and time-consuming workouts, this is the answer you've been looking for…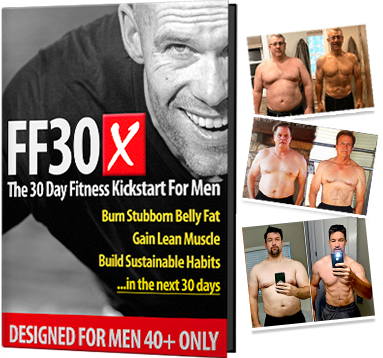 Join 22,000 guys in over 98 countries are using FF30X to lose weight. You get everything you need to succeed – including:
The Fit Father Meal Plan – with simple & delicious recipes
Safe & Effective Workouts Program – only 90 min/week
VIP Accountability Coaching – our Fit Father Team will personally walk you to success, step-by-step.
LEARN MORE ABOUT FF30X >>
See the FF30X Program overview here. You'll discover how this proven Fit Father Program can help you lose weight and actually keep it off – without the complication and restriction of normal diets. »
*Please know that weight loss results & health changes/improvements vary from individual to individual; you may not achieve similar results. Always consult with your doctor before making health decisions. This is not medical advice – simply very well-researched info on feedback loops.