Having trouble finding time for fitness? Like any other important task or to-do, you've got to find a way to make time for your health.
Being a dad is wonderful, but it also means you lead a very busy life.
Between your job, family, and numerous responsibilities, it can be tough to squeeze in time to take care of your own fitness.
But if you want to be around for your family, you really have to make your health a priority.
The trick is to schedule your day with fitness as one of your tasks to complete, not as just an afterthought.
Your workouts should be just as important as your meetings or errands.
So try some of these helpful tips for finding time for fitness.
6 Ways to Make Finding Time For Fitness a Priority
1. Exercise Before Work
A lot of times after a hard day of work all you want to do is go home and relax with your family.
Other times, you have events like children's sporting events or responsibilities around the home.
This leaves little, if any, time for workouts at the end of the day.
The best way to combat this is to get your workouts in before the day starts.
Plus, by getting in your exercise early you will probably actually have more energy than after a long day on the job.
Early morning exercise will do more than just help keep you accountable for your workouts.
Starting out the day with physical activity will get your metabolism geared up for the rest of the days.
Research has also found that working out in the morning can also enhance your immunity.
With the COVID pandemic in full swing and flu season about to start, this is definitely an added benefit.
In this video, we show you how to kick-start your metabolism every morning in ONLY 7-MINUTES!
2. Take a "Walking" Lunch
Instead of sitting at your desk or at a drive-thru during your lunch period, make your lunch break a time to get in some extra activity.
Take a quick walk outside, or even around the halls of your building if the weather isn't cooperating.
Of course, you still need to eat at lunch, so be sure to plan ahead.
But even just 10 minutes of activity here and there adds up when combined with other workouts that you're able to complete throughout the day.
A 2018 study from the American Heart Association (AHA) showed that shorter periods of exercise lasting only 5-10 minutes performed throughout the day have significant health benefits, including reduced mortality.
The AHA recommends 150 total minutes a week of moderate to vigorous activity, however, this research showed that it doesn't really matter how that activity is accumulated.
So even with shorter bouts of exercise, like a lunchtime walk, you can still achieve these health benefits.
Learn about the importance of walking every day and how it can DRASTICALLY improve your overall health.
3. Turn Your Commute Into a Workout
If you live relatively close to your job, you can turn your commute into a time to get in a little exercise.
Biking is one of the more popular ways to turn your commute into a workout, especially since most people don't live within walking distance to their job.
Just be sure you have a safe route to follow and obey all of the same driving laws as any other vehicle.
Not everyone has the opportunity to bike to work, either due to proximity or because of unsafe biking roads.
However, there are still ways to add some cardio to your commute.
For example, you could park farther away from your workplace and walk the rest of the way to work.
This could mean parking in the back of the parking lot, or even parking a few blocks away.
All the little extra activity adds up to big fitness gains in the end.
4. Exercise With the Family
Going to the gym to exercise is an excellent way to stay in shape, but unfortunately, it does take away from the time you have to spend with your family.
Luckily, you can combine exercise and family time by getting your spouse and children involved in fitness.
By working out with your kids, you can teach them the importance of maintaining their health through physical activity.
Plus, it's recommended that children and adolescents engage in 60 minutes of physical activity daily.
When they see how much exercise means to you (not to mention how great it makes you look!), they will be motivated to work out on a regular basis.
It's a win-win situation for everyone!
There are tons of options when it comes to family workouts.
Walks or jogs around the neighborhood, biking in the park, or sports in the backyard are just a few ways to get you and the family moving.
You can also add in some fun circuit training workouts that will keep your kids engaged and introduce them to resistance exercises at the same time.
If you have a gym membership and your kids are old enough you can show them the proper way to use the equipment and maintain proper form.
Or, if you are working out at home you can use some dumbbells or resistance bands for weight training workouts.
And don't forget bodyweight resistance training as well.
Learn how to get the whole family on board with fitness!
5. Recruit a Workout Buddy
If you want to stay accountable for your workouts, having a friend to push you is a great option.
Plus, exercising with a buddy will not only get you to your workout-it will also elevate your fitness to a new level!
Studies have found that when working out, people tend to push harder when exercising with people that have a higher level of fitness.
In one study, 91 college students were randomly assigned to either bike alone, with a high fitness training partner, or with someone of lower fitness.
All participants were instructed to complete minutes of exercise at 60-70% of their maximum target heart rate.
People that exercised with a fitness partner with a high level of conditioning actually exercised harder than those in the low fit group.
That means you shouldn't be afraid to have a fitness partner that's in better shape than you are.
It will help you achieve your exercise goals and keep you motivated to keep pushing yourself.
Whether it's your spouse, your friends, or us here at the Fit Father Project, long-term accountability for weight loss will increase the likelihood of achievement in a big way!
6. Get A Personal Trainer
Going along with the workout buddy theme, having your own personal trainer is another way to get you to adhere to your workouts when you're trying to find time for fitness.
Even with a busy schedule, you can still make time for a personal trainer.
For example, you can schedule your trainer appointments in the morning before work.
This way you are able to get your workout in before the day gets away from you.
And, by having a set appointment, you are more likely to actually get up and go to the gym instead of hitting the snooze button.
Make Workouts a Priority
As a busy dad, the day can often fly by.
All of your other responsibilities can make fitness seem like an afterthought.
But this is truly the time where you need to make your health just as important as anything else in your life.
Being in good physical shape is more than just about looking good in the mirror.
Exercise will reduce your risk for chronic diseases, enhances your overall fitness, and allows you to perform daily activities more easily.
This all equals up to a higher quality of life to spend with the people you love.
By making fitness a priority it really isn't that hard to find time during the day to fit in some exercise.
Here's How Busy Fathers Over 40 Are Finally Burning Stubborn Belly Fat & Getting Healthy Without Restrictive Diets or Time-Consuming Workouts
This proven "Fit Father Program" has helped 38,000 busy men 40+ lose weight, rebuild muscle, and finally keep the weight off.
If you're frustrated with stubborn belly fat, failed diets, and time-consuming workouts, this is the answer you've been looking for…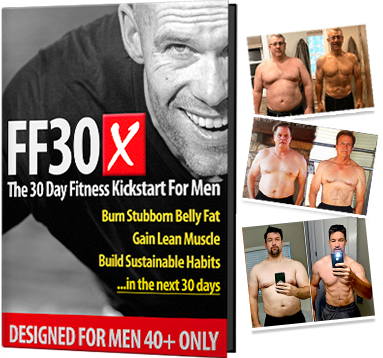 Join 38,000 guys in over 108 countries that are using FF30X to lose weight. You get everything you need to succeed – including:
The Fit Father Meal Plan – with simple & delicious recipes
Safe & Effective Workouts Program – only 90 min/week
VIP Accountability Coaching – our Fit Father Team will personally walk you to success, step-by-step.
LEARN MORE ABOUT FF30X >>
See the FF30X Program overview here. You'll discover how this proven Fit Father Program can help you lose weight and actually keep it off – without the complication and restriction of normal diets. »
*Please know that weight loss results & health changes/improvements vary from individual to individual; you may not achieve similar results. Always consult with your doctor before making health decisions. This is not medical advice – simply very well-researched info on finding time for fitness.