Fitness after 40 is important for a number of reasons, which include staving off chronic diseases that become more prominent as you age.
As guys get older, fitness tends to fall to the bottom of the to-do list.
However, this is really the time when health should be one of the most important parts of your life.
Plus, let's face it … the dad bod really isn't a great look, no matter how much you try to convince yourself.
The risk of chronic diseases, like heart disease, hypertension, diabetes, obesity, arthritis, and even certain types of cancers are linked to poor health.
These chronic medical issues can often be reduced by improving overall fitness levels.
Exercise is a key factor in reducing the risk of developing these diseases and can also aid in their treatment.
Fitness after 40 is achievable. Keep reading to find out how.
Here's How Busy Guys 40+ Are Finally Losing Weight…
If you're in your 40s, 50s, & 60s, you need to eat and exercise differently to lose weight & actually keep it off…
Fitness After 40: 5 Exercises to Fend Off Chronic Diseases
1. Walking
Walking is one of the easiest forms of exercise, but don't let that fool you.
It packs tons of fitness after 40 benefits if done on a regular basis.
Plus it's gentle on your joints and the risk of injury is very low.
Studies have found that walking programs in adults aged 45-75 significantly decrease cardiovascular events such as heart attacks and strokes.
Even if you are new to a fitness routine, walking can be a great way to improve your health.
One study found that three-10 minute brisk walks throughout the day improved markers of cardiovascular health and improved mood in adults who previously were sedentary.
If you are looking to get back into exercising after taking a break, then walking is the perfect aerobic activity to start out with.
It can be done almost anywhere, requires no training, and will improve your health and fitness.
You should aim for around 30 to 45 minutes of physical activity a day, but this can be broken down into smaller sessions.
So try to get out for a quick walk before work or during a lunch break.
Then invite the family to walk with you after dinner because walking is a great activity to get the whole family involved in a healthy lifestyle.
Learn more about the importance of walking every day and how it can DRASTICALLY improve your overall health.
2. Running/Jogging
Jogging, like walking, is great for your cardiovascular health.
Since you are working at a harder pace, you will burn more calories and build more strength in your lower body and core.
In general, running for 5 minutes equals approximately 15 minutes of walking, while 25 minutes of running is about 105 minutes of walking.
So you can achieve similar benefits in a shorter duration with running as compared to walking.
It should be noted, however, that running is going to pound on the joints a little bit more and does predispose you to a higher risk of injury.
There have been a number of studies that have found that moderate walking and vigorous running exercise produced similar risk reductions for hypertension, hypercholesterolemia, diabetes mellitus, and cardiovascular disease.
Plus, you will greatly improve your cardiovascular fitness and get in amazing shape at the same time.
Running is also fun because you can push yourself to new limits.
You can set a goal to run a 5K or 10K race so that you have the motivation to continue to challenge yourself in your training.
Watch this video and learn how to increase your endurance and stamina!
3. Swimming
Swimming is a great activity to build strength and conditioning.
In addition, it has several other amazing health benefits.
Lap swimming not only will enhance your lung function and endurance, but it also aids in decreasing cardiovascular risk factors and lowers blood pressure.
Plus, regular swimming will increase muscle strength as well, especially in your upper body and core.
This makes swimming one of the ultimate total-body workouts.
Even if you have never swum a day in your life, it really isn't hard to get started.
A lot of pools offer swim lessons so that you can learn the proper form and different strokes.
If you are already a seasoned swimmer you can join a team to improve on your fitness in this sport.
This will further improve your aerobic capacity and strength, which in turn will reduce the risk of developing chronic health issues.
Ready to try swimming for weight loss? Start here!
What Are The 5 Best Muscle Building Exercises For Men 40+?
The secret to building age-defying muscle in your in 40s, 50s, & 60s is to modify the best muscle building exercises (bench, squats, rows) to make them safe on your joints…
4. Weight Lifting/Resistance Training
As men age, muscle mass declines.
This is part of the normal aging process, but this can be slowed through strength training.
Plus you can increase your lean body mass, which is crucial for lifelong health.
Increased lean body mass will elevate your metabolic rate.
This allows you to burn more calories throughout the day and prevent weight gain and obesity.
This clearly will decrease your risk of chronic diseases like heart disease, hypertension, and diabetes.
Engaging in mild-to-moderate resistance training is a great way to build muscular strength and endurance, and prevent and manage a variety of chronic medical conditions.
Strength training can lower cardiovascular risk factors aid in weight loss, and improve markers of diabetes.
Plus when you combine weight training with aerobic training, like swimming or walking, you will further benefit your overall health and decrease your chances of developing chronic health issues.
Are you looking for at-home dumbbell workout ideas? Do this full-body workout in less than 30 minutes!
5. Interval Training
As mentioned above, activities like walking and swimming are excellent ways to stave off some pretty scary medical conditions.
But some days you may not have time to do a longer walking or swim session.
High-intensity interval training (HIIT) is a great way to get an awesome strength and endurance workout done in a short amount of time.
Research has even shown the fitness benefits of intense intervals of activity.
High-intensity interval training burns a similar number of calories compared to longer bouts of lower intensity aerobic exercise.
This makes HIIT an excellent option for those that are short on time but still want to get in a killer workout.
With HIIT you can get all of the benefits of improved cardiovascular health and endurance by combining workouts that involve strength and intensity.
This will help you maintain muscle mass, enhance weight loss, and decrease the risk of chronic diseases like obesity, hypertension, and heart disease.
This HIIT bodyweight workout for fat loss can be done at home with NO equipment!
Your Best Health After 40
As a father, taking care of your health is vital not just for you, but also for your family.
You can't spend quality time with your loved ones if you are dealing with chronic medical issues.
Chronic health problems like cardiovascular disease, diabetes, and hypertension not only shorten your life expectancy, but also decrease your quality of life.
And while not all health problems can be avoided, by taking steps to enhance your fitness after 40, you can at least reduce the risk of many of these conditions.
Regular exercise that includes both strength and cardio is necessary to improve your fitness after 40 and overall well-being.
By combining this with a solid nutrition plan you can be in the best shape of your life after 40.
Here's How Busy Fathers Over 40 Are Finally Burning Stubborn Belly Fat & Getting Healthy Without Restrictive Diets or Time-Consuming Workouts
This proven "Fit Father Program" has helped 25,000 busy men 40+ lose weight, rebuild muscle, and finally keep the weight off.
If you're frustrated with stubborn belly fat, failed diets, and time-consuming workouts, this is the answer you've been looking for…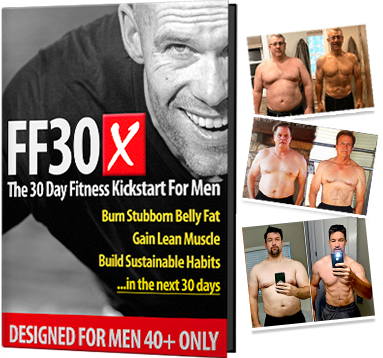 Join 22,000 guys in over 98 countries are using FF30X to lose weight. You get everything you need to succeed – including:
The Fit Father Meal Plan – with simple & delicious recipes
Safe & Effective Workouts Program – only 90 min/week
VIP Accountability Coaching – our Fit Father Team will personally walk you to success, step-by-step.
LEARN MORE ABOUT FF30X >>
See the FF30X Program overview here. You'll discover how this proven Fit Father Program can help you lose weight and actually keep it off – without the complication and restriction of normal diets. »
*Please know that weight loss results & health changes/improvements vary from individual to individual; you may not achieve similar results. Always consult with your doctor before making health decisions. This is not medical advice – simply very well-researched info on fitness after 40.