H
ere's a difficult truth. Getting into shape is extremely hard work. It requires shifting your lifestyle, making sacrifices and finding extra time that you never knew you had.
But despite the sacrifices, getting fit is one of the best things you could ever do for yourself, your partner and your family.
Here's why: overall fitness is the key to living a long, fulfilling life.



It is as simple as that.
The car you drive and how much money you make aren't nearly as important as your physical health.

As you begin this journey and start to realize how important your health truly is, you will be in need of some pointers.
In this blog, you will find tips on how to set fitness goals for yourself.
Remember– there is nothing better you can invest your time in than your health!
Why You Need Fitness Goals
Here's a statistic for you: 92% of people who set goals NEVER achieve them.


A bit depressing, I'll admit.
But do you want to know what the 8% of people who do achieve their goals have in common?
They set realistic, specific goals.

This is exactly why we are urging you to set specific fitness goals.
When you develop a goal, it needs to include what you hope to achieve, what actions you are taking to achieve it, and a timeframe.
Without these three essential components, your "goal" is just a hope.

Here at the Fit Father Project, we urge you to do just that.
In the beginning of our FF30X program, our men write down a 30-day mission statement that guides them through their month-long journey and beyond.

Set Your Overall "End" Goal
Part of a successful fitness goal is the "end" goal. Here are a few that we've seen:
20 pounds in 2 months
2 pant sizes in 2 months
Being able to jog around your block without resting in a month

Of course, fitness goals need to be specific for what you are personally trying to conquer.
The examples above are good ideas to get you thinking about what your overall end goal would be.
Establishing your end goal is essential to your goal-setting because it gives you a tangible measure of success.
End goals are what make all the effort from day to day worth it.
Break Down Your Fitness Goals
Once you have your overall goal, it's time to strategize how exactly you will achieve it.
It's like the saying goes, "How do you eat an elephant? One bite at a time."
Let's break down some examples.
If you were like the man above who wanted to lose 20 pounds in 2 months, we know that would be 10 pounds per month. Or roughly, 3 pound per week.


When you break it down like that, your weight loss sounds completely achievable! Dare we say, easy?
For most men to lose 3 pounds per week, a new diet and new fitness regimen would be recommended.
To start off, our free 1-day meal plan tells you exactly what you should eat morning, noon and night to help you lose weight.
Secondly, our 24-minute fat burning workout is perfect for you to learn many new exercises, specifically for fat loss.
For you to break down your ultimate fitness goal into smaller goals, all you have to do is think about the actions you must take to arrive at your desired state.

Aim For Consistency, Not Perfection
It's important to be realistic when setting your end goal and your smaller goals.
While you need to plan for success, you should also plan for the inevitable: interruptions in your schedule, emergencies at work and home, the little things in life that just come up.

That is to say that you shouldn't beat yourself up if you aren't achieving perfection.
What's far more important is that you aim to be consistent with your workouts and with your diet.
Keep Track of Your Daily Habits
A key to consistency is tracking your daily habits. These are the little tasks that you do each day on the way to achieving your larger goal.


Our favorite way to keep track of these little wins is with a tick-sheet, where you mark off a task every day you do it.
Printing out a large calendar allows you to write in cardio, meal prep, lifting, etc.
When you conquer these tasks, cross them off so you can see your progress.
Visualize Your Success
Finally, it's incredibly important that you can visualize achieving your end goal.
This is a tactic that pro athletes, entrepreneurs, and many other extremely successful people use.
Visualization is the practice of picturing yourself conquering your goal.


For you, that might be picturing yourself running full speed around your block without stopping.
It could be fitting into your old, slimmer pant size…. or tossing the ball around with your son without losing breath.
These are the things that you are working toward.
In order for you to keep your end goal in mind, we recommend reading them twice a day. Ideally, when you wake up and when you go to bed.
This allows you to set an intention for the entire day and check in with yourself after the day is done.
Get Started
By now, you should have many ideas going through your mind of what your end goal will be, how you will track it, and how absolutely amazing it will feel once you achieve it.
Here at the Fit Father Project, we recognize that prioritizing your health as a busy father isn't usually your first thought.


But when you do start to focus on your health, we're confident that you'll notice a difference in your family life and in the example you are setting for your kids.
If you would like more resources as you start this journey, look into our weight loss diet plan and our fat loss workout plan.
Go forth and CONQUER your fitness goals!
P.S. If you haven't seen my FREE 1-Day Meal Plan for Men over 40, I highly recommend you click here to get a free copy sent directly to your email. Remember: nutrition is a core foundation of weight loss for men over 40.
Here's How Busy Fathers Over 40 Are Finally Burning Stubborn Belly Fat & Getting Healthy Without Restrictive Diets or Time-Consuming Workouts
This proven "Fit Father Program" has helped 38,000 busy men 40+ lose weight, rebuild muscle, and finally keep the weight off.
If you're frustrated with stubborn belly fat, failed diets, and time-consuming workouts, this is the answer you've been looking for…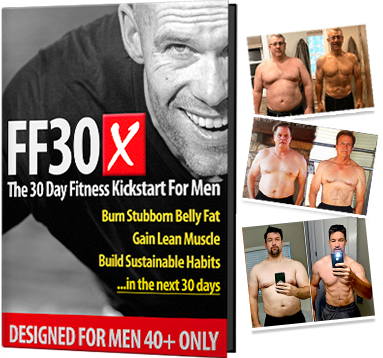 Join
38,000
guys in over
108
countries that are using FF30X to lose weight. You get everything you need to succeed – including:
The Fit Father Meal Plan – with simple & delicious recipes
Safe & Effective Workouts Program – only 90 min/week
VIP Accountability Coaching – our Fit Father Team will personally walk you to success, step-by-step.
LEARN MORE ABOUT FF30X >>
See the FF30X Program overview here. You'll discover how this proven Fit Father Program can help you lose weight and actually keep it off – without the complication and restriction of normal diets. »
Small note about research cited in this article: 
*Always remember: weight loss results & health changes/improvements vary from individual to individual. Just because these studies cite certain data does not mean you will experience these results/outcomes. Always consult with your doctor before making decisions about your health. This is not medical advice – simply well-researched information about fitness goals. Thanks for reading!