Habits can be hard to break, so if you have solid fitness habits, you can stay in shape and live a long life for you and your family!
First, you need to develop those strong fitness habits, which isn't always easy.
Between work, family, social life, and other hobbies, your fitness regimen can quickly fall to the bottom of your "to-do" list.
The easiest thing to say is "I'm too busy" and blow off your workouts.
Missing a workout every now and then is fine, however, when this becomes the norm, you'll lose your fitness gains and your health will begin to suffer.
This is why making fitness a habit is the key to staying in great shape and keeping your health in check.
Not enough hours in the day? Try some of these helpful tips for finding time for fitness!
Top 10 Fitness Habits To Help You Stay on Track
1. Make Fitness a Priority
When life gets busy, the easiest thing to do is skip a workout and blame it on your schedule.
This may be necessary some days. But the key is to get back into your fitness routine as soon as you can so that your body and mind stay tuned in to your health goals.
In order to see any progress in your fitness, you have to stay accountable to your fitness habits.
Even when you have setbacks, it is important to get back to work so that you don't lose the strength and endurance gains you have already achieved.
You should treat your workouts just like the other priorities in your life because your health is a top priority!
Staying in shape is not only going to benefit you, but it will keep you around to live a high quality of life with your loved ones.
2. Find a Workout Buddy
Working out solo is not only boring, but it can also decrease your motivation to exercise.
Plus, when you are on your own you don't have anyone to keep you accountable for completing your workouts.
If you have a scheduled workout planned with a friend, it's a lot harder to cancel knowing that they are counting on you to show up.
So set up a time to run or bike with friends, or meet up at the gym for a lifting session or exercise class.
Not only will working out with a friend encourage you to stay on track with your health goals, but it can also enhance your overall fitness.
Having a workout buddy means having someone to help you push out those last few reps or sprint it out at the end of a hard run instead of just quitting when you feel tired.
This is a great way to continue to see fitness gains and develop good fitness habits.
Studies have even found that when you exercise with someone at a high level of conditioning you actually push harder than when you work out with someone of a lower fitness level.
This means that having a friend to workout with will not only keep you on track with your workouts, it will also motivate you to push yourself to new limits!
3. Stay Active Every Day — Even Without Formal Workouts
There may be some days you can't get to the gym or fit in a workout, and that's OK!
Whether you had a long day, or you are just exhausted from work, we all need rest days at some point!
But that doesn't mean you need to be completely sedentary.
Even just doing a little bit of physical activity will keep your mind on track with your fitness goals.
Not only is daily activity important for your physical health, but it will also benefit your mental health.
One two-month study found that short bouts of exercise during lunch breaks can lead to improvements in mental health in the workplace.
A short walk after lunch or dinner, taking the stairs at work, or even just some stretching before bed will help keep your body engaged in the fitness process.
When your mind is turned on to fitness, this will keep you motivated to get back to your tougher workouts the next day.
Lack of time to exercise during the day because of your busy lifestyle? These micro workouts will change everything!
4. Stay Focused on Fitness Goals
Working out to stay in shape is great, but sometimes you need a true goal to help keep you motivated and to stay focused.
Over time, doing the same workouts day in and day out can leave you feeling unmotivated and like you are just going through the motions.
If you feel like this is happening, it may be time to set a new goal to reach for.
Ask yourself what you really want to accomplish and work to reach that point.
You could make it a goal to enter and run a 5K race, or to finish a four-week boot camp class at your gym.
These goals that are focused on performance, and not a number on the scale, will push you even harder in your workouts.
Building long term healthy habits is the key to staying committed to working out and losing weight.
5. Vary Your Workouts
If you are stuck in a workout rut, it may be time to mix things up.
Going to the gym and doing the same workouts day in and day out can make exercise seem like a chore.
But joining a new class or trying a new form of exercise can reinvigorate you and help you develop all-new fitness habits.
Trying something like yoga or a HIIT class will introduce you to new moves that will make working out fun again.
Different exercises will also force you to work different muscle groups and challenge your aerobic fitness.
Not only does varying your workouts make exercise more enjoyable, but it also helps reduce injury by not overworking the same muscles every day.
6. Choose Activities You Enjoy!
Some men dread the thought of working out because they think this means spending hours on an elliptical or treadmill.
But there are so many different ways to add exercise into your day.
So choose activities that you actually enjoy so that you will be motivated to continue to reach your fitness goals.
If you don't like running, guess what? You don't have to run!
You can try a Zumba or barre class, or design your own high-intensity intervals. The choices are endless!
You can switch up your workouts on a daily basis so that you remain engaged and excited to exercise on a consistent basis.
Studies have even shown that enjoyment for workouts like high-intensity interval exercise increases with chronic training.
This shows that if you are consistent with your workouts, activities like high-intensity intervals help improve exercise enjoyment and adherence to exercise.
7. Try an Online Trainer
A lot of dads get too busy after a long day of work and taking care of the kids to get to the gym.
However, there are great online classes and online trainers available that can help you stay accountable to your training without having to leave your home.
This includes classes for both resistance and cardio workouts.
There are tons of different online classes, from high-intensity intervals to yoga to resistance training.
There are even classes for home exercise bikes, rowers, and treadmills.
This can help you stay motivated to workout even if you can't get to the gym due to a busy schedule.
Or, just check out all the great workouts we have on the Fit Father Project YouTube channel, like this one!
8. Do Shorter Workouts
If your excuse is "I'm too busy" or "I don't have enough time," then try shorter workouts that fit into your schedule.
With responsibilities piled high, you probably don't have the time to spend hours at the gym, but that doesn't mean you should skip fitness altogether.
There are tons of workouts that can improve both your cardiovascular fitness and muscular strength that you can do in as little as 20 to 30 minutes.
You can do shorter HIIT workouts and still get similar fitness benefits to longer endurance activities.
A study from the International Journal of Sport Nutrition and Exercise Metabolism showed that two minutes of sprint intervals produced similar post-exercise oxygen consumption compared to 30 minutes of continuous running at a lower intensity.
This means you don't have to spend tons of time running mindlessly on a treadmill to get great cardio benefits.
Plus, you are less likely to forgo a workout if you know that you will be done in 20 minutes compared to an hour.
Try this ab workout with a bench, chair, or desk — it only takes 4 minutes!
9. Track Your Progress
If you are exercising on a regular basis it helps to keep track of how you are improving along the way.
This doesn't mean just tracking your weight over time.
If you are gaining muscle and losing fat at the same time, your weight may stay the same or increase slightly even if you are actually healthier.
This can be discouraging to see and can cause you to lose motivation. This is where you can track things like body fat percentage.
Your body composition is a more important determinant of health than just your weight.
You should also track the amount of weight or reps you are doing during resistance workouts to monitor your strength gains.
During cardio workouts, monitoring your heart rate or time to complete certain distances or similar workouts will allow you to see how your aerobic capacity is improving over time.
All of these things will keep you motivated as you see how much you are progressing over time.
10. Make Short Term Goals
It's great to set the bar high with your goals, but sometimes your long term goal may be daunting.
So set some short term goals along the way.
If your goal is to lose 20 pounds, set a goal to lose one pound a week.
Or if you are looking to take five minutes off of your 5K time, start by taking 30 seconds off at a time.
As you reach these short-term goals this will increase your motivation to keep moving towards your long-term goal.
Learn how to live a healthier life and get a healthier body!
Outsmart the "I'm Too Busy Mindset"
Getting into great shape as a busy dad is as much mental as it is physical.
The first step is really getting into the right mindset and setting yourself up for fitness success.
Start with these 10 fitness habits. Then, check out FF30X or Old School Muscle and take your fitness to the next level!
Here's How Busy Fathers Over 40 Are Finally Burning Stubborn Belly Fat & Getting Healthy Without Restrictive Diets or Time-Consuming Workouts
This proven "Fit Father Program" has helped 25,000 busy men 40+ lose weight, rebuild muscle, and finally keep the weight off.
If you're frustrated with stubborn belly fat, failed diets, and time-consuming workouts, this is the answer you've been looking for…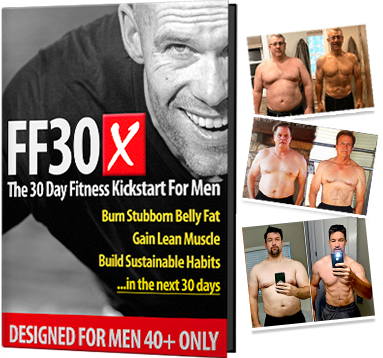 Join 22,000 guys in over 98 countries are using FF30X to lose weight. You get everything you need to succeed – including:
The Fit Father Meal Plan – with simple & delicious recipes
Safe & Effective Workouts Program – only 90 min/week
VIP Accountability Coaching – our Fit Father Team will personally walk you to success, step-by-step.
LEARN MORE ABOUT FF30X >>
See the FF30X Program overview here. You'll discover how this proven Fit Father Program can help you lose weight and actually keep it off – without the complication and restriction of normal diets. »
*Please know that weight loss results & health changes/improvements vary from individual to individual; you may not achieve similar results. Always consult with your doctor before making health decisions. This is not medical advice – simply very well-researched info on fitness habits.