Keeping fitness motivation levels high is half the battle when it comes to maintaining healthy lifestyle habits and staying fit.
I know, easier said than done, right?!

Finding the motivation necessary to work out regularly is the key to reaching your goal weight, burning fat, building muscle, and reducing chronic disease risks.
Maintain high levels of fitness motivation by changing up your workout routine often, recruiting friends or family to exercise with you, and making workouts fun!
Try the following tips and tricks to keep fitness motivation high for a lifetime.
1. Join a Men's Fitness Program
If you struggle to get to the gym or work out at home regularly, consider a fitness program specifically designed with men's needs in mind!
The Fit Father Project offers numerous fitness programs to meet your preferences, including muscle-building and weight loss plans, so you can reach the goal weight and physique you desire and maintain it for a lifetime.
Motivational support from medical experts and other members of the Fit Father Project community can give you the support necessary to keep up with your training long-term.
Try these free meal plans and workouts to get started today!
2. Set Exercise Goals
Studies show that goal setting helps increase physical activity and can reduce hip circumference, waist circumference, and body mass index (BMI).
To keep fitness motivation levels high, aim to set a variety of exercise goals, which might include:
Workout at least 30 minutes most days of the week
Complete a certain number of miles doing cardiovascular exercise most days each week
Lift weights at least three days per week
Work all major muscle groups (biceps, triceps, shoulders, chest, upper and lower back, abdominal muscles, glutes, quadriceps, hamstrings, and calves) at least once weekly
Begin slowly if you haven't worked out in a while. Work up to achieving your health and fitness goals over time.
You might start by working out just 15-20 minutes a day or breaking up workouts into two 15-minute sweat sessions.
3. Track Your Progress
In a journal or app, record fitness progress over time to stay motivated and keep yourself accountable for exercising regularly.
Track daily exercise, activities of daily living (walking the dog, cleaning floors, doing yard work, etc.), and even your food intake!

Also track your weight and body measurements, especially your waist circumference, to keep fitness motivation levels high and monitor your progress over time.
After reaching your goals, set new ones — even if they include maintaining your current fitness level and physique.
4. Don't Work Out Alone
If you struggle getting or staying motivated to work out, don't exercise alone.
Recruit friends or family members to join you at the gym or during at-home sweat sessions to keep you accountable.

Or, try fat-burning, muscle-building workouts at home with Fit Father Project fitness experts.
Upon joining the Fit Father Project, our medical staff offers motivational support via email.
You'll also have access to other Fit Father Project members in the community.
They can motivate you to stay fit by offering additional tips and tricks for success.
5. Reward Yourself
After meeting diet, exercise, or other healthy lifestyle goals, reward yourself!
Take a day off from exercising to rest, get away with your family for the weekend, or treat yourself to new clothes or fun outdoor summer activities.

Get a massage, go on a vacation, or even take a cheat day from eating clean every now and then!
6. Stick to a Daily Routine
Stick with a daily routine to keep fitness motivation levels as high as possible and reduce your chance of skipping workouts.
Carve out a block of time each day for exercise.

You might work out before you leave for work, on your lunch break, or right after work.
Steer clear of late-night workouts, however, to avoid tossing and turning at night.
In addition to scheduling exercise into your everyday routine, make time to spend with friends and family, relax, prepare healthy meals at home when possible, and get plenty of sleep.
Stick to your routine as much as possible, even on weekends, to make exercise one of your top priorities.
7. Prioritize Sleep
Getting enough sleep is crucial for maintaining high energy levels and fitness motivation.
Furthermore, studies show getting recommended amounts of sleep each night reduces your risk of unwanted weight gain, overweight, and obesity.
Sleep deprivation can alter hormone levels within your body, causing increases in feelings of hunger.

The Centers for Disease Control and Prevention (CDC) recommends adults get at least 7 hours of quality sleep each night.
Waking up refreshed and energized makes it easier to tackle workouts, and helps you stay focused at work.
Go to bed at the same time each night and sleep in a cool, dark, quiet room.
To optimize sleep quality, avoid overeating right before bed or going to sleep hungry.
Don't drink alcohol or caffeine, or smoke, late in the evening.
Find ways to de-stress, so you're not thinking about work or other life stressors before bed.
Read a book before you go to sleep, rather than watching TV or looking at your phone or tablet.
8. Fuel Your Body Properly
Getting optimal nutrition keeps your energy, and often fitness motivation levels, high.
When you feel energized, you're more likely to complete regular workouts and maintain a healthy weight.

Consider the following pre- and post-workout healthy food options to properly nourish your body:
A protein shake
A protein bar
Coffee with protein powder
Peanut butter with a banana
Tuna salad over greens
Cottage cheese or Greek yogurt with fruit
Oatmeal plus Greek yogurt and nuts or seeds
Hummus with veggies or pita chips
Apple or pear slices with nut butter
Nuts or seeds with fruit
Grilled chicken over greens
A veggie or turkey burger
Eat a good balance of vegetables, fruits, protein foods, whole grains, dairy foods or plant-based alternatives, and healthy fats.
Aim for 3 meals plus 2-3 snacks daily or 4-6 smaller meals to avoid feeling hungry, and keep your energy levels and metabolism high all throughout the day.
9. Head Outdoors
If you're struggling to get motivated for daily workouts, consider spending time outdoors to stay active!
Studies show that getting outside can reduce depression symptoms and improve your overall mental health.
Surrounding yourself with nature is one of the best ways to keep fitness motivation levels high and boost your mood.

Bring dumbbells, barbells, kettlebells, medicine balls, a stability ball, or exercise mats outdoors to complete resistance training workouts.
Or simply open up windows in your at-home gym space!
Go for a jog, walk, swim, or bike ride outside. Recruit friends or family members to join you while exercising in the great outdoors!
10. Get Creative While Working Out
Doing the same workout day after day can make you bored, lead to muscle fatigue and lack of motivation, and decrease your athletic performance.
Get creative with daily workouts by changing up your routine regularly.

Choose from a variety of Fit Father Project workouts and think outside the box during your off days to stay active.
For example, consider:
Kayaking, water skiing, or paddleboarding
Rollerblading, skating, or biking on a nature path
Hiking or mountain climbing
Joining a basketball or racquetball league
Signing up for a mud run or cross-fit event
Swimming laps outdoors
Preventing boredom and optimizing fitness motivation during workouts is often as simple as completing a different workout every day of the week.
The more variety you can come up with, the better your chance of staying motivated!
11. Create Custom Home Workout Routines
Customizing at-home workouts can increase your fitness motivation level.
Mix and match components from the list of cardiovascular and resistance exercises below based on your preferences, personalized needs, fitness level, and fitness goals:
Cardiovascular Exercises
Try the following at-home cardiovascular exercises to get your blood pumping and burn fat fast:
Jumping jacks
Rope jumping
Skaters
Burpees
Side to side hops
Front to back hops
Jogging in place
High knees
Alternating jumping lunges
Jumping lunges
Squat jumps
Box jumps
Mountain climbers
If you don't have a jump rope handy, you can still complete rope jumping motions without a rope to burn extra calories and shred fat from the comfort home or outdoors.
Lower Body Resistance Exercises
Build up your leg muscles by combining some of the following lower-body resistance-training exercises:
Barbell deadlifts
Dumbbell deadlifts
Dumbbell or barbell squats
Walking dumbbell lunges
Alternating dumbbell lunges
Weighted calf raises
Hamstring curls with resistance bands
Leg extensions with resistance bands
Medicine ball squats
Kettlebell squats
Begin using lighter weight and gradually increase the amount of weight you lift as you progress through your fitness journey.
Make sure to maintain proper form to reduce your chance of getting injured.

Complete at least 3 sets of 8-20 reps, depending on your personal goals.
Upper Body Resistance Exercises
Aim to work each upper body muscle group at least once or twice weekly to build or maintain lean mass.
Choose from the following list of upper body exercises:
Arms
Biceps curls with dumbbells
Biceps curls with a barbell
Hammer curls
Triceps extensions with dumbbells
Triceps kickbacks with dumbbells
Triceps dips
Triceps pull-downs
Shoulders
Bent-over reverse flys with dumbbells
Dumbbell front raises
Dumbbell lateral raises
Dumbbell or barbell shoulder press
Dumbbell or barbell shrugs
Dumbbell or barbell upright rows
Back
Lateral pull-downs
One-arm dumbbell rows
Back extensions
Bent-over dumbbell or barbell rows
Pull-ups
Chest
Bench press with a barbell
Dumbbell chest press
Dumbbell flys
Pushups
Incline chest press
To achieve optimal results, avoid working the same upper body muscles more than two days in a row.
Mix and match these and other exercises to change up your workout routine often.
Combined Upper and Lower Body Resistance Exercises
If you're ready for the challenge of combining upper and lower body exercises into one motion, consider the following full-body resistance exercises you can complete from the comfort of home or at a gym:
Squat to press with dumbbells or a barbell
Squat to lateral raise with dumbbells
Lunge to biceps curls
Deadlift to front raise with dumbbells
Plank rows with dumbbells
Power cleans
Burpees with push-ups
Battle rope exercises
Kettlebell swings
Complete these full-body exercises in circuits, and rest after each circuit.
For example, do one set of 3-4 of the exercises above before resting.
Repeat each circuit two or three more times!
Abdominal Exercises
Try the following abdominal exercises to shred up your midsection by summer and enhance your six-pack:
Crunches
Sit-ups
Plank jacks
Russian twists
Shoulder touch planks
Hip twist planks
Traditional planks
Side planks
Bicycle crunches
Scissors
Hanging knee raises
Stability ball leg raises
Aim to complete abdominal exercises most, if not all, days of the week!
For best results, change up ab workouts often.
12. Set Up an At-Home Gym
Setting up a comfortable, at-home gym is one of the best ways to optimize fitness motivation levels and achieve the physique of your dreams.
At-home workouts can save you time and money in the long run, and make exercise convenient on days you're tight on time or don't feel like leaving home.
Even if you're a gym member, having the option to exercise at home when you want to means there's no excuse for skipping workouts.

Clear out space to complete your favorite exercises or for at-home gym equipment if you have room in your house.
Choose a rowing machine, elliptical machine, stationary bike, treadmill, stair climber, or full-body resistance-training machine for your home gym. Consider:
Barbell weights
Dumbbell weights
Resistance bands
Medicine balls
Kettlebells
Stability balls
Additional resistance training equipment
Doing so can help you achieve your ideal weight, build muscle, and burn fat effectively from the comfort of home.
Add mirrors to your workout space to ensure you're using proper form during at-home workouts.
If you get bored while working out at home, consider mounting a television on your wall!
To maximize fitness motivation all year along, sign up for Fit Father Project programs designed specifically for busy dads.
Or, try the FFP FREE diet and workout to get started on the journey toward better health today!
Here's How Busy Fathers Over 40 Are Finally Burning Stubborn Belly Fat & Getting Healthy Without Restrictive Diets or Time-Consuming Workouts
This proven "Fit Father Program" has helped 25,000 busy men 40+ lose weight, rebuild muscle, and finally keep the weight off.
If you're frustrated with stubborn belly fat, failed diets, and time-consuming workouts, this is the answer you've been looking for…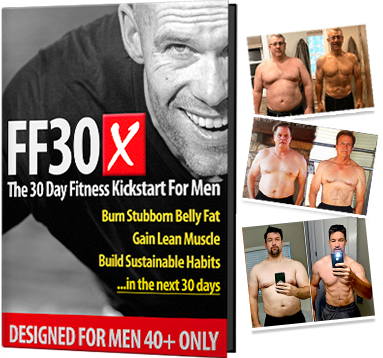 Join 22,000 guys in over 98 countries are using FF30X to lose weight. You get everything you need to succeed – including:
The Fit Father Meal Plan – with simple & delicious recipes
Safe & Effective Workouts Program – only 90 min/week
VIP Accountability Coaching – our Fit Father Team will personally walk you to success, step-by-step.
LEARN MORE ABOUT FF30X >> See the FF30X Program overview here. You'll discover how this proven Fit Father Program can help you lose weight and actually keep it off – without the complication and restriction of normal diets. »


*Please know that weight loss results & health changes/improvements vary from individual to individual; you may not achieve similar results. Always consult with your doctor before making health decisions. This is not medical advice – simply very well-researched info on fitness motivation.