N
o matter how old or "grown-up" we are, we all have role models. Whether it's our own father, a favorite teacher, or a pro athlete you have always admired.
Personally, when I think of role-models of physical fitness, I admire the greats such as Jack LaLanne, Frank Zane and Herschel Walker.
Just like these guys, when you get to your 40s, 50s and beyond, it's important to use training methods and muscle building techniques that are right for your body.
Your recovery times, energy levels and even hormone levels are different than in your bucking youth.
That's why you need to learn the principles I have put together in my Old School Muscle program. This muscle building program has been purposefully designed for men over 40 looking to build muscle and feel the best they've felt in years.
If you're ready to get serious about your fitness and live up to your role models, keep reading.
Everything you need to know about building muscle after 50— including the worst muscle building mistakes men make– is below.

Muscle Building Mistake #1: Too Much Weight
Here's a problem we can all identify with:
We want to be the guy lifting the most weight.

Let's not even try to deny it.
It's an unspoken truth that the dude pumping the heaviest weights is noticed in the weight room.
But hear us out: You do NOT have to lift an insane amount of weight to see results.

When you try to lift too heavy weights, your form suffers. And poor form means injury. That injury means time off from the gym, which means no gains at all.
See the vicious cycle?
Before you lift any weights, you need to know and practice proper form.
We have complete tutorials on exercises and muscle building routines available for you on our YouTube channel.
I also show you exactly how to find the right weight for you, in our new Old School Muscle program.
Muscle Building Mistake #2: Program is Too Advanced
As much as you may admire the greats of bodybuilding, you need to recognize that their workout routines probably won't work for you.
Why, you ask?
Because these programs aren't meant for guys in their 40's, 50's and over.
Before you adopt the next hot exercise routine that you read about in your favorite bodybuilding magazine, stop and think.
Was this program written for a guy like me?
Does this program take into account any prior injuries?
Can I keep up with this regimen without hurting myself?
Is this a schedule that I can actually commit to?
More often than not, the answers are no, no, no and no.
But here's a bigger, better yes:
The Fit Father Program is designed exclusively for men in their 40s, 50s, 60s and beyond.

Every single part of our regimen– from timing to nutrition to exercises– is created with your busy schedule and physical needs in mind.
Start off with our '5 Best Muscle Building Exercises' that will get you going on a routine that is safe for your body.
These 5 exercises will help you gain lean muscle fast– all in a routine that's designed for you.
Muscle Building Mistake #3: Lack of Good Nutrition
It is said that 80% of your gains are from nutrition.


Here's looking at you, pizza and ice cream.
Nutrition really is the building block of fitness. It doesn't matter if you train like a dog if your nutrition plan isn't up to snuff.
The key to building lean muscle and cutting fat is in the proportions.

You should be eating enough protein to assist muscle growth, enough carbs for energy and enough healthy fat to raise and maintain healthy testosterone levels.
That whittles down to 35% protein, 45% carbs, and 20% fat.
Building the perfect diet can be difficult.
That's why we've composed great recipes and documented exactly what you should be eating every morning, noon and night in our Old School Muscle program.
Muscle Building Mistake #4: No Warm Up or Cool Down
Time is our most limited resource.
Once you're dressed and ready to go to the gym, you've got a million things on your mind already!
That's why it's tempting to skip a proper warmup and go straight to the core of your workout when you arrive at the gym.
But this habit couldn't be more wrong.
Especially as you age, your muscles NEED a solid warm up and cool down.

In order to function properly and without the potential of injury, muscles must be loose before they're exposed to high stress.
We recommend a quick 5-10 minute warm up on a cardio machine before lifting.
Afterward, a 5-10 minute stretch routine helps remove lactic acid build-up from your muscles.
Muscle Building Mistake #5: Inconsistency
It's easy to skip the gym or cheat on your diet.
We rationalize that because it's your birthday or Thanksgiving or a graduation that it "doesn't count."
But in reality, everything counts!
Part of the reason that losing weight and building muscle is so hard is that it requires consistency.
But, there is a solution to this problem.
Finding the right program that you can truly commit to and don't dread is the secret to consistency.
Because the Old School Muscle Program was designed for busy fathers like you, it's the key to getting back on your feet and into your favorite jeans again.
If you really struggle with rationalizing your way out of a workout, check out our rebuttal for the most common excuses men make to avoid exercise.
Start The Journey
Now that you've read about the right techniques for muscle building and working out for men over 40, I want to introduce you to a few role models on our team.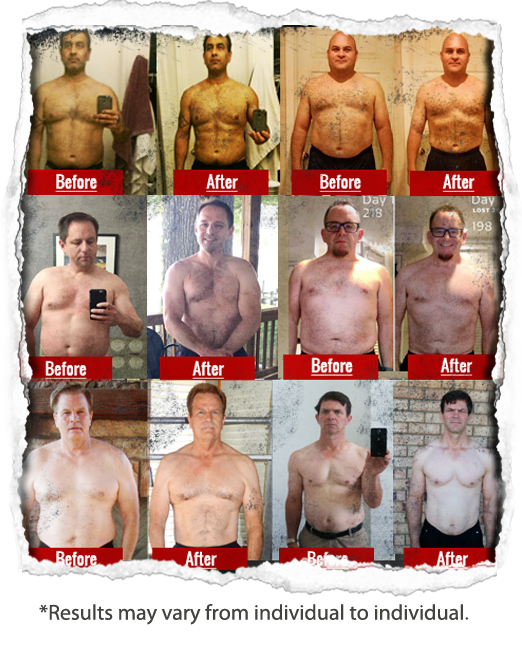 This is a group of hard-working, time-poor fathers who are all 40 years old and up.
These fellows have jobs, families and four-legged friends that are all pulling for their time and attention.
But would you take a look at these gains?
These are our role models at the Fit Father Program.
With our FF30X Program and Old School Muscle Program, we have watched these men meet and then exceed their own expectations for themselves.
We want the chance to help you too.
Click here for your FREE muscle building exercises to get started.
With this guide and our support, you can conquer the 5 common muscle building mistakes and achieve the size and form you want.
What's stopping you?
Your new friend & health coach,

*Please know that weight loss results & health changes/improvements vary from individual to individual; you may not achieve similar results. Always consult with your doctor before making health decisions. This is not medical advice – simply very well-researched info on muscle building mistakes.