Have you heard that eating fat makes you fat? Actually, it doesn't … and that is just one of the many common food myths we're going to address in this article.
If you've been on the internet or social media, you know there's a lot of conflicting information out there.
It's time to cut through the nonsense and give you the facts on 11 of the most common food myths.
Here's How Busy Guys 40+ Are Finally Losing Weight…
If you're in your 40s, 50s, & 60s, you need to eat and exercise differently to lose weight & actually keep it off…
1. Eating Fat Makes You Fat — The Most Common Of All The Food Myths
This food myth has been around for years, tracing back to the '80s when many people were looking to lose weight, specifically fat. It just seemed logical — stop eating fat and you'll have less fat for your body to deal with.
However, the truth is that your body needs fat. Fat molecules are used by your body to absorb other nutrients; fat is an essential part of your cell make-up.
Weight gain or an increase in fat is a result of eating more than you need. Your body converts excess energy into fat and stores it. This excess energy is usually sugars and easily processed carbs you've eaten, not fats.
The problem with cutting fat from your diet is that research suggests you're likely to replace it with sugars which will increase your weight.
You just need to know which fats are good.
2. Fat-Free Foods Are Better Than Full-Fat Foods
This sounds like one of the more sensible food myths, eat fat-free foods to reduce your fat intake and thus maintain or even lose weight.
However, most of the fats in full-fat food are natural and beneficial to your body, and they contribute heavily to the taste. Fat-free foods use sugars and other artificial sweeteners to obtain those same flavors.
If you go fat-free, you're likely to increase your sugar intake, which encourages fat storage in your body. Full-fat foods, in moderation, simply boost the fats your body needs.
If you're still not sure, check out this chart showing the calorific value of fat-free foods versus full-fat items.
3. Eggs Raise Cholesterol
People often shy away from eggs because the yolk is full of cholesterol, completely ignoring the fact that egg whites are full of protein, which is great for your health.
High cholesterol levels are linked with an increased risk of cardiovascular issues. But, research shows that eating eggs is not linked with increased cholesterol levels in humans.
It's not the eggs you need to worry about, it's the amount of saturated fat in your diet. Monitor this and enjoy your eggs.
4. You Have To Count Calories
The average man needs 2,500 calories per day. Of course, this amount varies depending on your activity level and body size — check out your own maintenance calories here.
Counting calories is one of the most confusing food myths. While it's true that eating 500 calories less than you need every day will equate to a 1-2 pound weight loss per week, counting calories can be deceiving.
You can eat seven McDonald's cheeseburgers a day and still be under 2,500 calories since their basic cheeseburger is 300 calories.
But, just one of those cheeseburgers contains 33g of carbs, 7g of sugar, 12g of fat (6g of saturated fat), 40mg of cholesterol, and 680mg of sodium.

So, yes, you're under your calorie limit, but you're way over on daily intakes of saturated fat and sodium AND missing out on a lot of important nutrients.
You need to focus on what you eat more than the number of calories you consume. This won't just help you to lose weight, it will also improve your health and be a sustainable life-long eating plan. Check out this free 1-day meal plan to get you started.
Here's A Free Weight Loss Meal Plan For Busy Men 40+
Discover exactly what to eat for breakfast, lunch, and dinner to lose belly fat & feel energized 24/7 without hard dieting…
5. Chocolate is an Aphrodisiac
As food myths go, this is a great one for justifying the occasional bar of chocolate. After all, it's always good to be in the mood for love!

There's no real proof that chocolate is an aphrodisiac, but it does stimulate the pleasure sensors and this can help you feel more sensual.


Since chocolate contains a lot of sugar, you probably want to find other ways to get in the mood. If you do have chocolate, opt for dark chocolate — it's a rich source of antioxidants and minerals, and it generally contains less sugar than milk chocolate.
6. 100% Fruit Juice is a Healthy Choice
Fruit is always seen as a healthy option. It's unprocessed and tastes good. So fruit juice must be healthy, too, right?
Unfortunately, this is another one of the common food myths. Fruits contain natural sugars that are in relatively low numbers when you eat a piece of fruit. However, when you drink fruit juice it's the juice from many pieces of fruit.
Even 100% fruit juice has a surprisingly high amount of sugar.

It's not just the sugar that makes fruit juice a poor choice. When juicing the fruit you're leaving behind the fiber and many of the other good nutrients.
While 100% of fruit juice is healthier than fruit juice with additives or soda, excessive consumption of this has been linked with a higher risk of developing diabetes.
If you need to drink fruit juice you're best to prepare it yourself at home and blend the entire fruit, this will maximize the nutritional benefits although it won't reduce the sugar intake.
7. Reduce Carbohydrate Intake to Avoid Weight Gain
You know the rule, carbs are easily processed and, if you consume too many of them, they'll be quickly converted into fat inside your body.

That must mean that you have to cut carbs to lose weight. Again, this is one of the big food myths.

Your body needs carbohydrates because they are easily turned into energy. The more active you are, the greater your need for energy.


Carbs are the main source of power in your body.


If you're exercising and don't replenish carbs afterward, your body will replenish the energy used by converting protein into carbs, which will reduce the amount of protein you need to maintain, grow, and/or repair muscles.

The trick is to maintain balance in your diet, and the perfect plate approach is a great way to do this. Every plate should be ½ vegetables, ¼ carbs, and ¼ protein.

But, you also need to concentrate on the right carbs, like whole-grain foods.
Here's A Free 24-Min Fat Burn Workout For Busy Men 40+
This powerful workout will reignite your metabolism to burn fat 24/7 like you did in your 20s…
8. Coffee Is Bad For You
Can't get started in the morning without a cup of coffee?
If you really can't function without coffee or it makes you jittery, you may want to reconsider your coffee intake.
What may surprise you, however, is that coffee isn't bad for you. In fact, it can actually make you less likely to die from an array of conditions, including heart disease, respiratory issues, and stroke.
High-quality coffee (without cream and sugar, of course) is also one of the six healthiest drinks out there!
9. Milk Is Essential For Healthy Bones
Got milk?

The idea that milk contains special calcium to strengthen bones has been reinforced over the years by marketing campaigns and celebrity endorsements.

It's a myth. Yes, milk contains calcium, which is essential to strong bones, but it's not special calcium. Any product with calcium in it, such as leafy greens or legumes, will be beneficial to your bone health.

Calcium isn't the only ingredient for healthy bones, you also need plenty of vitamins D and K.



So, milk is good, but it's not the only thing that will keep your bones strong.
10. Diet Soda Is Better Than Regular Soda
Diet soda may be sugar-free, but that doesn't mean it's healthy.
Diet sodas get their flavor from artificial sweeteners and chemicals, and they've been found to increase your appetite, which will encourage weight gain.
It's best to avoid soda altogether — stick to water and stay hydrated in the healthiest way possible!


Here's What Guys 40+ Are Using to Help Burn Fat & Build Muscle…
This great-tasting protein powder is packed with key nutrients to help busy guys have energy all-day long.
11. Clear Urine Is Good
Speaking of hydration, does clear urine mean your body is well-hydrated and healthy?

Pale or even medium-yellow colored urine could mean you're adequately hydrated.  Clear urine could actually mean you're over-hydrated.


Clear urine could mean that your body is removing nutrients that you need because it's having to work so hard to stay on top of your water consumption.


Listen to your thirst and respond accordingly. Water is important, but you need to find the level that's right for you, not worry about drinking until your urine is clear.
The Myths Have Been Busted, Now What?
Now that you know the truth, it's time to take things to the next level. For one, remember that moderation is key to a healthy diet and lifestyle.
Also — whether you're trying to lose weight or simply trying to stay healthy — always choose whole foods over processed foods.
Need help? We can help you create the right meal plan for you, or show you how to change your eating habits without spending a fortune. Or, if you're just in need of a little inspiration, try this free 1-day meal plan.
Don't worry if you're not sure how to change your current eating habits and avoid these food myths. Simply join the thousands of Fit Fathers who've adopted healthy eating strategies and simple exercise routines to boost their health and fitness!
Here's How Busy Fathers Over 40 Are Finally Burning Stubborn Belly Fat & Getting Healthy Without Restrictive Diets or Time-Consuming Workouts
This proven "Fit Father Program" has helped 25,000 busy men 40+ lose weight, rebuild muscle, and finally keep the weight off.
If you're frustrated with stubborn belly fat, failed diets, and time-consuming workouts, this is the answer you've been looking for…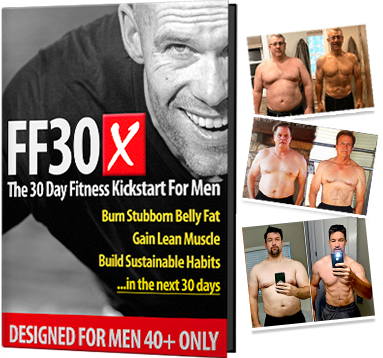 Join 22,000 guys in over 98 countries are using FF30X to lose weight. You get everything you need to succeed – including:
The Fit Father Meal Plan – with simple & delicious recipes
Safe & Effective Workouts Program – only 90 min/week
VIP Accountability Coaching – our Fit Father Team will personally walk you to success, step-by-step.
LEARN MORE ABOUT FF30X >>
See the FF30X Program overview here. You'll discover how this proven Fit Father Program can help you lose weight and actually keep it off – without the complication and restriction of normal diets. »
*Please know that weight loss results & health changes/improvements vary from individual to individual; you may not achieve similar results. Always consult with your doctor before making health decisions. This is not medical advice – simply very well-researched info on food myths.