If you'd like to reduce cholesterol naturally without medication, you need to add foods to lower cholesterol to your diet.
Cholesterol is a type of waxy fat present in your bloodstream, that, in excess, increases your risk of heart disease, heart attack, and stroke.
While your body needs some cholesterol to function properly, too much of a good thing can be problematic.
If you have high cholesterol, or you're at risk of developing it, choose foods to lower cholesterol every chance you get.
Doing so means you may be able to avoid the need to take inconvenient or expensive medications.
Follow the simple healthy lifestyle tips below, as well as consuming foods to lower cholesterol, to help you look and feel great and increase your life expectancy!
Learn more about cholesterol and how to control it.
What Are the Risk Factors for High Cholesterol?
High cholesterol can happen to anyone, but some things boost your risk of experiencing it, such as:
Lack of exercise
Poor dietary habits
Overweight or obesity
Family history of high cholesterol
Excess alcohol consumption
Smoking
Older age
Adopting healthy habits, in addition to choosing foods to lower cholesterol, is the best way to keep cholesterol levels in check and lower your risk of heart problems.
Meet Heart RX. The Blood Pressure, Cholesterol, and Healthy Circulation Support For Guys 40+
Heart RX is for guys who are taking (or have taken) medication for lowering cholesterol and blood pressure. Heart RX will provide you with the natural support to improve all aspects of your heart health – including: blood pressure, healthy cholesterol, and better circulation.
Best Foods to Lower Cholesterol
Consider eating more of these 12 best foods to lower cholesterol:
Legumes
Legumes are loaded with soluble fiber, which is known to aid in lowering your cholesterol.
Add legumes, such as black beans, pinto beans, lentils, soybeans, or chickpeas, to a cholesterol-lowing meal plan for men over 40.
Add legumes to soups, chili, salads, burritos, rice dishes, veggie dips, veggie burgers, or even omelets to boost your intake of soluble fiber, protein, vitamins, and minerals!
Fatty Fish
Studies show that omega-3-rich fish help control high cholesterol naturally and maximize your heart health.
Examples of fish rich in omega-3 fatty acids include tuna, salmon, sardines, cod, lake trout, and herring.
To maintain a healthy heart and keep cholesterol levels in check naturally, the American Heart Association recommends eating fish, especially fatty fish, at least two times per week.
Avoid high-mercury fish, such as shark, swordfish, tilefish, and king mackerel, whenever possible, and don't serve these types of fish to children, pregnant women, nursing women, or women who might become pregnant.
Learn about 10 healthy fats that are good for you and why you need to add them to your diet!
Nuts and Seeds
Nuts and seeds are packed with heart-healthy fats, fiber, protein, vitamins, and minerals.
These superfoods are a must-have as part of a cholesterol-lowering meal plan for men over 40.
Pick almonds, walnuts, cashews, peanuts, pistachios, chia seeds, sunflower seeds, or other nuts and seeds.
Research shows that flax seeds are especially useful for reducing high cholesterol naturally.
Add nuts and seeds to salads, oatmeal, Greek yogurt, soups, and cereals, or blend them into nutrient-dense, protein-rich smoothies!
Nut Butters
Like nuts and seeds, nut butter is loaded with heart-healthy fats, vitamins, minerals, and cholesterol-lowering fiber.
Add nut butter to cholester0l-lowering meal plans by topping whole-grain bread, sliced apples, sliced pears, celery sticks, or banana slices with it.
You can also add nut butter to your favorite protein shakes!
Simply blend together protein powder, milk or plant milk, nut butter, and your favorite fruits.
Avocados
Avocados are packed with nutritious fats that maximize heart health, especially when eaten in place of saturated fats from animal sources.
Avocados are an excellent source of fiber, vitamins, and minerals.
Add avocados to a cholesterol-lowering meal plan by eating them with omelets, whole-grain toast, soups, salads, sandwiches, wraps, turkey or veggie burgers, chili, or heart-healthy taco salads!
Oats
Oats are rich in soluble fiber, vitamins, and minerals, and can fill you up for long time periods.
Consider eating oatmeal or oat cereal for breakfast.
You might also add oats to Greek yogurt, your favorite protein shakes, or homemade protein bars!
Barley
Like oats, barley is an excellent source of cholesterol-lowering soluble fiber, as well as energizing vitamins and minerals.
Add barley to heart-healthy meal plans for men over 40 by choosing breakfast cereals made with barley.
You might also mix barley into soups, stews, salads, or homemade protein shakes or bars.
You can prepare satiating cooked barley as a side dish too!
Fruits
Fruits, particularly pears, apples, grapes, berries, citrus fruits, prunes, and bananas, make an excellent addition to any cholesterol-lowering meal plan for men.
Aim to eat fruits about 3 times daily when choosing foods to lower cholesterol.
Pick a variety of fresh fruits, and keep the skin on fruit whenever possible to maximize its fiber content.
Vegetables
Vegetables are another excellent source of dietary fiber, which is one of the best nutrients to reduce high cholesterol naturally.
Aim to eat at least three servings of veggies daily, and choose a variety of starchy and non-starchy vegetables.
Examples of non-starchy vegetables that are lower in carbohydrates include spinach, lettuce, other leafy greens, mushrooms, onions, carrots, broccoli, cauliflower, tomatoes, cucumbers, asparagus, zucchini, and green beans.
Fill about half of each plate of food with non-starchy vegetables.
Examples of starchy veggies include sweet potatoes, corn, peas, black beans, lentils, and other types of legumes.
Fill about one-fourth of your plate of food with starchy veggies or whole grains – particularly oats and barley.
The Perfect Plate is an easy nutrition strategy that can help you lose weight and eat healthier.
Olive Oil
Olive oil is a source of heart-healthy fat, which when consumed in place of animal fats has cholesterol-lowering effects.
In fact, research shows that Mediterranean diets rich in olive oil contribute to reductions in blood cholesterol, triglycerides, blood sugar, and heart disease.
Cook with olive oil as much as you can!
Grill or sauté meats, eggs, and veggies in olive oil, bake with this nutritious oil, or add it to dressings, sauces, rice, soups, salads, and couscous!
Tea
Unsweetened tea is very low in calories but rich in antioxidants.
Studies show that drinking tea can reduce high cholesterol naturally if you have slightly elevated blood cholesterol levels.
Drink tea several times a day, particularly in place of sugar-sweetened drinks, to maximize cholesterol-lowering effects and reduce your risk of obesity.
Whey Protein Powder
Consuming whey protein powder may also reduce high cholesterol levels, blood pressure, and your risk of heart disease.
Consider adding whey protein powder to your favorite protein-rich smoothies.
Simply blend the protein powder with milk or plant milk, ice, fruit, and nut butter if you'd like!
Meet SuperFuel. The Delicious Protein Shake Packed With 40+ Energy-Boosting Vitamins & Superfoods (Designed For Busy Men)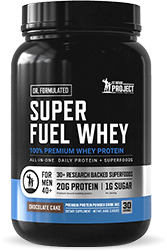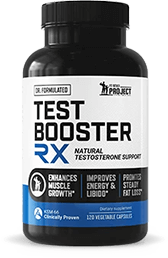 As a busy guy, it's challenging to stay consistent with healthy eating. That's why we created SuperFuel… the delicious "all-in-one" nutrition shake for busy guys 40+ to give your body the protein + key nutrients you need for more energy, fat burning, and muscle building.
Foods to Avoid
Foods to steer clear of when lowering cholesterol naturally is your goal include:
Sugar-Sweetened Drinks
To achieve or maintain normal cholesterol levels, limit or avoid sugar-sweetened drinks like soda, sweet tea, sugar-sweetened juices, sugar-sweetened coffee drinks, lemonade, and sports or energy drinks containing added sugar.
Drink water, milk, plant milk, 100% juice, unsweetened coffee, unsweetened tea, vegetable juice, or protein shakes without added sugar instead!
High-Fat and Processed Meats
Eating too many fatty cuts of red meat or highly processed meats may hinder your chance of reducing high cholesterol.
It can also boost your risk of heart disease, cancer, and other chronic diseases.
Steer clear of large amounts of sausage, regular bacon, ham, salami, hot dogs, deli meats, or other highly processed meats when possible.
Limit or avoid fatty cuts of red meat in favor of lean cuts of organic red meat, fish, skinless poultry, seafood, eggs, veggie or turkey burgers, or other nutritious protein-rich options.
If you eat red meat, choose very lean, organic cuts with the least amount of fat marbling possible.
Trim away excess fat off of the meat.
Other Highly Processed Foods
In addition to staying away from processed meats, limit or avoid other highly processed foods when reducing cholesterol is your goal.
Examples of foods to limit include macaroni and cheese, white bread, white rice, pizza, fried foods, and many types of baked goods.
Limit cupcakes, doughnuts, cakes, ice cream, and other sweet treats.
Instead, choose fruits, vegetables, whole grains, nuts, seeds, legumes, healthy protein foods, avocados, dairy foods or plant equivalents, and other nutritious whole foods.
Fried Foods
Fried foods aren't the best choice when reducing high cholesterol is your goal.
These foods often contain extra calories, carbs, and fat, and may increase your risk of obesity.
Shy away from fried onion rings, fried cheese curds, fried chicken or fish, French fries, chicken-fried steak, and other fried foods.
Pick foods that are grilled or baked instead!
Regular Cheese
Regular cheese is a source of saturated fat, which when eaten in excess can increase your risk of high cholesterol.
You don't have to avoid cheese entirely, as it's packed with essential nutrients, but limit it or choose reduced-fat cheese instead if you're worried about high cholesterol.
Sample Cholesterol-Lowering Meal Plans
If you need some direction when planning nutritious, cholesterol-lowering meal plans for men, let these sample meal plans guide you throughout your health journey!
Cholesterol-Lowering Meal Plan 1
Breakfast
Veggie omelet with uncured turkey bacon
Oatmeal
Coffee or tea
Snack
Greek yogurt
Berries
Sliced nuts or seeds
Lunch
Grilled salmon with veggies and brown rice OR a tuna sandwich on whole-grain bread topped with sliced veggies and avocados
Coffee or tea
Snack
Banana slices with nut butter
Cottage cheese
Dinner
Very lean turkey chili made with black beans, pinto beans, veggies, and sliced avocados
Whole-grain dinner role OR a whole-grain breadstick
Snack
Protein shake made with protein powder, milk or plant milk, ice, fruit, and nut butter
Cholesterol-Lowering Meal Plan 2
Breakfast
Protein shake blended with protein powder, oats or fruit, nuts, and ice
Coffee or tea
Snack
Fruit
Cottage cheese or Greek yogurt
Lunch
Veggie or turkey burger with sliced veggies and avocados
Leafy green salad with an oil-based dressing
Coffee or tea
Snack
Veggies with hummus OR celery sticks with peanut butter
Dinner
Whole-grain pasta with veggies, grilled chicken or seitan, and pesto sauce
Snack
Cholesterol-Lowering Meal Plan 3
Breakfast
Whole-grain English muffin topped with eggs and sautéed veggies
Fruit
Coffee or tea
Snack
Whole-grain cereal mixed with nuts
Greek yogurt
Lunch
Lean pulled pork
Green beans
Cooked corn or barley
Snack
Whey protein shake blended with protein powder, milk or plant milk, fruit, and ice
Dinner
Broth-based soup made with shredded chicken, barley or brown rice, and veggies, topped with reduced-fat cheese or avocado slices
Snack
Cottage cheese topped with berries and pumpkin seeds
Here's A Free Weight Loss Meal Plan For Busy Men 40+
Discover exactly what to eat for breakfast, lunch, and dinner to lose belly fat & feel energized 24/7 without hard dieting...
Additional Ways to Reduce High Cholesterol
Consuming foods to lower cholesterol isn't the only way to get high blood cholesterol levels in check.
Consider adopting healthy habits in addition to eating a variety of cholesterol-lowering foods.
Supplement a healthy diet rich in whole foods with cholesterol-lowering supplements if your doctor gives you the OK.
Examples of supplements that may reduce high cholesterol naturally include:
Green tea extract
Niacin
Plant sterols and stanols
Whey protein supplements
Ground flaxseed
Psyllium fiber
Garlic
Fish oil
Other healthy habits that may keep blood cholesterol within a normal range are as follows:
Don't smoke
Limit or avoid alcohol
Manage stress
Get regular exercise (at least 30 minutes daily)
Keep your body moving all throughout the day
Lose weight if you're overweight or obese
If you do drink alcohol, avoid mixing it with soda or other sugary mixers, and limit drinking occasions to about once weekly if you can.
If you're overweight or obese, reaching an ideal weight (based on your gender and height) is one of the best ways to get high cholesterol under control naturally.
Consider joining the Fit Father Project 30X weight loss program designed for busy dads over 40.
The highly effective plan has helped hundreds of thousands of busy parents get and keep lost weight off long term, as well as eat healthier, build muscle, and burn body fat.
When you join the Fit Father Project you receive custom meal plans and workouts, health coaching support from medical experts, newsletters, healthy recipes, motivational support from other fit dads, and much more!
In addition to choosing foods to lower cholesterol, sign up for a free meal plan and workout to get started or continue on your health journey today!
Here's A Free 24-Min Fat Burn Workout For Busy Men 40+
This powerful workout will reignite your metabolism to burn fat 24/7 like you did in your 20s…
Here's How Busy Fathers Over 40 Are Finally Burning Stubborn Belly Fat & Getting Healthy Without Restrictive Diets or Time-Consuming Workouts
This proven "Fit Father Program" has helped 38,000 busy men 40+ lose weight, rebuild muscle, and finally keep the weight off.
If you're frustrated with stubborn belly fat, failed diets, and time-consuming workouts, this is the answer you've been looking for…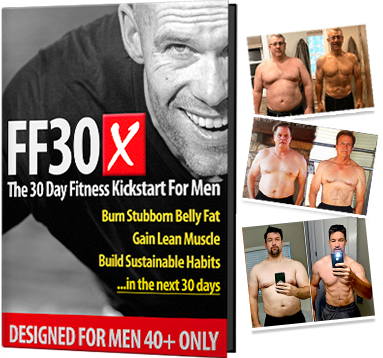 Join 38,000 guys in over 108 countries that are using FF30X to lose weight. You get everything you need to succeed – including:
The Fit Father Meal Plan – with simple & delicious recipes
Safe & Effective Workouts Program – only 90 min/week
VIP Accountability Coaching – our Fit Father Team will personally walk you to success, step-by-step.
LEARN MORE ABOUT FF30X >>
See the FF30X Program overview here. You'll discover how this proven Fit Father Program can help you lose weight and actually keep it off – without the complication and restriction of normal diets. »
*Please know that weight loss results and health changes/improvements vary from individual to individual; you may not achieve similar results. Always consult with your doctor before making health decisions. This is not medical advice – simply very well-researched info on foods to lower cholesterol.