We all know that to stay fit and healthy you need to be active. So … formal workouts vs daily movement: which is better?
The American Heart Association recommends 150 total minutes a week of moderate to vigorous activity to maintain cardiovascular and overall health.
Physical activity is defined as any movement that involves the contraction of your muscles.
All of the actions we do throughout the day from working to mowing the lawn and even walking up and down the stairs are examples of physical activity.
Maintaining a high level of daily movement is a great way to contribute to your overall fitness, but so is working out.
So, back to the original question — formal workouts vs daily movement: which is better for your overall health?
It turns out that it is really a combination of both, as both types of activity are essential to staying in great shape.
Let's take a look at the formal workouts vs daily movement debate.
Looking for real exercises for real guys? Check out these workout routines for men!
This video digs deeper into the formal workouts vs daily movement discussion!
How Does Daily Movement Improve Fitness?
When looking at formal workouts vs daily movement, let's start with the easy stuff.
Your normal day to day activities will naturally burn calories!
If you have a very intense, strenuous job, this may be all you need to maintain your fitness.
For example, construction workers and landscapers that spend the day constantly moving are going to be expending tons of strength and energy on a daily basis.
However, this is not true for someone that has a desk job and spends hours at a computer.
Unfortunately, many people are stuck in sedentary jobs. Studies done in the US have found that over the last 50 years, energy expenditure at work has decreased by more than 100 calories a day due to sedentary jobs.
That means finding any way to burn a few extra calories can play a big role in improving your health.
Daily activity tends to be less intense than formal workouts, but that doesn't mean that there aren't significant health benefits.
And there are some really simple ways to incorporate more physical activity into your day.
Ways to Increase Daily Movement
Park Farther Away
Get to work a little early and park farther away to get in some extra steps before the workday starts. When you're running errands, park as far away from the store as you can.
Take the Stairs
Instead of using the elevator, get to your next meeting by hitting the stairs.
Not only will this improve your aerobic fitness, but it will also build lower body and core strength.
Walk at Lunch
Instead of eating lunch at your desk take a walk!
You can even invite your friends or coworkers along to socialize.
This could even just be a short walk around the block or office.
Walk After Dinner
Taking a walk is the perfect time to reflect upon your day or to share time with loved ones.
You can even have your kids and spouse come along.
If you have a dog, this is a perfect time to get them moving as well.
Do Some Work Around The House
House and yard work are chores that you need to do anyway.
And it turns out that if you increase the intensity you can burn some serious calories!
You can even put on some of your favorite music to keep you motivated and make it even seem like a true workout.
Chores like mowing the lawn, gardening, raking leaves, and even vacuuming and mopping will get your heart rate up and add to your minutes of daily activity.
Increasing physical activity during the day has significant health benefits.
By being more active throughout the day you will improve your aerobic fitness and muscular strength.
In fact, a study from the British Journal of Sports Medicine found that an active daily life was associated with improved cardiovascular health in older adults.
This was regardless of exercising regularly or not!
Formal Workouts
When looking at formal workouts vs daily movement, don't forget the benefits of actual exercise!
Formal workouts are more targeted ways to build specific muscular strength and cardiovascular fitness.
Instead of just going through your daily activities, your scheduled workouts are a specific form of exercise that is planned with the intention of improving fitness.
This could be weight lifting, running, biking, swimming, or a group class. Really any structured activity where you are focused specifically on your fitness.
While daily movement is great, formal workouts are still necessary to achieve health benefits that can only be accomplished with more strenuous physical activity.
For example, walking with a friend at a leisurely pace is a nice way to burn some calories and get your body moving.
But to see real aerobic improvements in fitness, you still want to have days where you exercise at a higher intensity and bump up your heart rate.
Another thing to think about is building strength.
While working around the house and doing things like gardening or lawn work definitely engage your muscles, it still isn't the same as focused and targeted strength training sessions.
Micro-Workouts Can Also Help!
In addition to your normal daily movement, you can add in short little micro workouts throughout the day if you don't have enough time to devote to a formal workout session.
You can still keep up your fitness with short bouts of activity throughout the day.
A 2018 study from the Journal of the American Heart Association showed that exercise lasting 5-10 minutes performed throughout the day can help reduce mortality.
While the AHA still recommends 150 minutes a week of activity, this research found that it didn't matter how the activity was accumulated.
Some examples of micro-workouts include things like knocking out some push-ups or squats next to your desk during a break.
Or you could even get a quick stair workout in at lunch or at home while watching the kids.
While these may not be classified as a formal workout session, if you can add in enough reps throughout the day, these micro-workouts are a great way to complement your daily activities to up your fitness level.
You can still get a workout by accumulating reps throughout the day, even if you have a desk job.
Resistance training using your own bodyweight is a great way to add strength training even when you don't have access to free weights.
Here is an example of a quick micro-workout you could do during your workday so you can break up the monotony of desk work.
Tricep Chair Dips
This is a great arm exercise you can do whenever you have a couple of minutes.
Just move to the edge of your chair and lower your body down into a tricep dip until your arms are parallel to the ground.
Push back up, being sure to keep your arms close to your body.
Do this for 30 reps.
Bodyweight Squats
Bodyweight squats are an easy exercise to do right beside your desk.
Even though you aren't using any weight, be sure to maintain good form throughout.
Do this for 15 reps.
Push-Ups
Push-ups are a great upper body and core workout that can be done anywhere.
You can even change up your hand position to target different areas of your chest and upper body.
For example, you can keep your arms narrow to really hit your triceps.
Or you can use your desk chair to do incline or decline push-ups.
Do this for 15 reps.
Calf Raises
Stand next to your chair or desk and perform calf raises.
Try changing the angle with this exercise as well.
Do 10 reps with your toes pointing forward.
Then try the next 10 reps with your toes pointed out, and finally, do another 10 with your toes pointing in to target all areas of your calf muscles.
Lack of time to exercise during the day because of your busy lifestyle? These micro-workouts will change everything!
Formal Workouts vs Daily Movement — Why Not Both?
Stepping up your fitness game is as important now as it ever was in your life.
A lot of guys think that getting older and becoming a dad means that they don't have time to workout and be in the best shape of their lives.
Sometimes you forget that all of the daily movements and activities that you do throughout the way can go a long way in enhancing your health and fitness!
As you go about your day, look for creative ways to increase your physical activity.
From a lunchtime walk or even just parking farther from your office, you can make small changes every day that make big differences in the long run.
Daily activities are a great way to complement formal workouts.
But when you really look at formal workouts vs daily movement, both are needed for a successful fitness program.
So don't forget to add in targeted workouts as well to reach your full fitness potential!
Here's How Busy Fathers Over 40 Are Finally Burning Stubborn Belly Fat & Getting Healthy Without Restrictive Diets or Time-Consuming Workouts
This proven "Fit Father Program" has helped 38,000 busy men 40+ lose weight, rebuild muscle, and finally keep the weight off.
If you're frustrated with stubborn belly fat, failed diets, and time-consuming workouts, this is the answer you've been looking for…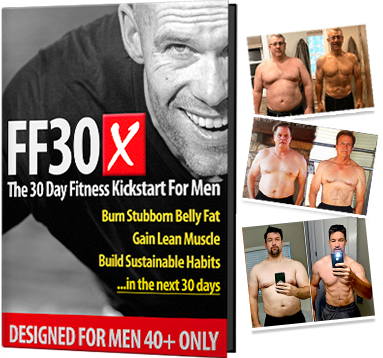 Join 38,000 guys in over 108 countries that are using FF30X to lose weight. You get everything you need to succeed – including:
The Fit Father Meal Plan – with simple & delicious recipes
Safe & Effective Workouts Program – only 90 min/week
VIP Accountability Coaching – our Fit Father Team will personally walk you to success, step-by-step.
LEARN MORE ABOUT FF30X >>
See the FF30X Program overview here. You'll discover how this proven Fit Father Program can help you lose weight and actually keep it off – without the complication and restriction of normal diets. »
*Please know that weight loss results & health changes/improvements vary from individual to individual; you may not achieve similar results. Always consult with your doctor before making health decisions. This is not medical advice – simply very well-researched info on formal workouts vs daily movement.