Bored with your workouts? One way to spice up your fitness and get out of an exercise rut is by gamifying exercise.
No matter how much you enjoy working out, the monotony of doing the same activities day in and day out can leave you feeling unmotivated after a while.
Staying committed to your fitness and health can be a challenge at times, especially when you feel like you've hit a plateau.
By gamifying exercise, you can find that extra motivation you need when you get bored grinding out the same old routines.
And you don't need a fancy Peloton bike or expensive subscriptions to programs you may never use.
With some free apps or your own creative games, you can create killer workouts that will break you out of your fitness rut and get you back on the path to a healthier you.
Here's how you can start gamifying exercise!
What Is Gamifying?
I'm sure you have seen exercise gaming consoles, like Nintendo Wii, that turn sedentary video games into physical fitness activities.
But what if you remove the screen and apply the same principles to everyday exercise?
This is what gamifying exercise does, without the need to buy any expensive electronics.
Gamifying your workouts means you can do any number of different physical fitness activities that you tailor to your goals and interests.
And, there is evidence that shows how gamifying can actually increase your level of fitness and physical activity.
In a 2017 study from JAMA Internal Medicine, fitness trackers were used to track the activity of participants.
One group was involved in gamifying, where they earned points through different activities, while the other half did not participate in point-scoring activities.
The adults who gamified their workouts had significantly greater physical activity and increased their step count compared to the control group.
Here's A Free 24-Min Fat Burn Workout For Busy Men 40+
This powerful workout will reignite your metabolism to burn fat 24/7 like you did in your 20s…
Gamifying Exercise to Get Out of a Workout Rut
When you're gamifying exercise, it leads to somewhat of a distraction where you don't even feel like you are exercising.
Making your workouts more enjoyable is a motivating factor that will actually have you looking forward to exercising.
Gamifying exercise not only will motivate you to start working out, it will also keep you engaged during your workouts and keep you accountable to reach your workout goals.
When you gamify your fitness, not only can you set short-term goals for each workout, but it will also help you reach your long-term health goals.
Meet Your Fitness Goals Through Gamifying
The Centers for Disease Control and Prevention have found that only around 23% of U.S. adults meet the recommended guidelines for muscle-strengthening and aerobic exercises.
However, turning your workouts into a fun game experience can actually help you reach these goals.
For example, a 2018 study from the Journal of the American Heart Association found that sedentary office workers increased their physical activity when they used a mobile health gamifying platform called MapTrek.
In this study, all participants were able to track their steps with a FitBit.
However, the study participants that competed in walking challenges on MapTrek walked more step and were more active than those that wore a FitBit without the game.
What Are The 5 Best Muscle Building Exercises For Men 40+?
The secret to building age-defying muscle in your in 40s, 50s, & 60s is to modify the best muscle building exercises (bench, squats, rows) to make them safe on your joints…
Gamifying Exercise With Technology
Gaming Apps
One way to start gamifying your workouts is to try out some of the great gaming apps that you can download right to your phone.
If you are unsure of how to make your workouts more fun and intriguing, this is one of the best ways to start.
Some top apps for gamifying your workouts are:
Zombies, Run!
This is one of the most popular gaming apps out there and for good reason.
There's nothing like having a zombie chase you to get you moving!
Zombies, Run! starts with a story about you in a post-apocalyptic world. It then combines audio cues and music to keep you moving.
Just plug in your headphones to hear your mission as you walk or run anywhere in the world.
When you are chased by zombies you will need to speed up and will collect supplies along the way the build your base.
You can even create interval training with your own missions.
The Walk
If you would rather get your physical activity in by walking rather than running, The Walk is the app for you.
The concept for this is similar to Zombie's Run, however, you walk to achieve the goals in this game.
Fitocracy
As you exercise, this workout tracker keeps track of your points, allowing you to level up, complete bonus quests, and earn badges by reaching your goals.
Fitocracy also has its own community where you can join a fitness social network and encourage others on the same skill level as yourself.
There is also the option for a paid account where you can pick a coach who will send you a customized nutrition and workout plan made specifically for you.
With a paid account you will receive daily accountability and personalized guidance from your coach to make sure you're on track and get help from your coach any time you need it.
HealthyWage
Did you know that there are even apps that allow you to earn money for meeting health and exercise challenges?
With HealthyWage you can actually get paid by meeting fitness and weight loss goals.
You can win bets by fronting the money, with potential earning ranging from $500 to over $1,000 in just nine months' time after meeting weight loss goals.
You'll be held accountable for weekly weigh-ins, using an online HealthyWage representative.
Gamifying Exercise On Your Own
While apps are one way to gamify your workouts, you can also create your own incentives and competitions to turn your fitness into a fun activity and not something to dread.
Track Steps or Distance With Friends
An easy solution to staying accountable for your daily steps is to recruit family or friends to get in on the action.
Start by setting daily goals for either steps or distance traveled.
You can use a pedometer to track your daily steps and monitor each other through free apps like Strava or MyFitnessPal.
If you are already more active, you can do more than just monitor steps.
Avid bikers or runners can challenge each other to ride or run a certain distance over a week.
You can even have awards at the end to keep everyone motivated.
For example, whoever wins gets to choose a fun activity for the weekend.
Or, on the flip side, the person with the lowest amount of activity buys lunch.
Having others to push you can help you stick with a program when you hit plateaus and lose motivation.
Little motivations like this can help keep you moving, especially when you know others are tracking your workouts too.
This video compares formal workouts vs daily movement. Find out which one is more important!
Create Gym Competitions
By the way, these games don't just have to revolve around cardio activities.
You can incorporate these friendly challenges into weight training, intervals, and plyometric exercises too.
For example, you can try some of these challenges below to gamify your resistance workouts:
AMRAP Challenge
AMRAP workouts, or as many reps as possible, are an awesome way to build strength and aerobic stamina.
You can make these exercises more fun by challenging some buddies to try to beat each other's reps in the specified amount of time.
Examples of AMRAP challenges could include exercises like burpees, pull-ups, or kettlebell swings.
Start out with one minute on the timer and try to bust out as many reps as you can before your time is up.
Rest, and then repeat with a different exercise.
You can tally up your scores at the end of your workout to find out who achieved the most reps.
You could also try to best each other in timed exercises like wall sits or planks.
See who can hold each isometric exercise for the longest time — with the proper form of course!
Roll the Dice
Bring a pair of dice with you to the gym or wherever you choose to work out.
Work through the exercise below, and for each move, roll the dice twice and add the numbers to determine how many reps you will do for each exercise.
Then repeat the circuit three times.
Burpees
Pull-Ups
Push-Ups
Squats (Body Weight or Dumbell)
Ab Wheel Roll Outs
Deck of Cards Workout
Another fun way to spice up your workouts is to use a deck of cards to determine what exercises you will be doing.
The way it works is that you assign an exercise to each suit.
The number on the card will determine how many reps of that exercise you perform.
To make things even more interesting, designate the face cards to be special plyometric moves that you perform for 30 seconds each.
For example, your workout could look something like this:
Spades: Squats
Hearts: Push-ups
Clubs: Lunges
Diamonds: Pull-Ups
So if you draw a 10 of diamonds, you would do 10 pull-ups, and then move on to the next card.
For the face cards, try to incorporate plyometric moves to get your heart rate up.
Perform each move for 30 seconds, trying to do as many reps as possible.
Jacks: Box Jumps
Queens: Mountain Climbers
Kings: Switch Lunges
Aces: Burpees
These are just examples and you can choose any moves you like depending on your specific workout goals for the day.
Once you have figured out your exercises, the goal is to get through the deck of cards as fast as possible.
Just shuffle them, draw from the top, and get going!
Jumping from one exercise to the next will keep you guessing while you are getting an awesome full-body workout.
This workout takes HIIT to a whole new level and gets you out of the monotony of your everyday exercise.
Remember to take rest breaks as needed, but try not to let your heart rate drop too much.
Here's How Busy Fathers Over 40 Are Finally Burning Stubborn Belly Fat & Getting Healthy Without Restrictive Diets or Time-Consuming Workouts
This proven "Fit Father Program" has helped 25,000 busy men 40+ lose weight, rebuild muscle, and finally keep the weight off.
If you're frustrated with stubborn belly fat, failed diets, and time-consuming workouts, this is the answer you've been looking for…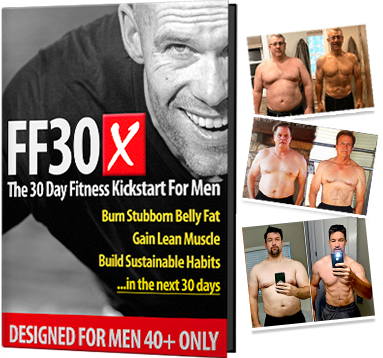 Join 22,000 guys in over 98 countries are using FF30X to lose weight. You get everything you need to succeed – including:
The Fit Father Meal Plan – with simple & delicious recipes
Safe & Effective Workouts Program – only 90 min/week
VIP Accountability Coaching – our Fit Father Team will personally walk you to success, step-by-step.
LEARN MORE ABOUT FF30X >>
See the FF30X Program overview here. You'll discover how this proven Fit Father Program can help you lose weight and actually keep it off – without the complication and restriction of normal diets. »
*Please know that weight loss results & health changes/improvements vary from individual to individual; you may not achieve similar results. Always consult with your doctor before making health decisions. This is not medical advice – simply very well-researched info on gamifying exercise.