S
till feel like you're in your 20s? That's great! But it doesn't mean you should ignore health problems for men over 40.
We get it, the calendar moves quickly, and it can be extremely difficult to realize, admit, or come to terms with the fact that you're past 40!
But, you are, and it's time to be aware of the most common health problems for men over 40.

Then you can make sure you do something about them.
In many instances, the issue with turning 40 is that you start to slow down, without realizing it.
You might be deep into your career and/or be too busy connecting with your children that you don't have time to take care of yourself anymore.
Unfortunately, it's not until you have those first unfamiliar aches and pains that you start thinking about what you should be doing differently.
But before you can solve a problem, you have to know what the problem is! Keep reading to learn about the most common health problems for men over 40 — and what you can do about them.
Be ready to attack anything the world throws at you! Become 'harder to kill' with these actionable health tips for men over 40!
The 8 Most Common Health Problems For Men Over 40
It's time to discover the most common health problems for men over 40 and what you can do to prevent them.
1. Low Testosterone
This is often referred to as Hypoandrogen. You may think that this is simply part of the aging process. But it doesn't have to be!
Eating healthily with our free 1-day meal plan and exercising regularly can make a huge difference to your testosterone levels.
Low levels of this critical male hormone are likely to cause the following issues:
Depression
Low libido
Muscle & strength loss
Reduced cognitive function
Cardiovascular issues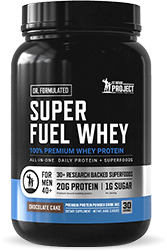 Here's What Guys 40+ Are Using to Help Burn Fat & Build Muscle...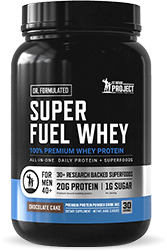 This great-tasting protein powder is packed with key nutrients to help busy guys have energy all-day long.
2. Diabetes
The older you get, the more likely it is that you will develop diabetes.
This condition occurs when your body starts to become insensitive to insulin.
Insulin is essential in converting the sugar you absorb into energy or fat.
As you become less sensitive to insulin, your body will produce more of it to create the same effect.
Ultimately the insulin can have no effect, and your body will be unable to control its blood sugar level.
This will result in damage to your nerves, blood vessels, and even your organs. It can even affect your brain function and cause sexual dysfunction.
It is better to start our free 1-day meal plan today and adjust your eating habits now than to have to constantly monitor your blood sugar levels in the future.
From your brain to your immune system to your taste buds, the negative effects of sugar on physical health are high. Learn more in this video.
3. Obesity
You know the drill. You've always been active, but it's been harder to keep your daily routines up as you've hit your 40's.
Life simply gets in the way.
Unfortunately, reduced muscle mass as you age means that your body needs fewer calories.
If you continue to eat as you used to and don't start our free 24-minute workout, then you are going to put on weight.
The higher the level of fat you carry, the higher the risk of contracting diabetes, heart conditions, and depression.
Discover the truth about weight loss vs fat loss — it will help you to achieve your goal of better health.
Here's A Free Weight Loss Meal Plan For Busy Men 40+
Discover exactly what to eat for breakfast, lunch, and dinner to lose belly fat & feel energized 24/7 without hard dieting...
4. Cardiovascular Disease
Any issue with your heart should be looked at by your doctor.
Cardiovascular disease can result in heart failure, coronary artery blockages, angina, or an irregular heartbeat.
The problem is it often doesn't have any symptoms until you experience the first chest pains and realize that you're having a heart attack.
Be alert for the minor signs that may indicate you have an issue:
Being out of breath after light exercise
Pain or discomfort in your chest which lasts longer than 30 minutes
Pain in your torso, neck or jaw for no apparent reason
Swelling or tingling of your extremities
Extreme tiredness
Feeling nausea
Sweating without reason
These can all seem like minor irritants, but if you experience them, it is important to have your heart health checked.
Heart disease affects 1 in 3 adults, so it's essential to take it seriously today.
Cardiovascular disease is the number one health problem for men over 40, and it's related to a number of other conditions.
Learn how to reduce blood pressure without medicine with these 7 EASY tips.
5. Strokes
These are connected with the signs and symptoms of heart disease.
A stroke is caused when your arteries have become narrow enough that blood flow is restricted to your brain.
This will temporarily damage your brain function and can even cause permanent harm.
Again there are very few symptoms to warn you that you are at risk of a stroke.
But, if you experience the following symptoms seek medical health immediately:
Difficulty speaking or confused about where you are
Vision changes
Loss of balance or inability to coordinate your movements
Sudden and intense headache
Metabolic syndrome occurs when multiple conditions occur together to increase your risk of heart disease, stroke, and type 2 diabetes. Here are 15 ways to avoid it.
Here's How Busy Guys 40+ Are Finally Losing Weight…
If you're in your 40s, 50s, & 60s, you need to eat and exercise differently to lose weight & actually keep it off…
6. Skin Cancer
Statistics suggest that men are nearly twice as likely as women to contract skin cancer.
This is because many men neglect sunscreen and don't use makeup or similar products that block the sun's harmful rays.
This fact is compounded by men visiting their doctor less than women.
The result is potential issues are not discovered until it is too late. Skin cancer has a high mortality rate if not caught early.
Prevention involves using sunscreen, wearing a hat, and examining yourself regularly.
The sun is good for you too! Help keep your immune system strong by understanding the relationship between the sun and coronavirus!
7. Cholesterol
A bad diet and too much stress can damage the arteries.
Your body uses cholesterol to repair the damage done by sugar, trans fats, and partially hydrogenated oils.
Cholesterol build-up leads to cardiovascular disease, which can cause heart attacks or strokes.
A healthy diet is an easy solution to this commonly misunderstood condition.
Here's A Free 24-Min Fat Burn Workout For Busy Men 40+
This powerful workout will reignite your metabolism to burn fat 24/7 like you did in your 20s…
8. Vision Loss
As you age, there are a number of issues that can affect your vision.
The most common conditions are near and far-sighted vision loss.
However, aging can also cause macular degeneration, glaucoma, cataracts, and difficulty seeing after dark.
It is essential to have regular eye check-ups after 40 to catch these issues early. Most can be successfully treated.
Do these 7 simple health tests to evaluate your health at home!
Prevent Health Issues 
The great thing about all these conditions is that a few simple steps taken today can dramatically reduce your likelihood of contracting them.
Exercise
Try our free 24-minute workout. You should alternate this with 30 minutes of your favorite activity every day.
The point is to get your heart pumping.
Anything that you enjoy doing and are happy to do on a regular basis will help to improve your health and reduce your risk of the common health problems for men over 40.
It works because:
Exercise increases blood flow to all your organs. This gives a better supply of nutrients and oxygen.
Using your muscles helps to maintain their size and your calorific needs helping to prevent obesity.
Exercise makes you feel good, keeping away feelings of depression.
Regular physical movement reduces insulin levels preventing insulin insensitivity.
It can even improve your immune system.
Eat Healthily
You already know that you should be cutting out the sugars and eating a little better.
The great thing is that it doesn't need to be difficult!
Take a look at our free 1-day meal plan, and you'll discover just how easy it is to change your eating habits for life.
Common Sense
You know you should wear sunglasses and sunscreen to protect your eyes and skin. A hat is also a good idea.
Instead of putting off a visit to the doctor, go today and get your cholesterol, blood pressure, and blood sugar tested.
This and regular check-ups will help you to catch any issue early.
Learn about the best foods for weight loss and try this sustainable men's diet plan to lose weight and keep it off.
The Bottom Line
You don't need to face the most common health problems for men over 40 alone.
Try our free meal plan and workout today.
Then connect with us to share your experiences and meet hundreds of other men who are experiencing the same concerns as you.
Here's How Busy Fathers Over 40 Are Finally Burning Stubborn Belly Fat & Getting Healthy Without Restrictive Diets or Time-Consuming Workouts
This proven "Fit Father Program" has helped 38,000 busy men 40+ lose weight, rebuild muscle, and finally keep the weight off.
If you're frustrated with stubborn belly fat, failed diets, and time-consuming workouts, this is the answer you've been looking for…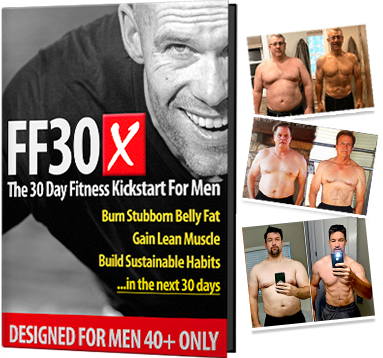 Join 38,000 guys in over 108 countries that are using FF30X to lose weight. You get everything you need to succeed – including:
The Fit Father Meal Plan – with simple & delicious recipes
Safe & Effective Workouts Program – only 90 min/week
VIP Accountability Coaching – our Fit Father Team will personally walk you to success, step-by-step.
LEARN MORE ABOUT FF30X >>
See the FF30X Program overview here. You'll discover how this proven Fit Father Program can help you lose weight and actually keep it off – without the complication and restriction of normal diets. »
*Please know that weight loss results & health changes/improvements vary from individual to individual; you may not achieve similar results. Always consult with your doctor before making health decisions. This is not medical advice – simply very well-researched info on health problems for men over 40.