Leading a healthy lifestyle becomes more and more important as we age. That's why we've put together a list of top health tips for men over 50!
A lot of people use age as an excuse for gaining weight or losing muscle mass and endurance.
However, it's never too late to take control of your health and reach your fitness goals, even after 50.
But, there's no hiding the fact that your body does go through a number of changes as you age.
Scheduling necessary medical screenings allows you to take action to avoid chronic health issues and stay in peak physical shape after age 50.
Keep reading for our top health tips for men over 50 and make the rest of your life the best of your life!
The Most Important Health Screenings For Men Over 50
Blood Pressure
Even prior to turning 50, you should already be taking steps to maintain healthy blood pressure.
The American Heart Association categorizes blood pressure into five categories.
Normal: Blood pressure less than 120/80
Elevated: Blood pressure between 120-129/80
Stage 1 Hypertension: Blood pressure 120-139/80-89
Stage 2 Hypertension: Blood pressure greater than 140/greater than 90
Hypertensive Crisis: Blood pressure greater than 180/greater than 120
High blood pressure, or hypertension, is often referred to as "the silent killer" because you can walk around with high blood pressure and not have any symptoms.
Older age causes the blood pressure to rise as arteries stiffen, which is one cause of high blood pressure.
High blood pressure can lead to serious complications.
Stroke, heart attack, kidney disease, eye complications, peripheral artery disease, and vascular dementia are all related to high blood pressure.
And hypertension can worsen any underlying cardiovascular disease.
Obviously, this is not a disease to take lightly.
Monitoring your blood pressure is one of the best, and easiest, things you can do for your overall health and one of the best health tips for men over 50.
Your doctor will take your blood pressure at regular checkups. If you have hypertension you can also monitor this regularly with a home blood pressure cuff.
Cholesterol
The risk of high cholesterol increases as men age, which means this is a key health issue to be addressed in men over 50.
Other risk factors for high cholesterol include a history of heart disease, high blood pressure, diabetes, being overweight, and a family history of coronary artery disease.
In addition, men tend to have higher LDL and lower HDL cholesterol levels than women do.
The USPSTF recommends cholesterol screening in both men and women over 20 who are at increased risk for coronary heart disease, healthy men aged 35 years and older, or healthy women aged 45 years and older.
Meet Heart RX. The Blood Pressure, Cholesterol, and Healthy Circulation Support For Guys 40+
Heart RX is for guys who are taking (or have taken) medication for lowering cholesterol and blood pressure. Heart RX will provide you with the natural support to improve all aspects of your heart health – including: blood pressure, healthy cholesterol, and better circulation.
Diabetes/High Blood Sugar
Diabetes mellitus is a disease characterized by high blood sugar due to decreased insulin secretion, insulin action, or both.
Type 2 diabetes is the most prevalent form of the disease.
It's often asymptomatic in its early stages and can remain undiagnosed for many years, which makes screening crucial in men over 50.
Diabetes, especially when inadequately treated, leads to damage in the eyes, kidneys, nerves, heart, and blood vessels.
Individuals with type 2 diabetes are also at significantly higher risk for stroke, coronary heart disease, and peripheral vascular disease.
They also have a greater likelihood of having high cholesterol, hypertension, and obesity.
Because early detection and prompt treatment can decrease diabetes complications, screening for diabetes is crucial and another one of the top health tips for men over 50.
The American Diabetes Association recommends evaluation for type 2 diabetes to be done at least every three years beginning at age 45.
This testing should be done earlier and more frequently if you have diabetes risk factors.
This includes being overweight, having a sedentary lifestyle, belonging to a high-risk ethnic or racial group, or having high blood pressure or high cholesterol.
Abdominal Aortic Aneurysm (AAA) Screening
An abdominal aortic aneurysm is the bulging large or thinning of the vessel that carries blood from your heart to the rest of your body.
The USPSTF recommends an ultrasound screening for abdominal aortic aneurysms in men aged 65 to 75 years who have ever smoked.
Screening may still be warranted in nonsmokers, so you should discuss this with your doctor.
Meet Burn RX. The Safe & Effective Metabolism Booster To Help You See Faster Results& Feel More Energized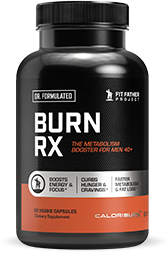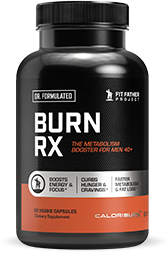 Burn RX is for guys who are working on losing weight and want to see faster and easier results from their eating & exercise efforts. It helps your body burn more fat before, during, and after your workouts, which will improve your body composition while boosting your energy + metabolism.
Prostate Cancer
A prostate exam is an important part of cancer screening as prostate cancer is the second leading cause of cancer among adult males in the United States, after skin cancer.
However, it is highly treatable, especially in the early stages.
The screening guidelines for prostate screening based on age have changed over the years.
The American Cancer Society guidelines suggest the following:
Age 50: Men who are at average risk of prostate cancer and are expected to live at least 10 more years.
Age 45: Men at high risk of developing prostate cancer. This includes African Americans and men who have a first-degree relative (father or brother) diagnosed with prostate cancer at an early age (meaning that their first-degree relative was younger than age 65 when they were diagnosed with prostate cancer).
Age 40: Men at very high risk (those with more than one first-degree relative who had prostate cancer at an early age).
Colon Cancer
Colon cancer can develop from abnormal growths, or polyps, in the colon.
Fortunately, if these polyps are detected early, colon cancer is very treatable.
All men over 50 should be screened for colon cancer, with some guidelines suggesting African American males begin screening at age 45.
If you have underlying medical conditions or a family history of colon cancer, you may need screening at an earlier age.
The most common screening modality is a colonoscopy. In some cases, stool testing for DNA may be performed.
You should discuss all of your options for colon cancer screening with your physician.
The results of your screening will determine how often you need to have repeat tests.
Osteoporosis
Osteoporosis is characterized by loss of bone mass and decline in bone quality leading to an increased risk of fractures.
This disease is usually asymptomatic until a fracture occurs. This makes screening important to detect bone weakness before this happens.
By 2020, approximately 12.3 million individuals in the United States older than 50 years are expected to have osteoporosis.
Osteoporotic fractures, particularly hip fractures, are associated with decreased mobility, chronic pain, loss of independence, and decreased quality of life.
If you are a healthy male with no risk factors or history of fractures, the National Osteoporosis Foundation recommends men over age 70 be screened for osteoporosis with a bone density scan.
However, there are certain conditions or medications that can increase your risk for osteoporosis, so you should discuss screening with your doctor to determine the best age for your screening.
Meet Joint RX. The Advanced Joint Support, Recovery Aid, Inflammation & Pain Reducer for Men 40+
Joint RX is for guys feeling the aches of getting older and want a research-backed supplement to feel better & move younger. It will help reduce pain in your problem areas and help you workout with less pain. Joint RX increases your body's natural joint lubrication to boost your healing and recovery so you stay strong & mobile with age.
Top Health Tips For Men Over 50
Screening for these medical issues is important to maintain your long-term health.
Even more important is treating or preventing these diseases from occurring in the first place.
This is possible by taking charge of your health through diet and exercise after age 50.
Maintain a Healthy Weight
Obesity is strongly correlated with hypertension, high cholesterol, diabetes, and even cancer.
Being overweight or obese accounts for up to 65% to 75% of the risk for high blood pressure, and numerous studies have identified the benefits of weight loss on blood pressure reduction.
For example, one meta-analysis of 25 randomized, controlled studies found that a weight reduction of 5 kg, or a little over 10 pounds, helped to decrease both systolic and diastolic blood pressure.
The risk of developing type 2 diabetes, cardiovascular disease, and cancer also increase with obesity.
You can reduce these risks by maintaining a healthy weight and body composition through a combination of diet and exercise.
Here's How Busy Guys 40+ Are Finally Losing Weight…
If you're in your 40s, 50s, & 60s, you need to eat and exercise differently to lose weight & actually keep it off…
Nutrition After 50
Dietary choices play a huge role in maintaining a healthy weight and staving off chronic disease.
Clearly, a high-calorie diet will lead to weight gain, which is strongly correlated with high blood pressure, cardiovascular disease, and diabetes.
But it is not just the amount of food eaten, but also the food choices that are important.
For example, high sodium intake is a major cause of high blood pressure.
Decreasing sodium intake can lower blood pressure substantially. This is especially true when coupled with healthy eating habits, such as the DASH diet.
The DASH diet (Dietary Approaches to Stop Hypertension) is a great place to start when looking for nutritional guidance.
The great thing about the DASH diet is that it isn't really a "diet" but rather a lifestyle change.
It is about choosing a diet rich in vegetables, fruits, and low-fat dairy products.
By combining this with a sodium intake of fewer than 100 mmol a day (about one teaspoon), you can greatly reduce both your systolic and diastolic blood pressure.
Limiting foods high in refined sugars and triglycerides will help control your blood sugar.
Additionally, reducing sodium and saturated fat intake will aid in keeping your blood pressure controlled.
Diets that are rich in vegetables, fruits, low-fat dairy, and lean proteins are the best way to maintain a healthy lifestyle and to help prevent diabetes and hypertension.
This in turn can decrease the risk of developing these chronic diseases.
Here's A Free Weight Loss Meal Plan For Busy Men 40+
Discover exactly what to eat for breakfast, lunch, and dinner to lose belly fat & feel energized 24/7 without hard dieting...
Exercise For Health After 50
Being physically inactive is also closely tied to high blood pressure, cardiovascular disease, and diabetes.
Not only have studies found that being physically active can decrease blood pressure, but a meta-analysis also found that the more you exercise, the more benefits you will have.
Overall, this study found that the health benefits of being physically active can be achieved not only at relatively low levels of activity (<150 minutes a week), but that additional exercise decreases the risk for high blood pressure.
Basically, this is telling you that the more you exercise, the better!
This includes both cardiovascular and strength training. Try to aim for at least 30 minutes of physical activity a day.
This will also help reduce your bad cholesterol (LDL) and improve your good cholesterol levels (HDL).
Here's A Free 24-Min Fat Burn Workout For Busy Men 40+
This powerful workout will reignite your metabolism to burn fat 24/7 like you did in your 20s…
Don't Forget Weight-Bearing Exercises!
In addition, you should also include weight-bearing exercises after 50 to strengthen your bones and supporting connective tissue.
Performing weight-bearing exercises is one of the best ways to strengthen your bones.
This means doing any activity that puts stress on your muscles and bones.
Running and walking are great weight-bearing exercises that help to increase bone mineral density.
And don't forget about strength training to build up your bones and muscles.
Strength training can mean going to the gym and lifting weights, or you can work out at home with resistance bands or bodyweight exercises!
Squats, lunges, pushups, and tricep dips are great ways to build up your muscles and your bone strength right from the comfort of your living room.
Getting in some resistance training at least twice a week will keep your bones in great shape and help to prevent osteoporosis in the future.
What Are The 5 Best Muscle Building Exercises For Men 40+?
The secret to building age-defying muscle in your in 40s, 50s, & 60s is to modify the best muscle building exercises (bench, squats, rows) to make them safe on your joints…
Make These the Best Years of Your Life!
Getting older shouldn't mean neglecting your health.
Maintaining a high quality of life hinges on staying in great physical shape.
This can be done through diet, exercise, and regular health screenings.
By adopting and following nutritious eating habits and engaging in regular exercise, you can reduce the risk of developing long-standing health issues.
Furthermore, by following up with your doctor for regular visits, you can keep up with scheduled health screenings to keep you in the best shape possible for years to come.
Here's How Busy Fathers Over 40 Are Finally Burning Stubborn Belly Fat & Getting Healthy Without Restrictive Diets or Time-Consuming Workouts
This proven "Fit Father Program" has helped 38,000 busy men 40+ lose weight, rebuild muscle, and finally keep the weight off.
If you're frustrated with stubborn belly fat, failed diets, and time-consuming workouts, this is the answer you've been looking for…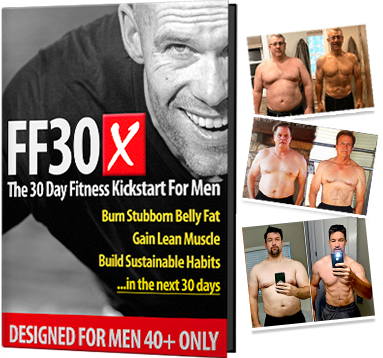 Join 38,000 guys in over 108 countries that are using FF30X to lose weight. You get everything you need to succeed – including:
The Fit Father Meal Plan – with simple & delicious recipes
Safe & Effective Workouts Program – only 90 min/week
VIP Accountability Coaching – our Fit Father Team will personally walk you to success, step-by-step.
LEARN MORE ABOUT FF30X >>
See the FF30X Program overview here. You'll discover how this proven Fit Father Program can help you lose weight and actually keep it off – without the complication and restriction of normal diets. »
*Please know that weight loss results & health changes/improvements vary from individual to individual; you may not achieve similar results. Always consult with your doctor before making health decisions. This is not medical advice – simply very well-researched info on health tips for men over 50.