E
aster is a beautiful holiday to celebrate. The warm weather, egg hunts, the food, there is so much joy to look forward to!
But for anyone on a diet, Easter can be filled with chocolate and sugary booby traps.
After all, what's an egg hunt without jelly beans? Or an Easter brunch without sugar-filled mimosas?
Read on to find healthy Easter recipes that will surprise your tail off!
Share them with your family and friends, and try them all to see which  one is your favorite.
Healthy Easter Recipes: Brunch
There's no way to avoid waking up early, when the kids are dying to find hidden Easter eggs on a beautiful spring day.
So don't start grumbling with your early call time — start the celebrating off early with a healthy Easter brunch!
The first thing you'll need are these photogenic, beautiful, and zany carrot juice mimosas!
Made of one part sparking wine and one part carrot juice, they couldn't be easier to make.
Carrot juice is naturally sweet and contains a high amount of antioxidants. With perky carrot stems sticking out of the top, this will surely get you in the mood for the day.
Once all the kiddos have found the hidden eggs. and you've got a nice buzz from the carrot mimosas, pop inside to graze on a light Easter brunch of egg, asparagus and prosciutto.
By steering clear of the sugary brunch staples like French toast or loaded pancakes, you're giving your body a base of good cholesterol and protein to keep you going throughout the day.
While the salad looks beautiful, it's really not difficult to make.
The prep time is just 30 minutes, which includes boiling the eggs and asparagus, and decorating the plate.
Healthy Easter Recipes: Treats
Of course, there are the obligatory Easter treats that everyone looks forward to from year to year.
It's important to celebrate Easter with sweet traditions, but even more important to put your own healthy spin on it!
Take this beautiful blueberry and pomegranate bark, for example.
These frozen bars are perfect for entertaining because they look so presentable but are deceptively easy to make!
Not to mention, the Greek yogurt base is filled with protein, the blueberries are filled with antioxidants, and the pomegranates are packed with immune boosters.
This next treat would definitely be the favorite of our beloved Easter bunny.
Strawberries dipped in Greek yogurt that look like carrots — what could be more delicious?
Kids will love these cute treats, while their parents will love the fact that this two-ingredient treat is actually good for them.
Healthy Easter Recipes: Dinner
After you and the kids have been munching throughout the day, it's important to use healthy Easter recipes for a balanced dinner.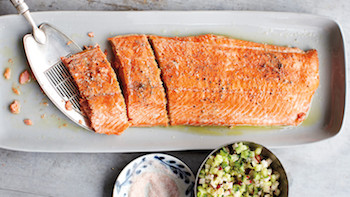 This salmon recipe with cucumber-radish relish is a light but delicious main course.
Salmon offers a host of health benefits: from omega-3 fatty acids, to protein, to B vitamins.
The cucumber-radish relish gives this dish a little extra pizazz for entertaining guests.
With a side dish like parsley and thyme roasted carrots, your Easter dinner is sure to please.
Substituting olive oil in the carrot recipe instead of butter makes sure that you're not using any unneeded fats in your cooking.
Healthy Eating for Holidays and Beyond
Healthy eating is definitely the most difficult around the holidays.
Many of the holiday traditions people have revolve around food, and it can be difficult to change them.
If you are in a family that really loves their foodie traditions around the holidays, it might be a good idea to start slow with healthy changes.
Even replacing one bad snack with a healthy one is a step in the right direction!
Learn more about healthy eating on the daily by checking out our free 1-day meal plan.
Remember, every day is a new day and you can start a healthy lifestyle whenever you want to!
Your friend in health,
Dr. Anthony Balduzzi
Founder, The Fit Father Project
Brotherhood Nickname: "Mr. Results"
Bragging Rights: Has helped over 35,000 fathers lose fat, build muscle, & get healthy for their families
P.S. If you haven't seen my FREE 1-Day Meal Plan for Men over 40, I highly recommend you click here to get a free copy sent directly to your email. Remember: nutrition is a core foundation of weight loss for men over 40.
Small note about research cited in this article:
*Always remember: weight loss results & health changes/improvements vary from individual to individual. Just because these studies cite certain data does not mean you will experience these results. Always consult with your doctor before making decisions about your health. This is not medical advice – simply very well-researched info.