D
o you ever feel sluggish in the early afternoon? If you do, the problem could be related to your
circadian biological clock.
If you're fatigued very often, then you may have an issue with your energy levels. But if you're just looking for a quick boost, a healthy energy supplement may be able to help.
Not all energy supplements are good for you. Most are loaded with caffeine.
The FDA states that caffeine is the most common psychoactive substance in the world.
Caffeine is definitely one of the most widely used energy boosters. As far as healthy energy supplements go, caffeine works well, but it doesn't come without negative benefits.
Sometimes you want something besides caffeine. Fortunately, there are several healthy energy supplements worth taking from time to time.
Why Does Low Energy Come With Age?
A common perception of older people is that of an older man dosing in front of a television. But why do you lack the energy you had in your youth?
The simple answer is cellular aging.


As you get older, so do your cells. This means they become less efficient at transferring nutrients, oxygen, and energy. The result is a downturn in your energy levels.
The most popular theory at present is the Mitochondrial Free Radical Theory of Aging (MFRTA). This theory stipulates that your body produces energy in the mitochondria by combining food and oxygen. The process also produces free radicals that actually damage the cells in your body.
The damage accumulates over time and reduces the efficiency of your cells.
Of course, this is not the only theory or reason. Age-related narrowing of the blood vessels reduces the flow of blood, nutrients, and oxygen to your organs and muscles.
Poor sleep and a sluggish metabolism can also reduce your energy levels.

Fortunately, you don't have to just put up with it! Energy supplements for men are available to help you boost your energy levels and feel more like you're in your 20's again.
The following energy supplements for men over 40 can actually be used as energy supplements at any age of life.  They reduce the damage done by aging and help you to avoid that mid-afternoon nap!
The Best Healthy Energy Supplements
There are plenty of healthy energy supplements that can be taken in capsule form, provided they're part of a healthy diet as well. With that said, many of these substances can be found in foods.
B12
This vitamin is essential for the production of red blood cells in your body. These cells carry oxygen around your body, which is essential for energy production and the proper operation of your body.
You can get B12 in seafood, fish, meat, poultry, eggs, milk, and several fortified products such as cereals.
Coenzyme Q10
This antioxidant can be found in every cell inside your body!
It is essential to the energy production process and has even been shown to help deal with cardiovascular disease.
You can find Q10 in organ meats, peanuts, and most fish.
Supplementing Q10 is especially useful to counteract the effects of aging.
Magnesium
Magnesium is actually one of the most common and important minerals in your body. Research suggests it is involved in at least 300 biochemical reactions, particularly muscle and nerve function, as well as energy production.
As well as in a supplement form, you can get this great energy supplement for men over 40 in fish, almonds, and whole-grain food.
It also helps to boost your testosterone levels.
Guarana
This climbing plant originates in the Amazon basin and is known to be a stimulant. In fact, it has approximately twice as much caffeine as the standard coffee bean. You'll find it in plenty of energy drinks.
It works in the same way as caffeine but opens up an array of different drink options.
Ginseng
There are two types of ginseng, American and Korean. Both are believed to help as an energy supplement for men.
Ginseng improves energy levels, reduces blood sugar, and even lowers cholesterol!
Fresh ginseng root tea works considerably better at boosting energy than the capsules, but the effects aren't as long-lived.
Trading coffee for ginseng from time to time is a great way to change it up and increase the efficacy of both.
L-Glutamine
This is actually an amino acid and is responsible for intestinal health in your body.
As you can appreciate, the better your intestinal health, the easier you'll find it to absorb the nutrients and minerals from the food you eat. It also helps to boost your metabolism!
This will help to ensure your body has everything it needs to boost your energy levels.
L-Carnitine

L-Carnitine is an amino acid found in many forms of biological life.
L-Carnitine works by shuttling fatty acids from the blood to the mitochondria.
This results in you burning fat and gaining energy. At the same time, it reduces the buildup of lactic acid and allows you to work out harder and longer.
It's a common ingredient in fat burning and energy boosting supplements because it works.
NADH
The proper name is Nicotinamide Adenine Dinucleotide + Hydrogen. You can see why it is abbreviated to NADH!
This compound is essential to the movement of electrons in your body.  NADH is also essential to the correct function of the mitochondria, the cell's energy production center.
NADH is a non-protein chemical compound found in many healthy energy supplements. NADH is naturally occurring in all living cells. Poultry, fish, red-meat, crimini mushrooms, and food made with yeast are considered great for boosting your body's NADH levels.
Alternative Ways To Boost Your Energy Levels
As well as these healthy energy supplements, there are other methods you can employ to boost your energy levels and start to feel alive again.
Breathing Exercises
Taking a moment to breathe properly will boost your oxygen intake and help your body to work at peak performance levels.
Simply exhale through your mouth slowly then breathe in through your nose whilst counting to 4. Hold your breath for 8 seconds before exhaling and repeating.
Cold Showers
A cold shower will force your body to react. Instantly it will force your body to burn energy in order to maintain your core temperature. This will encourage energy release.
Cold showers can also boost your immunity, improve your circulation, and make you feel more alert; all positive effects!
Reduce Stress
You can lower your stress levels by avoiding stressful situations, taking up meditation, or by using Rhodiola Rosea.
Lowering your stress levels will help your body to balance your hormones and work efficiently and effectively boosting your energy levels in the process.
Avoid Smoking
You already know that smoking is bad for your health, but it is also bad for your energy levels.
You may feel more energetic for a few seconds after smoking, but the feeling won't last. In fact, it is helping your arteries to close, depriving your muscles of vital nutrients, and reducing their ability to perform when needed.
The result is a decrease in available energy.
Hydration
You are approximately 60 percent water. It is essential for every process and cell in your body. You need to stay adequately hydrated in order to allow your body to work efficiently and provide you with all the energy you need.
Drinking cold water can also force your body to keep your core warm, burning fat, and kick-starting your energy levels.
Diet is the Most Important Factor for Optimum Performance
Before you spend a bunch of money on supplements, it is absolutely important to take a look at your diet. You can get some great suggestions from our free 1-day meal plan. The idea is to eat healthily in order to get the best and most natural energy supplements for men.
Healthy eating reduces the amount of plaque buildup in your arteries, preventing the thinning of arteries, which causes the downturn in energy described above.
Eating a diverse diet of fresh meats and vegetables with minimal amounts of process foods is the best way to ensure your body has the nutrients it needs to maintain adequate energy levels.
Our free 1-day meal plan will get you started, or for real simplicity, you can combine this with our other eating suggestions and the perfect plate method.
Exercise
You need energy to exercise. But once you start exercising, your body adjusts and ensures the available energy is there for you to use.
This means exercise is essential to improving your energy levels!
The fact that it can improve your mood, general health, and help to ward off age-related diseases is just a bonus!
Getting Help With Your Energy Supplements For Men Over 40
These are just a few of the ways in which you can use healthy energy supplements to help you restore your natural vigor and feel like your old safe again.
In addition to adding these energy supplements to your daily routine, you can begin to build up a support network. These are the people who can offer advice, tips and help you to keep going when you don't feel you're achieving anything.
That's where we come in. The Fit Father project offers more than just a free 1-day meal plan; you can get all the advice and support you need to become the man you want to be. For a turnkey approach to a healthy lifestyle, look no further than FF30X. We have helped tens of thousands of men lose weight, gain muscle, and transform their lives.
Here's How Busy Guys 40+ Are Finally Losing Weight…
If you're in your 40s, 50s, & 60s, you need to eat and exercise differently to lose weight & actually keep it off…
Your new friend & health coach,

Here's How Busy Fathers Over 40 Are Finally Burning Stubborn Belly Fat & Getting Healthy Without Restrictive Diets or Time-Consuming Workouts
This proven "Fit Father Program" has helped 25,000 busy men 40+ lose weight, rebuild muscle, and finally keep the weight off.
If you're frustrated with stubborn belly fat, failed diets, and time-consuming workouts, this is the answer you've been looking for…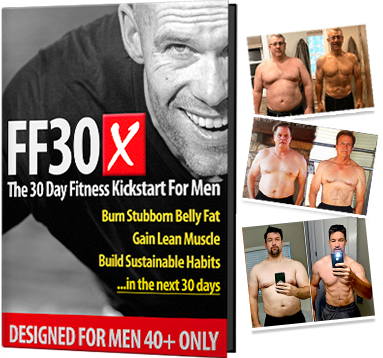 Join 22,000 guys in over 98 countries are using FF30X to lose weight. You get everything you need to succeed – including:
The Fit Father Meal Plan – with simple & delicious recipes
Safe & Effective Workouts Program – only 90 min/week
VIP Accountability Coaching – our Fit Father Team will personally walk you to success, step-by-step.
LEARN MORE ABOUT FF30X >>
See the FF30X Program overview here. You'll discover how this proven Fit Father Program can help you lose weight and actually keep it off – without the complication and restriction of normal diets. »
*Please know that weight loss results & health changes/improvements vary from individual to individual; you may not achieve similar results. Always consult with your doctor before making health decisions. This is not medical advice – simply very well-researched info on healthy energy supplements.