A
re you looking into different diets but struggling to find the one that suits your lifestyle? You're not alone; finding the time to prepare healthy meals is difficult to say the least. Knowing a few 
healthy fast food choices
 can help you stick to your plans and achieve your weight loss goals.
In the ideal world, each and every meal would be planned and prepared, with the perfect balance of macro and micro-nutrients.
In the real world, you have limited time for lunch, and you certainly don't want to be missing out on time with your colleagues. Because who wants to be sitting by themselves in the office with a salad when everyone else is at McDonald's or Taco Bell?
Fortunately, there is a solution. All of the fast food chains are becoming more aware of the need to supply healthy fast food choices. You can take advantage of their menus to enjoy lunch with your colleagues and friends while still sticking to your new diet.
This guide is going to show you what menu options you can choose from the most popular fast food stores.
The Convenience of Having Healthy Fast Food Choices
One of the biggest problems with traditional diets is the restriction on which foods you can eat. In fact, if you take a look at the research, you'll soon realize that 95% of people that diet will actually put the weight back on in the long term.
That's got to leave you wondering what the point of a diet or healthy fast food choices is.
The answer lies in the approach. You don't need to adopt a diet. You need to choose a healthy approach to eating.
This means enjoying fast food and other treats but in moderation. If you take a look at this 1-day meal plan, you'll see that it uses foods that are readily available in your local store. You don't need special food; you simply need to be more aware of what you eat.
Losing weight requires you to know your maintenance calories and then eat fewer calories per day. You can do this by understanding which foods are healthy and which you should be avoiding.
BY approaching a 'diet' in this way, you'll be able to adopt a healthier approach to food and enjoy your healthy fast food choices.
Having fast food for lunch can help with your motivation during the rest of the week. Providing you keep your meals balanced, the healthy fast food choices can be a simple, but very satisfying, reward.
It will also ensure you don't miss out on the office gossip!
FREE

1-Day Weight Loss Meal Plan For Men 40+
Lose weight. Eat like a man. Enjoy your life. Over 55,000 men are using this.
Get yourself back into great shape - at any age the Fit Father way.
The Menus
So what should you choose?
How do you know if the dish you've chosen is really one of the healthy fast food choices?
The following are examples of healthy choices. But, the real key is to take a look at the calories and nutrients each meal choice provides.
Whenever you eat out you should be looking to limit your calories, sodium, saturated fat, and added sugars. You want a good balance between protein and carbohydrates.
Don't forget, the average man needs 2,500 calories, no more than 2,300mg of sodium, a limit of 30g of saturated fat per day, and approximately 60g protein. That's across all your meals and snacks.
McDonald's 
Plain Hamburger – 250 calories
8g Fat
480mg sodium
31g carbohydrates
13g protein
---
Artisan Grilled Chicken Sandwich – 380 calories
11g fat
340mg sodium
11g carbs
10g protein
---
Southwest Grilled Chicken Salad (without dressing) – 350 calories
11g fat
110mg sodium
27g carbs
37g protein
---
Taco Bell
Soft Taco Fresco (swap cheese, sour cream, and mayo sauces for pico de gallo) – 150 calories
4g fat
460mg sodium
17g carbohydrates
10g protein
---
Power Menu Veggie Bowl – 480 calories
19g fat
970mg sodium
65g carbohydrates
14g protein
---
Spicy Tostada – 210 calories
10g fat
440mg sodium
22g carbs
6g protein
---
Beefy Mini Quesadilla – 210 calories
11g fat
540mg sodium
17g carbs
9g protein
---
Burger King
Hamburger with a garden side salad – 300 calories
14g fat
475mg sodium
29g carbs
17g protein
---
Veggie Burger & small fries – 630 calories
14g fat
475mg sodium
29g carbs
17g protein
---
Grilled Chicken Garden Salad – 520 calories
33g fat
1210 sodium
17g carbs
40g protein
---
Grilled Chicken Salad without mayo – 390 calories
10g fat
775mg sodium
38g carbs
37g protein
---
Captain D's
Grilled Fish Tenders with corn on the cob and salad – 240 calories
4.5g fat
220mg sodium
30g carbs
18g protein
---
Country Style Fish – 190 calories
12g fat
420mg sodium
11g carbs
9g protein
---
Lemon Pepper Whitefish – 180 calories
8g fat
360mg sodium
1g carb
25g protein
---
Seasoned Rice – 170 calories
12g fat
240mg sodium
35g carbs
3g protein
---
Wendy's
Grilled Chicken Sandwich, without the bun – 200 calories
7g fat
510mg sodium
5g carbs
28g protein
---
Junior Cheeseburger plus a garden side salad – 480 calories
24g fat
990mg sodium
44g carbs
23g protein
---
Apple Pecan & Chicken Salad – 570 calories
26g fat
1090mg sodium
51g carbs
36g protein
---
Chili – 270 calories
8g fat
1260mg sodium
28g carbs
23g protein
---
Subway
6" Turkey Breast Sandwich – 280 calories
3.5g fat
760mg sodium
46g carbs
18g protein
---
6" Subway Club – 310 calories
4.5g fat
850mg sodium
46g carbs
23g protein
---
6" Veggie Delite – 230 calories
2.5g fat
280mg sodium
44g crbs
8g protein
---
Club Salad – 140 calories
3.5g fat
640mg sodium
11g carbs
18g protein
---
As you can see, the healthiest options can still be high in sodium, calories, or anything else for that matter. In fact, some of the sodium amounts on the healthy fast food choices are half your recommended daily allowance.  That should inspire you not to add salt to any of your food.
The trick to successfully eating healthy fast food choices is to know what you are eating and make sure the other meals throughout the day keep you under your calorie and nutrient targets.
This does mean spending a little time working out the right menu choice, perhaps at home. But, it is essential to ensure you can eat out and still maintain progress towards your weight loss goals.  
Healthy Alternatives Worth Considering
Of course, having to check the nutritional information of everything you eat can be time-consuming. There will be occasions when you forget, or simply don't have the opportunity. There are two things which you must be aware of when this happens.
Extended 'forgetting'
If you miss your nutrition targets on one day, it is not going to make a huge difference towards your goal. However, missing your goals can lead to it happening again and again. Before you know it, you'll be thinking you're eating healthy without actually knowing what you are putting in your body.
This is how most diet plans fizzle out.
The Alternative
The alternative is to look at healthier approaches to food. These are methods that allow you to eat without counting calories, or looking at nutrition labels.  It will involve spending a little time prepping your meals, but the effort is definitely worthwhile.
It doesn't even have to be hard, take another look at the 1-day meal plan to see how simple and easy it can be to make the right food choices every day.
Adopting a healthier approach to food means you will naturally start to eat healthy foods. Making the healthy choice will no longer be a difficult decision and will be something you can do effortlessly for life.
The perfect plate approach to eating, ½ vegetables, ¼ protein, and ¼ carbohydrates at every meal, is a great way to eat better, lose weight and improve your overall health.
If you plan your meals for the week and spend an hour or two preparing the ingredients, you'll always have something healthy to eat, no matter how short of time you are. You'll also know exactly what you are consuming.
Some great protein-rich foods include grapefruit, falafel, avocados, portabella mushrooms, oatmeal, eggs, hummus, green beans, pistachios, peanuts, and black rice.
That's just a few of the foods you could be choosing and preparing. Not only will your meals be varied, but your colleagues are certain to be interested in what you are eating each day. Just be sure to do a little extra, for them to sample.
It has been found that employees which encourage healthy eating will gradually change the outlook of their colleagues and you can be that inspiration while striving to reach your own weight loss goals. Anything is possible!
Inspiration to Change
The real secret is to make the changes slowly. If you suddenly remove all the food you currently love, you'll start to crave it. This leads to temptation, frustration, and ultimately returning to your old eating habits.
Remember, eating healthly is something you want to do for life. All you have to do is start with small steps; the rest can happen over time.
Having a goal will help you to reach your target.
You won't want to miss out on lunches with your colleagues. As research shows, eating together is beneficial for productivity and the work environment.  Fortunately, there are ways around the issue, here are some ideas to help you get started:
Bring Your Own
If you're really concerned about the number of calories, fat, and sodium that the healthy fast food choices are adding to your diet, then there is no shame in preparing all of your meals in advance and packing a lunch.
You'll still need to eat away from the office every now and then,  but instead of eating in a restaurant, find a green space where you can eat with your colleagues.
Bringing your own lunch allows you to stick to a healthy eating plan, saves you money on eating out, and can still provide a little bonding time with your colleagues. All it takes it a little organization.
Plus, you'll find its fun to do something different.
Remember Your Goals
When you start a diet, healthy eating plan or any other activity to help you lose weight you'll probably feel very motivated and committed. Unfortunately, this feeling can dissipate as time passes because you're near to reaching your goal!
The result is often a return to your old ways, and the weight starts to creep back on. That's why you need the support of a good meal plan, and you need to measure yourself regularly.
While the scales are a useful indication of your weight, you mustn't forget that exercising more will help you to start building lean muscle. This can mean the scales are not moving, even though you're burning fat.
The answer is not just to weigh yourself. You also need to take regular pictures and measure your waist, thighs, chest, and arms; this will ensure you can see the changes happening even if the scales are static.
Being healthy is about more than making healthy fast food choices or losing weight. It's about adopting the right approach to food and getting all the support you need. The Fit Father Project is here for support and to answer all your questions.
FREE

1-Day Weight Loss Meal Plan For Men 40+
Lose weight. Eat like a man. Enjoy your life. Over 55,000 men are using this.
Get yourself back into great shape - at any age the Fit Father way.
Your new friend & health coach,
Stuart Carter
Head Training Staff, The Fit Father Project
Brotherhood Nickname: "The Fit Brit"
Bragging Rights: 16 Years in the fitness industry, Author of 'The Easy Fitness Guide', Father of 4 boys and Husband to a Venezuelan beauty.
If you're interested in a proven and completely laid out "done-for-you" weight loss meal plan & workout routine – designed for you as a busy man…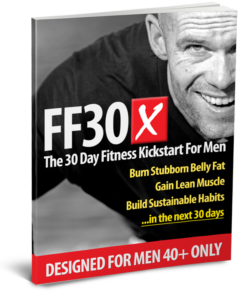 I'd recommend you read the program overview letter for our Fit Father 30-Day Program (FF30X).
Inside FF30X, you'll receive:
The simple & delicious Fit Father Meal Plan
The metabolism boosting Fit Father 30X Workout (under 90 min/week)
VIP email coaching where I'll personally walk you through the program
Read the FF30X Program overview letter here to see how our plan can help you lose weight – without the complication & restriction of normal diets.
*Please know that weight loss results & health changes/improvements vary from individual to individual; you may not achieve similar results. Always consult with your doctor before making health decisions. This is not medical advice – simply very well-researched info on a few healthy fast food choices.