W
hipping up something for the special men in your life? Make the day extra sweet with our favorite healthy Father's Day dessert recipes!
No matter what kind of family you have, Father's Day should be a time that you appreciate all the influential men in your life.
A time that you reflect on all the lessons you've learned, all the deep talks you've had, and all the advice you've been given.
One of my favorite ways to celebrate any holiday is through sharing a meal.
So as you gather your father figures, or gather around your own children, take one of these healthy Father's Day dessert recipes to the table.
Because the healthier you are, the more Father's Days you'll be able to enjoy to the fullest!
Healthy Father's Day Dessert Recipes: Frozen Strawberry Delights
Your taste buds aren't ready for this gluten-free, dairy-free frozen strawberry delight!
With Father's Day falling in June, a frozen treat is always a good idea.
Just imagine snacking on this on your porch after a filling dinner with your family.
For me, frozen treats during the summer were always a tradition.
While it usually entailed flagging down the ice cream truck on a summer day, nowadays I prefer to have a homemade treat that's much healthier.
This treat reminds us of a strawberry ice cream sandwich and cocoa pebbles … but the crumble is actually made of pecans!
Surprisingly, this fruity and nutty combination comes in at 130 calories per serving.
Meet Burn RX. The Safe & Effective Metabolism Booster To Help You See Faster Results& Feel More Energized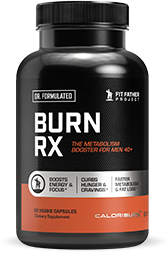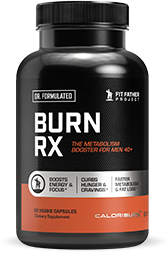 Burn RX is for guys who are working on losing weight and want to see faster and easier results from their eating & exercise efforts. It helps your body burn more fat before, during, and after your workouts, which will improve your body composition while boosting your energy + metabolism.
Healthy Father's Day Dessert Recipes: Brownie-Inspired Bars
You had me at brownie …
These brownie-inspired bars are so much healthier than your mother's, which hopefully you'll be happy to hear.
These paleo bars have 5 ingredients and don't require ANY baking!
You might be thinking that's too good to be true, but we promise this isn't a dream.
All you need are nuts, dates, cacao, vanilla extract for the bars, and your choice of chia, shredded coconut, salt, or chocolate chips for the topping.
Just measure your ingredients, mix and let these bars set!
We love easy recipes like these.
The less time we spend prepping food in the kitchen, the more time we can spend with our families.
Healthy Father's Day Dessert Recipes: Lemon Bars
Lemon bars are such a classic dessert.
Fresh, citrusy, and chilled, they're perfect for any occasion!
These "lightened up" lemon bars take away any of the guilt that we used to feel when chowing down on these treats.
This recipe includes NO grains, gluten, refined sugar, or butter.
At 135 calories per serving, we'd call that a win!
You might want to make a double batch of these … lemon bars have been known to mysteriously disappear at alarming rates.
Healthy Father's Day Recipes: Greek Yogurt Crunch Bites
Greek yogurt is a game-changer.
A naturally low-calorie option, Greek yogurt is a perfect substitute for heavy sour cream or cream cheese.
Its natural tanginess adds a layer to any fruity dessert you could serve.
These Greek yogurt crunch bites are no exception!
Crushed almonds give these bites their crunch, while a hidden blueberry adds some sweetness to the tang of the Greek yogurt.
While they look too pretty to eat, they only take a whopping 5 minutes to prepare.
And at 95 calories a pop, they're a perfect after-dinner treat.
Because we just know these bites will become a staple dessert for you, we suggest experimenting with different flavors of Greek yogurt and different fruit for the centers to keep the dessert exciting.
Here's A Free Weight Loss Meal Plan For Busy Men 40+
Discover exactly what to eat for breakfast, lunch, and dinner to lose belly fat & feel energized 24/7 without hard dieting...
Healthy Eating Beyond Holidays
Making holiday meals healthy can sometimes be easier than focusing on your day-to-day eating habits.
You may think that there's so much preparation and thought that goes into a healthy daily diet.
But in reality, it's not that difficult to purge your diet from unhealthy foods and pack it with nutrients!
Our free 1-day meal plan outlines exactly what you should be eating: morning, noon, and night.
When you know exactly what you should be eating for each meal, it makes it hard to really mess up!
*Please know that weight loss results & health changes/improvements vary from individual to individual; you may not achieve similar results. Always consult with your doctor before making health decisions. This is not medical advice – simply very well-researched info on healthy father's day dessert recipes.