I
t can take one incident to change the way you view life. This can be the motivation you need to start adopting
healthy habits.

But the key here is 'habits.' Motivation is great, but building a habit will ensure you continue to do something for the rest of your life.
Habits are hard to break!

Father's Day is often a chance to reflect on the life you've given your kids and the futures they hope to build. Any good dad wants to give their child the very best start in life. Joining 
FF4L
can help you achieve this goal as well as obtain advice on healthy habits and the support you need.
What may surprise you is that this doesn't have to be financial security. Building healthy habits with them will prove to be far more useful throughout their lives.
In addition, you'll be able to spend time with your children creating memories that will last a lifetime.
So this Father's Day ask your children to help you out, join FF4L and start at least one new healthy habit together.
Why Healthy Habits Are So Important As You Age
The standard measure for seeing how healthy you are is to weigh yourself and relate this to your height. This will give you a BMI. If it's between 18.5 and 24.9, you're considered a healthy weight.
Check the circumference of your waist. Anything over 40 inches in men suggests you are at increased risk of health issues as you age.
The sooner you develop healthy habits, the easier it will be to maintain a healthy weight and really enjoy your later years.
The simple fact is things change. Whether it's your taste buds, home life, health, or even your income, change can make it difficult to see the point in doing certain activities.
At the extreme end of the sc
ale, change can prevent you from leaving your home because of a fear of falling.
Healthy habits change all of this. They are your stability while everything else changes. As well as improving your quality of life they can decrease your chances of contracting disease and keep you going if times get tough.
Easy Healthy Habits To Start Today
Let's take a look at some of the easiest habits to start today. These are habits that you should instill in your children as well:
Change Your Eating Habits
If you're trying to lose weight, avoid processed sugars and consuming fewer calories than you need.
Of course, if you're weight is already okay, then you just need to maintain them.
This doesn't have to be complicated! You can adopt the perfect plate approach to ensure every meal is balanced. You won't need to count calories to start a new healthy eating habit!
Experts recommend exercising for 150 minutes a week, ideally 30 minutes per day. You should do enough to get your heart racing.
Of course, you can take a look at the Fit Father site to see a variety of options, but you should focus on alternating your routines.
This will keep your body challenged and allow specific muscle groups to recover.
Challenge yourself by taking up something new, preferably something you have always wanted to try. Your age doesn't matter. You owe it to yourself to give it a go!
Take at least one of your children along with you, and you'll immediately have the desire to improve just to keep up with them. This is a great way to ensure your new hobby becomes a habit.
Challenging yourself regularly stimulates your brain cells. This helps to prevent many age-related issues such as Alzheimer's.
As a busy father and full-time worker, you will probably find that you are under a lot of stress.

This is not a good thing. Stress triggers the release of cortisol in your body. Excess cortisol reduces the ability of your body to create other hormones, such as testosterone. This can be detrimental to your health in the short and long term.
Meditating for just 10 minutes every day will reduce your stress allowing your body to function properly. It will also ensure you see the bigger picture and make the right decisions.
Don't forget. If you join FF4L, we can help you with this.
They say a glass of red a day is good for your health. Unfortunately, they don't say the same for whiskey and cokes!
What you should really be focused on doing is creating the habit of drinking water.
Ideally, aim for 2 liters a day. Your body is approximately 60% water, so it needs to be rehydrated regularly. This helps your organs to function correctly and allows toxins to be flushed out.
There is so little time in the day to get everything done that you probably end up going to bed late and getting up early.
However, you need to get between 6 and 8 hours a night of quality sleep. This will help your body to recover from the stress of the day and rebalance hormone levels.
As already mentioned, this is essential for continued good health.
Tips To Help You Build Healthy Habits
You know the above habits make sense, and they are surprisingly easy to include in your daily life.
Something only becomes a habit when you do them for 1 or 2 months. Motivation instead of procrastination can help you to create the habit, and these tips will also help:
Remove unhealthy food from your home.
Commit to just 10 minutes of exercise a day and build up to 30 minutes.
Always do exercises that you enjoy.
Schedule events in your diary – it's harder to avoid them.
Get a companion (this can be your children) to keep you motivated and competitive.
Join the FF4L to make you accountable – you can also get inspiration from the other dads.
Take it one step at a time. It's easier to adopt small changes than to make a huge one.
Reward yourself for completing a specific task, but just don't use sugary food as your reward.
Penalize yourself if you break the habit you're trying to build. Giving money to your children should be enough!
The Bottom Line
Hopefully, this article and your own desire will be enough to motivate you to get started on your new healthy habits.
Join us at the FF4L to get the support you need as you adopt one habit at a time. By taking small steps and creating achievable goals, you'll become healthier without even realizing it.
More importantly, you'll have built habits that will last you a lifetime. You won't recognize the old you in just a few short months!
Your new friend & health coach,

Here's How Busy Fathers Over 40 Are Finally Burning Stubborn Belly Fat & Getting Healthy Without Restrictive Diets or Time-Consuming Workouts
This proven "Fit Father Program" has helped 25,000 busy men 40+ lose weight, rebuild muscle, and finally keep the weight off.
If you're frustrated with stubborn belly fat, failed diets, and time-consuming workouts, this is the answer you've been looking for…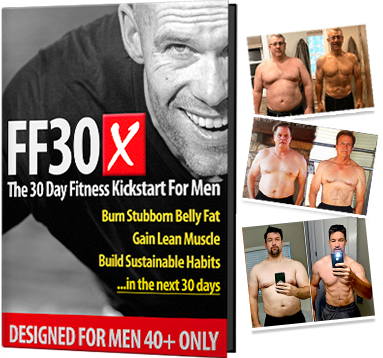 Join 22,000 guys in over 98 countries are using FF30X to lose weight. You get everything you need to succeed – including:
The Fit Father Meal Plan – with simple & delicious recipes
Safe & Effective Workouts Program – only 90 min/week
VIP Accountability Coaching – our Fit Father Team will personally walk you to success, step-by-step.
See the FF30X Program overview here. You'll discover how this proven Fit Father Program can help you lose weight and actually keep it off – without the complication and restriction of normal diets. »
*Please know that weight loss results & health changes/improvements vary from individual to individual; you may not achieve similar results. Always consult with your doctor before making health decisions. This is not medical advice – simply very well-researched info on the importance of building & maintaining healthy habits as you age.