E
ating a balanced diet is the most important part of a healthy lifestyle, which should be reason enough for men to have a few healthy recipes at hand.
When you think about it, getting enough rest, drinking enough water, and even going to the gym doesn't mean anything if you're not providing your body with the right fuel.
If you've struggled to eat healthy in the past, you may feel daunted by the superfoods and diets that are going around.
But here's the truth — you don't have to follow the latest diet trends to give your body the fuel that it needs!

All you need to do is understand how your body processes the foods throughout the food pyramid and which are best for you.
We've outlined some of our favorite recipes for breakfast, lunch and dinner so you can see how eating like a Fit Father would feel.
Healthy Recipes for Breakfast
We've all been told that breakfast is the most important meal of the day.
So how has everyone gotten it so wrong for so long?
All the breakfast pastries, copious amounts of fruit, and carb-heavy breakfasts that we see advertised on TV and in movies are a big misrepresentation of what a good breakfast is.
When you wake up and get ready, what you choose to fuel your body with can impact how you feel for the rest of your day.

Will you be lethargic or alert? Distracted or focused? Breakfast foods can help determine this.
One of our favorite breakfast recipes is an egg, vegetable and sausage scramble.

This healthy recipe for men has 19 grams of protein; enough to keep you full until lunch rolls around.
Ingredients include:
1

 pepper (any color)

2

 medium sweet potatoes, yams, or potatoes

1

 medium zucchini

1/2

 yellow onion

1

 pound breakfast sausage or Italian Sausage
salt and pepper to taste

1

–

2

 tablespoons olive oil

1 tablespoon

 minced garlic

6

–

8

 eggs, large

1 teaspoon

 basil

1 teaspoon

 parsley
You will need to use both your stove-top and oven for this one, but the result is so worth it: a satisfying dish filled with diverse nutrients.
Here's A Free Weight Loss Meal Plan For Busy Men 40+
Discover exactly what to eat for breakfast, lunch, and dinner to lose belly fat & feel energized 24/7 without hard dieting...
Healthy Recipes for Lunch
Lunch is also an incredibly important meal during the day.
With how fast-paced our work lives generally are, it can be easy to skip lunch, buy fast food, or heat up a terrible frozen meal.
All three of these are great ways to end up in an afternoon slump!
Instead of falling victim to these usual behaviors, try to consider your lunch hour valuable time to refuel for the rest of your day.

Even if you're not able to take a full hour, try to give yourself a solid 15 to 30 minutes to sit down with nutritious choices.
One of our favorite lunch recipes is this chopped chickpea salad.

Eating salads for lunch make sure that you don't get too full off of unneeded carbs but do get an injection of much-needed energy.
This chopped chickpea salad also makes sure that you get enough protein (16 grams) and fiber (14 grams) to keep you full but your digestion moving.

Ingredients include:
2/3

 

cup

 

uncooked bulgur

19

 

oz

 

can of chickpeas

1/2

 

cup

 

feta cheese

3

 

ribs celery

1

 

bell pepper

1/3

 

cup

 

radish

1/4

 

of a red onion
A major perk of the chopped chickpea salad is that it's very easy to meal prep and keep in your fridge throughout the week.
Healthy Recipes for Dinner
Dinner is so much more than a meal.
When you have a family, dinner is time to reconnect with your spouse and children and to end your day on a healthy note.

No matter if you're eating dinner before or after you work out, it's important that you include the right amount of proteins and healthy fats to keep your body going as you sleep.
One of our favorite dinner recipes is a beef stir fry.

Stir fry is a very popular dish that's easy to customize. You can always switch out your proteins or your vegetables if you have picky eaters at home.
Ingredients include:
2

 lbs beef sirloin

3

 medium bell peppers

2

 large zucchini, cut into quarters

9 oz

 snap (snow) peas

3/4 cup

 cashews

2 tbsp

 toasted sesame or avocado oil

3

 large green onions
Get your kids to help you making dinner! With the number of ingredients in stir fry, you can allow kids to help separate ingredients and older kids can even help cut up vegetables.
Healthy Recipes All Around
Change is always a difficult process that's always best to handle piece-by-piece.
W
hen it comes to healthy eating, you may have thought that changing your diet would just be too difficult to cope with.
But we hope that by showing you our favorite recipes for each meal of the day, you can see that healthy meals can be delicious and not too different from what you like to eat now.

When it comes down to it, changing your diet one meal at a time just isn't that difficult!
If you'd like to hear more ideas on healthy recipes or how to portion your meals, visit our free 1-day meal plan.

Of course, leading a healthy lifestyle should also incorporate working out, getting enough rest, and making sure your priorities are aligned.
While that may seem like a huge feat, we do have a program that can help.
The FF30X program combines the mindset, diet and workout plans that you'll need in order to be the healthiest that you can be for your family.

Between instruction from our trainers and support from other fathers using the program, you'll be inducted into the Fit Father brotherhood.
Join our tribe and secure your health today!
Here's A Free Weight Loss Meal Plan For Busy Men 40+
Discover exactly what to eat for breakfast, lunch, and dinner to lose belly fat & feel energized 24/7 without hard dieting...
Your friend,
Here's How Busy Fathers Over 40 Are Finally Burning Stubborn Belly Fat & Getting Healthy Without Restrictive Diets or Time-Consuming Workouts
This proven "Fit Father Program" has helped 38,000 busy men 40+ lose weight, rebuild muscle, and finally keep the weight off.
If you're frustrated with stubborn belly fat, failed diets, and time-consuming workouts, this is the answer you've been looking for…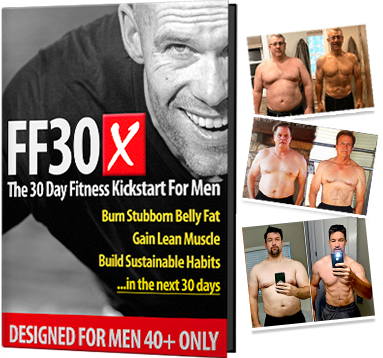 Join
38,000
guys in over
108
countries that are using FF30X to lose weight. You get everything you need to succeed – including:
The Fit Father Meal Plan – with simple & delicious recipes
Safe & Effective Workouts Program – only 90 min/week
VIP Accountability Coaching – our Fit Father Team will personally walk you to success, step-by-step.
LEARN MORE ABOUT FF30X >>
See the FF30X Program overview here. You'll discover how this proven Fit Father Program can help you lose weight and actually keep it off – without the complication and restriction of normal diets. »
*Please know that weight loss results & health changes/improvements vary from individual to individual; you may not achieve similar results. Always consult with your doctor before making health decisions. This is not medical advice – simply very well-researched information on healthy recipes for men.