Are you retired? Have you been enjoying a healthy retirement or has fitness fallen by the wayside? Here's how one man took his health back.
After being retired for nearly four years, Derek had let his health, fitness, and good habits slip.
"I wasn't making any progress on getting back into shape," reflects Derek. "I had actually gone backward from where I was when I was still working."
Derek weighed 163 lbs with a 30-inch waist.
Thousands of men in their 40s, 50s, and 60s, like Derek, struggle with stubborn belly fat, aging joints, and body aches.
But that doesn't have to be their realities! You can have a healthy retirement. Keep reading to see how Derek did just that … and how you can, too.
Derek's Tipping Point
Once Derek realized he wasn't having a healthy retirement, he knew it was time for a change.
"I needed to reduce my dependency on medication for high blood pressure and high cholesterol," states Derek. "I needed to reduce my use of ibuprofen, which I was using every day for my various body aches and pains."
Derek jumped online and began to search for programs to help men over 60 get back into shape.
In January of 2018, Derek joined the Fit Father Brotherhood.
The Proven Program for Men Over 60
Fit Father 30X is the world's first online program designed exclusively for men in their 40s, 50s, 60s, and beyond.
Whether you need to get in shape to chase your kids around, or if you just want to enjoy a healthy retirement, FF30X is for you.
FF30X includes simple, delicious meal plans, time-efficient workouts (that can be done at home), daily accountability, and access to the private Members-Only group.
"The Fit Father program appealed to me for a few reasons," says Derek. "The program is the perfect balance of simplicity and rigor. The program evolves as I progress. And the Fit Father Team genuinely cares about the success of each member."
Healthy Retirement Goals Achieved
Fit Father Derek reached his weight loss goal in just nine months. He is now living a healthy retirement.
"Fit Father 30X has enabled me to reach my goals of less fat and less weight," says Derek. "I lost my belly donut and my love handles are gone. I have muscles now. My self-confidence has improved. These programs have taught me how to maintain my healthy weight and continually improve my overall health as I age."
Derek lost 25 lbs following the Fit Father programs.
Non-Scale Victories
In the first month of following Fit Father 30X, members can expect to lose 5-20 lbs.
In addition to weight loss, Fit Fathers will experience countless Non-Scale Victories.
NSVs are the moments that prove forward progress without a scale.
Derek's NSVs are what truly made his healthy retirement great.
"All of my clothes fit now," smiles Derek. "I dropped from a 30-inch waist to a 28-inch waist. I had to buy new pants. I feel so much better. I haven't taken an ibuprofen in months! And I've lowered my medication for my blood pressure and my cholesterol. This program works!"
Time-Efficient Workouts for Men Over 60
The Fit Father workouts were created to fit into your busy schedule.
They are time-efficient and can be done at home. A gym membership is not required! All you need is a pair of dumbbells and five feet of floor space.
"The Fit Father 30X workouts are perfect for people who have other commitments," explains Derek. "If you have a family, responsibilities, or are still in the workforce, these workouts are easy to fit into your schedule. You can do all the exercises at home too. Any man in his 60s could follow this program, because of the overall simplicity of the Fit Father approach."
With aging joints, prior injuries, and busy schedules — you need workouts designed for you!
The Fit Father Difference
Other weight loss programs hand you a to-do list and then never check back in.
With Fit Father 30X, you receive daily accountability emails to ensure you stay on track and reach your goals.
"There is built-in accountability from the program to nudge you when you might begin to fall off the necessary cadence of your new healthy routine," states Derek.
With other weight loss programs, you feel alone in your journey.
With Fit Father 30X, you gain instant access to the private Members-Only group.
On Day 1 you are connected with like-minded men going through the same struggles, following the same program.
The Members group gives you the opportunity to share your successes, make friends, and stay motivated throughout your journey.
You won't believe how many other men are enjoying a healthy retirement thanks to the Fit Father Project!
As a Fit Father member, you can also communicate with the Fit Father trainers and support specialists at any time.
The FFP team personally reads and responds to every email. So, you never receive a generic, automatic response.
Derek's Next Step
"The Fit Father 30X program is a great mechanism for reaching your goal of a healthier lifestyle," says Derek. "I accomplished my goal weight following this program. Now I want to continue improving my overall physical fitness, flexibility, and cardiovascular capacity. I just started the Old School Muscle program, so I can add muscle mass and gain strength in my sixties."
Old School Muscle is the proven Fit Father muscle building program designed exclusively for men over 40.
How Guys 40+ Are Using "Old School" Secrets To Build Age-Defying Muscle
Ever thought you were "over the hill" or "too far past your prime" to build muscle and get strong again? Well, think again…
4 Lessons to Learn from Derek's Success
Lesson 1: Age is only a number. Fit Father Derek is retired and in his early 60s. After joining the Fit Father Brotherhood, he lost 25 lbs, gained muscle, and regained his health. It does not matter how much weight you have to lose, how old you are, or how many times you have failed in the past, you can lose weight with Fit Father 30X.
Lesson 2: Daily aches and pains are not a necessary part of aging. When men in their 40s, 50s, and 60s are overweight and unhealthy, they experience body aches. Fit Fathers in their 40s, 50s, and 60s are healthy and don't experience the daily pain.
Lesson 3: Extreme, long, and intimidating workouts are not your answer. As a man over 40, you cannot workout like you did when you were in your 20s. Your body is different. It needs different things. The Fit Father workouts are time-efficient, easy on joints, and don't require a gym membership.
Lesson 4: Accountability is key. Between the daily check-in emails, the easy access to the Fit Father trainers, and the Fit Father Brotherhood group you will have the necessary accountability to stay on track. As a Fit Father, you are not alone in your weight loss journey. Join the Fit Family today!
Here's How Busy Fathers Over 40 Are Finally Burning Stubborn Belly Fat & Getting Healthy Without Restrictive Diets or Time-Consuming Workouts
This proven "Fit Father Program" has helped 25,000 busy men 40+ lose weight, rebuild muscle, and finally keep the weight off.
If you're frustrated with stubborn belly fat, failed diets, and time-consuming workouts, this is the answer you've been looking for…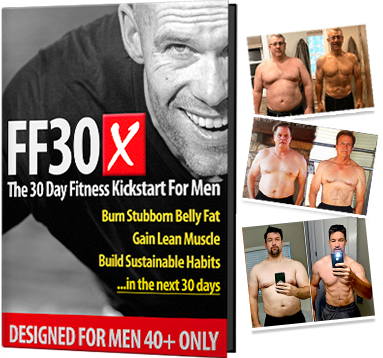 Join 22,000 guys in over 98 countries are using FF30X to lose weight. You get everything you need to succeed – including:
The Fit Father Meal Plan – with simple & delicious recipes
Safe & Effective Workouts Program – only 90 min/week
VIP Accountability Coaching – our Fit Father Team will personally walk you to success, step-by-step.
LEARN MORE ABOUT FF30X >>
See the FF30X Program overview here. You'll discover how this proven Fit Father Program can help you lose weight and actually keep it off – without the complication and restriction of normal diets. »
*Please know that weight loss results & health changes/improvements vary from individual to individual; you may not achieve similar results. Always consult with your doctor before making health decisions. This is not medical advice – simply very well-researched info on how one Fit Father changed his life to enjoy a healthy retirement.