If you're looking for healthy Thanksgiving side dishes to complement turkey or another main dish, you don't have to sacrifice taste to plan nutritious meals.
Healthy Thanksgiving side dishes are those that contain whole foods as ingredients — without added sugar, high-fat, processed meats, fried foods, artificial colors, flavors, sweeteners, or other artificial ingredients.
Vegetable dishes make excellent healthy Thanksgiving side dishes, as well as Fall-themed soups, whole grains, fruits, and foods rich in heart-healthy fats.
Try the healthy Thanksgiving side dishes below to make this holiday season one to remember!
Learn how to avoid weight gain after a feast so you can enjoy it without feeling guilty or worrying about adding extra pounds!
8 Great Healthy Thanksgiving Side Dishes
Mashed Sweet Potatoes
Replace traditional mashed potatoes with a mashed sweet potato recipe that's packed with vitamins, fiber, and heart-healthy fats!
Ingredients
5 large sweet potatoes (about 3 pounds)
3 tablespoons of extra-virgin olive oil
2/3 cup of almond milk or another milk
2 teaspoons of chopped fresh rosemary
2 cloves of garlic
1 teaspoon of ground ginger
1 teaspoon of sea salt
Freshly ground black pepper
Fresh thyme leaves or chopped parsley for a garnish (optional)
Instructions
Preheat your oven to 425 degrees Fahrenheit and line a baking sheet with foil.

Use a fork to poke holes into the sweet potatoes.

Place them on the baking sheet and roast until tender (about 60 minutes).

Scoop the cooked sweet potato flesh out of the skins (or keep the skins on for extra fiber) and place them in a food processor.

Add olive oil, milk, rosemary, garlic, ginger, salt, and pepper. Process the mixture until creamy. You can also mash the mixture with a potato masher if you prefer a chunkier consistency.

Season the mixture to taste.

Transfer it to a bowl and garnish with thyme.

Serve and enjoy!
Servings: 4
Green Beans with Sliced Almonds
Forgo creamy green bean casserole by choosing this healthier green bean almond recipe!
Ingredients
12 ounces of green beans, trimmed
2 tablespoons of sliced almonds
1 tablespoon of extra-virgin olive oil
1 shallot, sliced thinly
1/2 teaspoon of sea salt, plus more for seasoning
1 garlic clove, grated
1/2 tablespoon of fresh lemon juice
Freshly ground black pepper
Instructions
Bring a large pot of salted water to a boil and set a bowl of ice water nearby.
Drop the beans into boiling water and blanch them for 2 minutes.
Drain the beans and immediately immerse them in ice water.
Drain them again and transfer the beans to a dry towel.
Heat a skillet over medium heat. Add almonds to the dry skillet and toast them until golden brown (about 2 to 3 minutes).
Remove the almonds from the pan and set aside.
Add oil to the pan and turn down the heat if necessary. Add the shallots and salt and sauté the mixture for about 2 minutes.
Add in the green beans and sauté the mixture for 2-4 more minutes, until the beans are tender and warmed through.
Remove the pan from the heat, add garlic and lemon juice, and toss to coat.
Season the beans to taste with salt and pepper and transfer them to a serving dish.
Sprinkle the beans with sliced almonds, serve, and enjoy!
Servings: 4
Butternut Squash Soup
Warm up on a cool Thanksgiving Day with a flavorful, satiating butternut squash soup recipe!
Ingredients
2 tablespoons of extra-virgin olive oil
1 large yellow onion, chopped
1/2 teaspoon of sea salt
3-pound butternut squash, peeled, seeded, and cubed
3 cloves of chopped garlic
1 tablespoon of chopped fresh sage
1/2 tablespoon of minced fresh rosemary
1 teaspoon of freshly grated ginger
3-4 cups of vegetable broth
Freshly ground black pepper
Chopped parsley and toasted pepitas for serving
Instructions
Heat the olive oil in a large pot over medium heat.
Add in the onion, salt, and several grinds of pepper.
Sauté the mixture until soft (about 5-8 minutes).
Add the squash and cook until it softens, stirring occasionally, for about 8-10 minutes.
Add in garlic, sage, rosemary, and ginger. Stir the mixture and cook it for 30-60 seconds until fragrant.
Add 3 cups of broth.
Bring the mixture to a boil, cover it, and reduce the heat to a simmer.
Cook until the squash turns tender (about 20-30 minutes).
Let the mixture cool slightly, and pour the soup into a blender. Blend it until smooth.
If your soup is too thick, add additional broth and blend it again.
Season the soup to taste and serve it with parsley and pepitas.
Enjoy this tasty, healthy Thanksgiving side dish!
Servings: 6
Pear, Arugula, Roasted Pumpkin Seed Salad
This autumn salad recipe will make your mouth water, and it's as delicious as it is nutritious!
Lemon Shallot Vinaigrette Ingredients
2 tablespoons of fresh lemon juice
1/4 cup of red wine vinegar
2 tablespoons of Dijon mustard
1/2 shallot, minced
1/2 cup of extra-virgin olive oil
Sea salt and pepper to taste
Salad Ingredients
2 pears, sliced
2 cups of arugula
1/2 cup of crumbled feta cheese
1 cup of sliced fennel
1/3 cup of roasted pumpkin seeds
Instructions
Add all of the vinaigrette ingredients to a jar and shake well before serving.
Arrange the salad ingredients on four plates and drizzle each with olive oil.
Serve and enjoy this recipe with turkey and other healthy Thanksgiving side dishes!
Servings: 4
Turkey-Stuffed Acorn Squash
If you're seeking satiating, healthy Thanksgiving side dishes, this Fall-themed turkey stuffed acorn squash recipe won't let you down!
Ingredients
1 large acorn squash or 2 small squashes, cut in the half
1 pound of ground turkey
1/2 large yellow onion or one small onion, chopped
1 celery stalk, chopped
1/4 cup of dried cranberries
1/2 apple, peeled and chopped
1/2 teaspoon of dried thyme
1 tablespoon of breadcrumbs
3 tablespoons of Parmesan cheese, grated
1/2 cup of chicken stock
1/4 teaspoon of garlic salt
3 tablespoons of olive oil
Salt and pepper to taste
Instructions
Preheat your oven to 400 degrees Fahrenheit.
Cut the bottom and top of the squash to flatten those surfaces.
Cut the squash vertically in the middle.
Use a spoon to scoop out all the seeds.
Brush both halves of the squash with olive oil. Season them with garlic salt and pepper.
Place the squash in the oven and roast it for 50-60 minutes.
Heat another tablespoon of olive oil in the skillet.
Add the turkey, season it with salt and pepper, and cook the mixture until the meat is cooked through.
Remove the meat from the pan and add additional olive oil.
Add onions and dried thyme and cook the mixture until the onion is translucent (about 5 minutes).
Add the celery, apple, and cranberries. Cook the mixture for another 3-4 minutes.
Return the meat to the pan and add chicken stock, salt, and pepper. Cook the mixture for another 3 minutes.
Add the breadcrumbs and cheese.
Stir the mixture and check the seasonings.
Stuff the squash with the meat stuffing.
Place it in the oven and bake the squash for 15 minutes.
Serve and enjoy!
Servings: 2
Roasted Brussels Sprouts
This festive shaved Brussels sprouts salad recipe is loaded with nutrients and flavor!
Ingredients
4 cups of shaved Brussels sprouts
1/4 cup of extra virgin olive oil, plus extra oil for drizzling
1/4 cup of fresh lemon juice
1/2 cup of roasted pine nuts
1/3 cup of dried cranberries
1/3 cup of grated pecorino cheese
1/3 cup of chopped chives
Sea salt and freshly ground black pepper
Instructions
Thinly slice the Brussels sprouts.
Place them in a medium bowl and toss them with olive oil, lemon juice, pine nuts, cranberries, pecorino cheese, chives, and a pinch of salt and pepper.
Let the salad sit at room temperature for 15 minutes.
Taste it and adjust the seasonings, if needed.
Top the salad with an additional drizzle of olive oil if you'd like.
Serve and enjoy!
Servings: 4
Thanksgiving Wild Rice Pilaf
This colorful, mouth-watering wild rice pilaf recipe is always a hit as one of the best healthy Thanksgiving side dishes!
Ingredients
1.5 cups of wild rice blend
1 small leek, chopped and rinsed
1 bell pepper, diced
1 carrot, grated
1/3 cup of white wine
1/2 cup of dried cranberries, plus another 1/3 cup for a garnish
3 cups of vegetable stock or water
2 bay leaves
1 sprig of rosemary
1 sprig of sage
8 sprigs of fresh thyme
3 sprigs of fresh oregano
1 tablespoon of dried oregano
1 pinch of red pepper flakes to taste
1 splash of water or 2 teaspoons of olive oil
Instructions
Heat a large skillet or pot over a medium-low flame.
Add a splash of water or a drizzle of olive oil, plus the chopped leeks.
Sautee the mixture with a pinch of sea salt until translucent.
Stir in the grated carrots, thyme, oregano, sage, rosemary, bay leaves, and red pepper flakes.
Add the wild rice mix and stir.
Add in the chopped bell peppers and 1/2 cup of cranberries.
Pour in the wine and simmer until reduced by half.
Add the vegetable stock or water. Stir the mixture and taste for seasoning. Add more salt if desired.
Bring the rice mixture to a simmer, cover it with a tight lid, and cook it over a low flame for about 50 minutes.
Turn off the flame but don't remove the lid.
Allow the rice to sit covered for 10-15 minutes and continue cooking.
Discard the bay leaves and woody sprigs from the herbs.
Use a fork to gently fluff the rice.
Serve this dish warm or cold, garnished with the remaining cranberries and fresh herbs.
Servings: 4
Cranberry Blackberry Sauce
Choose this cranberry blackberry sauce recipe to complement your turkey this Thanksgiving or as a naturally sweet dessert!
Ingredients
1/2 pound of fresh cranberries
1/2 pound of blackberries
1/4 cup of aged balsamic vinegar
3 tablespoons of date syrup
1 teaspoon of vanilla extract
1 sprig of rosemary (optional)
Orange peel zest
1 sprig of basil with blossoms for a garnish
Instructions
Add the cranberries and blackberries to a medium pot with balsamic vinegar, date syrup, vanilla, and a rosemary sprig.
Bring the mixture to a simmer and cook it over a medium flame until the cranberries begin to burst (about 6 minutes).
Remove the mixture from the flame and adjust the sweetness to your taste.
Allow the mixture to cool completely before serving it, garnished with fresh basil.
Serve and enjoy one of the best healthy Thanksgiving side dishes!
Servings: 6
Here's How Busy Fathers Over 40 Are Finally Burning Stubborn Belly Fat & Getting Healthy Without Restrictive Diets or Time-Consuming Workouts
This proven "Fit Father Program" has helped 38,000 busy men 40+ lose weight, rebuild muscle, and finally keep the weight off.
If you're frustrated with stubborn belly fat, failed diets, and time-consuming workouts, this is the answer you've been looking for…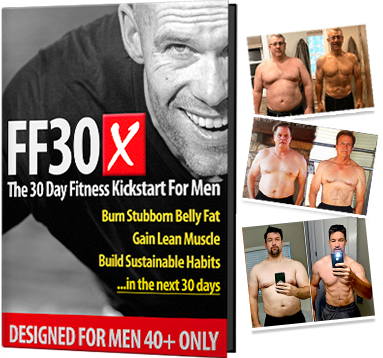 Join 38,000 guys in over 108 countries that are using FF30X to lose weight. You get everything you need to succeed – including:
The Fit Father Meal Plan – with simple & delicious recipes
Safe & Effective Workouts Program – only 90 min/week
VIP Accountability Coaching – our Fit Father Team will personally walk you to success, step-by-step.
LEARN MORE ABOUT FF30X >>
See the FF30X Program overview here. You'll discover how this proven Fit Father Program can help you lose weight and actually keep it off – without the complication and restriction of normal diets. »
*Please know that weight loss results and health changes/improvements vary from individual to individual; you may not achieve similar results. Always consult with your doctor before making health decisions. This is not medical advice – simply very well-researched info on healthy Thanksgiving side dishes.