During a holiday known for chocolate, it can be hard to stay healthy. That's why you need healthy Valentine's Day desserts!
We get it, Valentine's Day is a holiday that can come with a lot of pressure.
You're trying to find the perfect gift, plan the perfect date, and, ultimately, impress your partner!
Between chocolates, champagne, whipped cream, and fancy dinners, it can be very difficult to stay on track with your health.
That's why we've comprised a list of healthy Valentine's Day desserts that will help you wow your sweetheart.
You'll also show what a romantic — and fit — gentleman you are!
Read on to see which of our healthy Valentine's Day desserts will work best for you and your loved ones!
Learn how to stop sugar addiction and what sugar REALLY does to your body!
Our Favorite Healthy Valentine's Day Desserts
The Perfect Sugar Cookie
Sugar cookies are some of the most popular Valentine's Day desserts.
Many of us can remember our moms baking them for us or passing them to an elementary school crush.
Topped with sugar-free sprinkles, you can get as creative you want with this sweet treat.
Our favorite sugar cookie is only 41 calories per cookie, with only two tablespoons of butter.
Delicious Chocolate Caramel Bark
This chocolate caramel bark has a surprising ingredient: quinoa!
For all chocolate lovers out there, this is a unique way to celebrate Valentine's Day.
This chocolate caramel bark only takes 20 minutes to prepare, with no baking needed.
The first layer of the bark is melted caramel (mmmm) with a top layer of melted chocolate (double mmmm).
Mixing in the quinoa to the chocolate layer and sprinkling sea salt on top adds a surprising nutty and then savory element to this healthy Valentine's Day dessert.
At 121 calories, you can enjoy a decadent dessert without the guilt.
Here's A Free Weight Loss Meal Plan For Busy Men 40+
Discover exactly what to eat for breakfast, lunch, and dinner to lose belly fat & feel energized 24/7 without hard dieting...
Brownies with a Secret Ingredient
Here we go with another secret, healthy ingredient.
These brownies have kale in them!
Before you turn your nose up to the kale trend, you should know that these brownies are rich and don't actually taste like they have greens in them.
The only kale giveaway is the small green flecks in the treat.
Between the kale, stevia substitute for sugar, coconut flour substitute for flour, these kale brownies come in at a cool 109 calories.
You can do a little happy dance knowing that the 109 calories include the delicious chocolate frosting!
Sweet Strawberry Shortcake
This isn't your mother's strawberry shortcake recipe.
This fro-yo strawberry shortcake recipe is super simple to make and super delicious to eat!
With a crushed graham cracker base and frozen yogurt blended with frozen strawberries on the top, this frozen treat is a pretty-in-pink way to celebrate Valentine's Day.
Choose no-fat and dairy-free yogurt to blend with the strawberries and find sugar-free graham crackers so you can eliminate unnecessary carbs and sugars.
These frozen delights come in at 137 calories.
Here's A Free 24-Min Fat Burn Workout For Busy Men 40+
This powerful workout will reignite your metabolism to burn fat 24/7 like you did in your 20s…
Time to Celebrate!
No matter which of the healthy Valentine's Day desserts you choose, you're sure to have a fantastic Valentine's Day if it's spent with the right person.
If you're interested in learning about healthy recipes that you can eat for breakfast lunch and dinner, check out our free 1-day meal plan.
By using a principle called Perfect Plates, our 1-day meal plan helps you to plan out meals that are as nutritional as they are healthy.
We believe that a diet won't last if it's repetitive or bland, which is why we have built the plan around well-rounded, manly recipes.
Mind your health with every bite!
Here's How Busy Fathers Over 40 Are Finally Burning Stubborn Belly Fat & Getting Healthy Without Restrictive Diets or Time-Consuming Workouts
This proven "Fit Father Program" has helped 38,000 busy men 40+ lose weight, rebuild muscle, and finally keep the weight off.
If you're frustrated with stubborn belly fat, failed diets, and time-consuming workouts, this is the answer you've been looking for…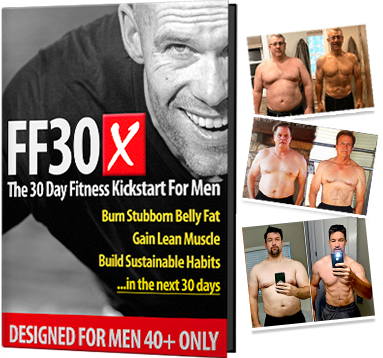 Join 38,000 guys in over 108 countries that are using FF30X to lose weight. You get everything you need to succeed – including:
The Fit Father Meal Plan – with simple & delicious recipes
Safe & Effective Workouts Program – only 90 min/week
VIP Accountability Coaching – our Fit Father Team will personally walk you to success, step-by-step.
LEARN MORE ABOUT FF30X >>
See the FF30X Program overview here. You'll discover how this proven Fit Father Program can help you lose weight and actually keep it off – without the complication and restriction of normal diets. »
*Please know that weight loss results & health changes/improvements vary from individual to individual; you may not achieve similar results. Always consult with your doctor before making health decisions. This is not medical advice – simply very well-researched info on healthy Valentine's Day desserts.