If you're ready to start losing weight, then you should be happy to discover these delicious high protein, low carb recipes for weight loss.

Exercise will help you to burn calories and lose weight. But changing the way you eat will dramatically improve your weight loss achievements and help you to keep the weight off.
Get your diet right, and the rest will fall into place.
Of course, it can be hard to know what to eat. That's why you need to check out this free 1-day meal plan and have a go at the following recipes.
Why High Protein & Low Carb?

Carbohydrates are converted into glucose in your bloodstream. The glucose is then used by your muscles and organs as energy, allowing them to function properly.
In contrast, protein is generally described as the building block of your body. It's used to build and repair cells.
Maintaining a healthy weight is relatively easy when you're eating a balanced diet.
However, if you consume too many carbs, your body has more energy than it needs contributing to weight gain.
Another great thing about high protein low carb diets is that it's just as filling as other diets. One study found no change in levels of ghrelin or appetite after participates switched to a high protein low carb diet.
Here's A Free Weight Loss Meal Plan For Busy Men 40+
Discover exactly what to eat for breakfast, lunch, and dinner to lose belly fat & feel energized 24/7 without hard dieting...
High Protein Low Carb Recipes
Check out these recipes for weight loss and start your journey to the new you.
By dramatically reducing your carbs, you will force your body into a state of ketosis. This is when it converts fat stored in the body into energy.
If you're burning your excess fat, you're going to lose weight! That's why these recipes are so great for burning fat.
Chicken & Sundried Tomatoes With Zoodles
Lean chicken is a great source of protein while replacing pasta with zoodles will help to ensure this remains a low carb feast.
Ingredients:
1 tablespoon butter
1½ lb lean chicken breast without the skin
5oz sun-dried tomatoes
4 cloves garlic – crushed
1¼ cup thickening cream, ideally half fat
1 cup parmesan – grated
Pinch red chili flakes, if desired
2 large zucchini to make the zoodles. If you don't have a zoodle grater, a vegetable one will do.
Start by melting the butter on the stove but don't have the heat too high. Cut your chicken breasts into strips and drop them in the pan, turning them to ensure they are cooked right through and a golden brown color.
Now add your sun-dried tomatoes and your garlic. Saute for several minutes until they smell ready! Now add the cream and your cheese, allowing it to melt together on low heat. You can add your chili flakes and any other herbs.
Use your zoodle grater or vegetable grater to make zoodles from your zucchini. Slide them into your pan and continue simmering until the zoodles are soft, it should take between 5-10 minutes.
That's it, you're ready to enjoy.
Macros Per Serving
Fat – 22.6g
Protein – 35.6g
Carbs – 9.2g
Calories – 394
Hash Brown Cauliflower Egg Cups
These are actually a great way to start the day and get your body going. They taste delicious and are low carb/high protein.
Ingredients:
cauliflower head, you can remove all the leaves and the stalk
2 eggs whisked
¼ cup grated Parmesan
½ cup Mozzarella cheese
1 teaspoon onion powder
12 small eggs
The first step is to heat your oven to 350°F and prepare a 12-hole muffin tin by spraying it with cooking oil spray.
You'll then need to put your cauliflower into a blender and briefly use the machine to chop it. The aim is to have a rice-like substance, not a puree! You may need to cut your cauliflower into pieces first and even blend it in batches; it will depend on the size of your cauliflower.
In fact, it's better to leave the pieces bigger than make them too small.
Now you can take 3 cups of your blended cauliflower and place in some boiling water until it is soft. This should take between 5-10 minutes or you can use a steamer if you prefer.
It's advisable to let the cauliflower cool before you move onto the next step.
Wrap all your cauliflower in a clean towel and squeeze the towel over your sink. You're trying to get all of the water out, or as much as possible.
The liquid less cauliflower can now be placed in a clean bowl and add your 2 whisked eggs. You should also blend the parmesan, mozzarella and onion powder.
Once mixed thoroughly divide the mixture across the 12 holes in your muffin tin. You'll need to push your finger in the center to create a cup for your boiled egg.
Now slide the tray into your oven and leave for 15-20 minutes until the egg cups are golden brown.
Finishing Touch


It's now time to add the 12 eggs. Break one into each "cup" and put the tray back into the oven for another 15 minutes.
This should set the whites. You can adjust the cooking time slightly to suit your preferred egg yolks.
Once removed from the oven, it's a good idea to let them cool for 5-10 minutes. If you don't, they're likely to break up as you remove them from the tray.
Now enjoy!
Macros Per Serving:
Fat – 6g
Protein – 8g
Carbs – 1g
Calories – 98!
As an added bonus, you'll get a healthy dose of vitamins A and C, along with 5% of your daily Iron needs and 8.6% of your daily calcium needs.
Foiled Salmon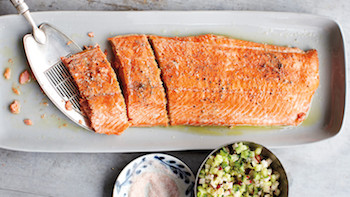 Salmon is full of Omega-3 oils which are fantastic for your overall health. They are even known to boost brain power. This dish is easy to prepare, nutritious, and delicious!
Ingredients:
1½ lb salmon fillet
2 garlic cloves – you'll need to mince them.
2 tablespoon butter
2 tablespoons lemon juice
Pinch black pepper
A little Italian seasoning
Pinch red pepper flakes
Start by pre-heating your oven to 375°F.
Now place a pan on the stove with a low to medium heat and put in the lemon juice and garlic. Simmer these for several minutes allowing the lemon juice to reduce in half.
You can then add in you first tablespoon of butter, but you should remove the pan from the stove and gently swirl it to allow the butter to melt naturally. If necessary, put the pan back on the heat briefly to help the butter melt.
Once it's melted, repeat the process with the second tablespoon of butter.
Separately put the salmon onto a piece of foil and brush the garlic butter across the salmon. You can then add the Italian seasoning, red pepper flakes, pepper, and even some salt; to your desired taste.
Wrap the salmon completely in foil and put on a tray in the oven for 12-15 minutes. To finish, open the top of the foil and broil the salmon for a few minutes.
While it's cooking, don't forget to get your choice of vegetables on the stove, so that you can serve them together.
Top Tip: You can also wrap your salmon in foil and put it on the barbeque for roughly the same amount of time.
Macros Per Serving:
Fat – 14g
Protein – 31g
Carbs – 1.6g
Calories – 265